By Freya Ensbey.
There are many regions of our country that by simple title, bring to mind the personality which proceeds it; like the Hunter Valley, affluent with vineyards and producing the iconic Semillon, or the coast of Tasmania, harvesting some of the country's most requested seafood.
However, there is a region which has stimulated our senses and demanded our attention in more recent years, elevating the bar and showcasing itself as a culinary destination in its own right. The Northern Rivers of New South Wales is an area unparalleled with diversity, from the hairline emerald terrain of the Tweed Valley which transpires into the turquoise shores of Byron Bay, the Northern Rivers has fast created a romance between locals and landscape, conceiving a relationship for the abundance supplied.
The now extinct volcanic activity of the region has gifted the area with some of the most fertile soil in the world, making for ideal growing conditions for healthy plants as well as raising grass-fed assisted livestock with high nutritional value, seen in the hormone free pork which has put the sleepy town of Bangalow on the supply map.
It is for this reason the region has lured in a select collective of distinguished Chefs whom have bolstered the area, their restaurants a shrine to the available produce, creating an admirable movement harnessing the paddock to plate philosophy and inspiring a culinary culture which has put the area on any honest gourmand's radar.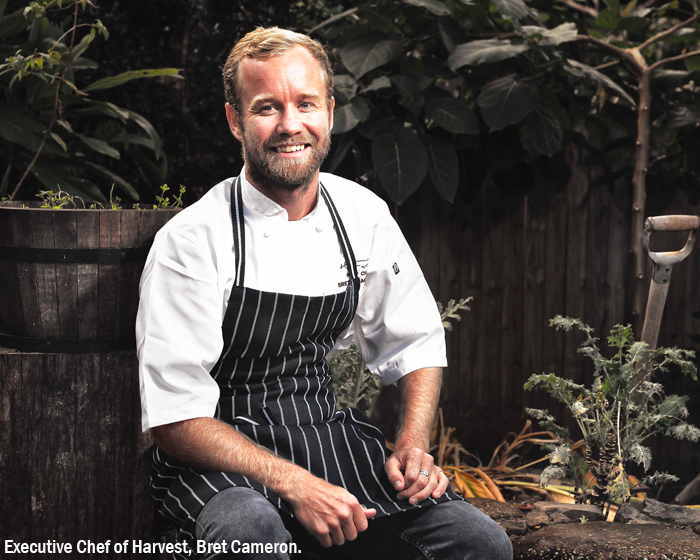 Kicking off our regional tour in the western hinterland of Byron Bay, is sought after restaurant, Harvest Newrybar. This renovated Queenslander farmhouse, was re-opened in 2007, having made many transitions over the years to arrive at the stylish, hive of activity it is today, incorporating a gourmet delicatessen, a servicing edible organic garden and an artisan bakery, using a 107-year-old Scotch oven.
Having worked in Michelin starred London restaurants along with celebrity chef Colin Fassnidge, Harvest's Head Chef Bret Cameron, brings with him years of experience which contributes to the restaurant's philosophies of local, organic produce being met with high sophistication.
Cameron's genuine passion for quality produce prepared in a manner that preserves its purity, along with an inherent love of real food, makes for the ideal marriage between Harvests vision and Cameron's integrity.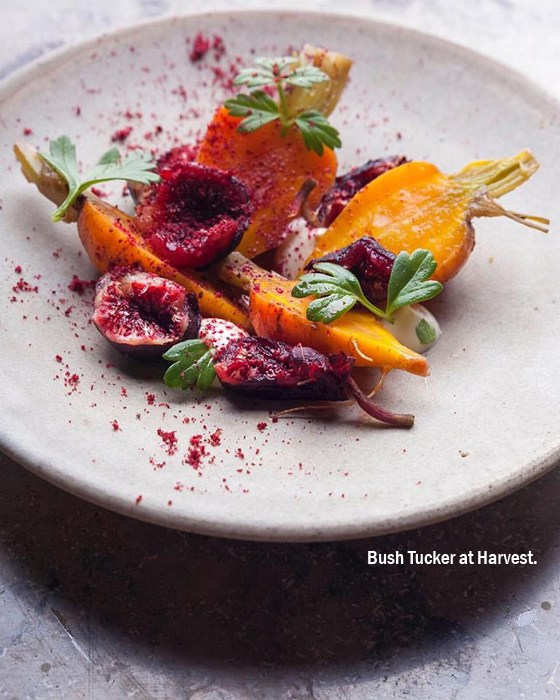 Cameron has since formed another unique partnership, teaming up with forager and wild food researcher, Peter Hardwick, to create a menu full of local curiosities, entwining the paddock to plate philosophy into every dish that is created.
"Peter Hardwick is such a legend. The amount of knowledge he has is incredible. We need to get it out there for everyone to share," says Cameron.
Each Wednesday, Cameron and Hardwick present a selection of findings and flavours on a plate after a day of foraging and developing (including pickling and fermenting) at the Wild Harvest Sessions, allowing guests to experience the holistic process and provide ideas or feedback; the winning dishes then make it onto the restaurant's seasonal menu.
Current Menu Highlights:
Byron Creek Farm chicken, buttermilk, zucchini, mushroom and cumin eucalyptus.
Kangaroo and yam with Davidson's plum, warrigal greens and native raspberry.
Nectarine, Riberry and strawberry gum.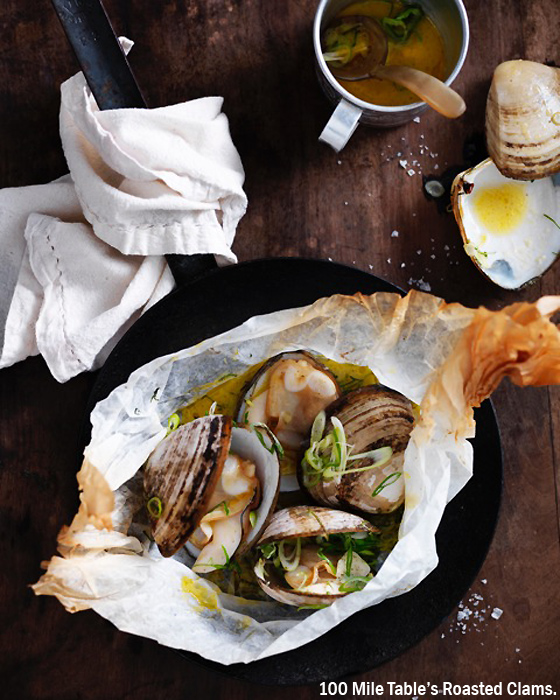 Traveling east into Byron Bay, tucked away in the unassuming area of the industrial estate along Banksia Drive, is the visionary company, 100 Mile Table, a dynamic catering company with their finger right on the pulse of what produce is seasonally abundant with each transitioning month.
Head Chef and owner, Sarah Swan has crafted a stellar career, stretching from The Bayswater Brasserie and Bather's Pavilion in Sydney to serving the Rockpool Group for over a decade, both in the kitchen and within the marketing and media department.
A strong desire to escape the rat race six years ago saw Swan make the move north to the region of Byron Bay, where she began catering from her home.
"Byron was a great choice and had been on my mind for years. It's my favourite Aussie holiday spot, the perfect mix of countryside and coast," she says.
Swan soon joined forces with Jeremy Burn, bringing to fruition the 100 Mile Table. With years of experience in the hospitality industry, Burn has worked for the Hipgroup in Auckland which owns and operates 10 of Auckland's most awarded cafés and restaurants, all specialising in creating menus based around the provenance, sustainability, seasonality and locality of the area's produce.
Serving the breakfast crowd of Byron Bay from Monday through to Fridays, the 100 Mile Table's specialty is their unforgettable lunches. Using picturesque locations as their pop up restaurant, the 100 Mile Table creates beautifully catered events for up to 250 people.
"The food at 100 Mile Table is simple - we like to say it is excellent produce cooked beautifully - we let the ingredients speak for themselves and we really are unfussy in our approach.
"There would be few regions like [the Northern Rivers] in Australia - from sub-tropical fruits and vegetables and all the exotics to natives like lemon myrtle and finger limes. There are fantastic organic chickens, some of the best pork I have ever eaten, local brewers in beer, gin, rum and even wine makers. There is little we have to look further afield for," says Swan.
As the name suggests, the 100 Mile Table's philosophy is to practice an innate respect for the source of the produce, acknowledging the importance of how far it has had to travel along with the wellbeing and treatment of the animals and crops.
"Neil Perry taught me the importance of provenance and knowing your growers - I brought that with me to Byron Bay and it's an easy philosophy to put into practice here," Swan says.
For a simple and easy but equally as indulgent recipe, try Sarah Swan's roasted clams with parsley, garlic and spring onion, the perfect dish for your own long lunch at home.
Current Menu Highlights:
Ceviche of local fish with pickled fennel, pomegranate and edible flowers.
Chamomile roasted sweet potato with toasted pepitas and honey.
8 Hour roast lamb with Persian flowers.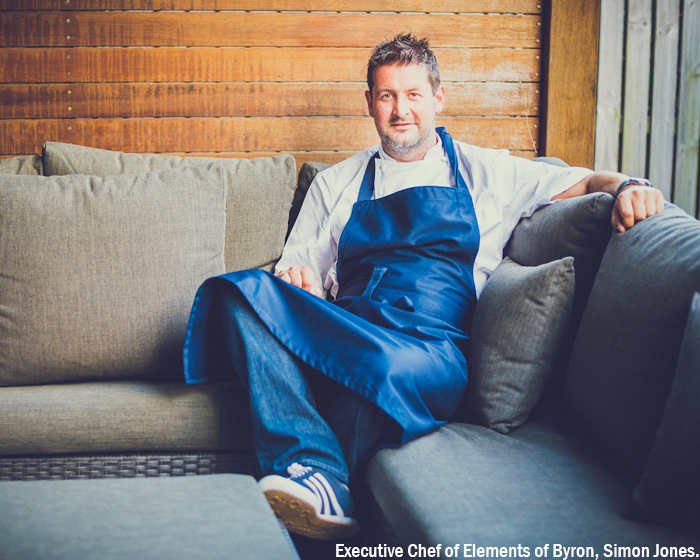 Byron Bay is inherently deep with soul; a restorative locale now synonymous to a celebrity status, with havens like that of Elements of Byron Resort and Spa, which have elevated the region to its prestigious benchmark along with Elements' resident Graze Restaurant, inviting guests to unwind and indulge poolside, set in an effortlessly elegant, open air dining space.
The arrival of Simon Jones as Executive Chef of Elements has contributed to Byron Bay's impeccable culinary scene, having been from a previous, gastronomic background.
Jones' career began under the precise eye of Raymond Blanc in England's Oxfordshire, with later roles as Chef at The Peninsula Hotel in Beverly Hills and as Head Chef at Marco Pierre White's renowned Michelin starred L'Escargot in London.
"I looked at Elements of Byron and saw the huge potential.
"It's independent and the owners are seriously invested in it. Without a heavy hotel corporate structure, we have the chance to set our own unique culinary course," says Jones.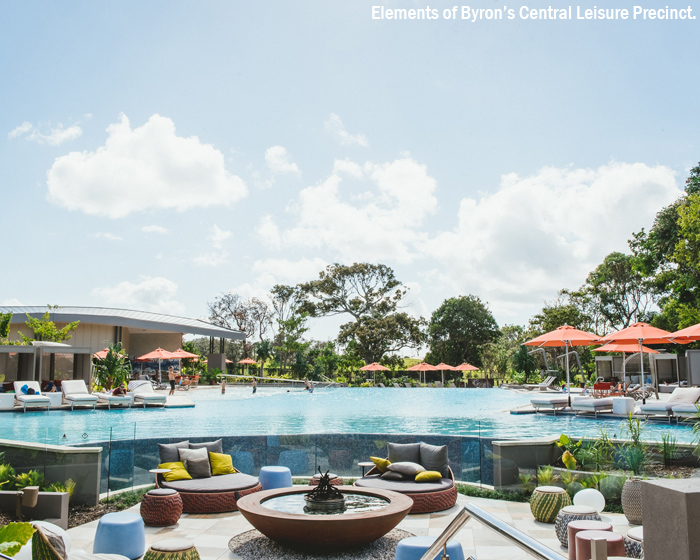 The Graze Restaurant offers what is best described as really casual fine dining, harnessing the area's best in season produce and presenting it for the diner in the most natural form as possible.
"It's super fresh, lively food. The produce available here is exceptional, so it makes sense to handle it as little as possible," says Jones.
Elements of Byron has recently turned their focus to sustainability, with a full resort re-launch set for October, they will unveil a completely solar powered Eco Education Centre. With its own rainwater harvesting system and 500 m2 of market gardens, the eco centre is designed to provide fresh produce to Graze Restaurant and enable guests to experience food production from the very beginning of planting to the finished plated product of a dish.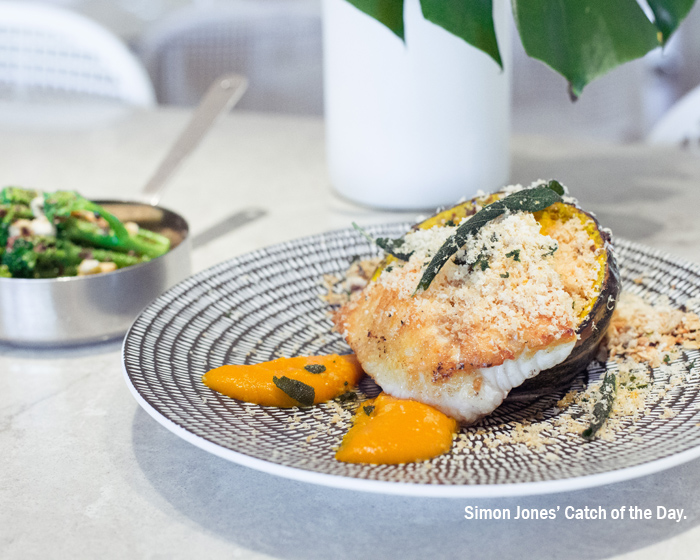 Jones has shared with us a taste of Graze Restaurant to stimulate our appetite, with his Catch of the Day recipe.
Current Menu Highlights:
Roasted whole local day boat fish, lime, chilli and green onions.
'Yooralla' 1.2 kg dry aged rib of beef cooked pink with grilled bone marrow, beef fat crumb dressed in a béarnaise and peppercorn sauce.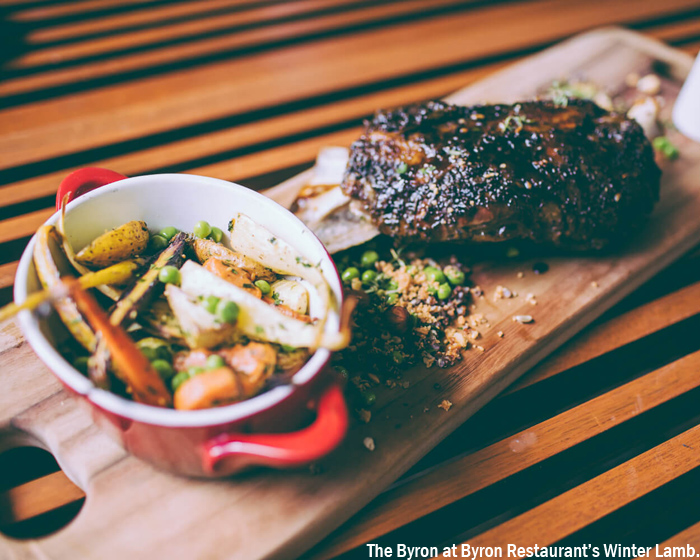 Set against a spectacular rainforest backdrop brimming with birds and wildlife, The Byron at Byron Restaurant showcases and champions the food producers of the Byron Bay and Northern Rivers region, orchestrated by celebrated head Chef Gavin Hughes, who brings to the Bay a vision of creativity and ingenuity to reinvent the way his kitchen uses local produce.
With a prestigious career to his name, having worked at Michelin-starred Inverlochy Castle, Devonshire Gardens and Airds Hotel, Hughes decided to relocate with his family to the Northern Rivers seven years ago, taking residence in the surrounding southern suburb of Lennox Head.
Hughes has become a true advocate for the produce of the region, even being awarded an honorary member of the Byron Farmer's Market. Every Thursday, with resort guests and Byron Bay locals in tow, he visits the market to find the freshest seasonal ingredients to create an interactive weekly Farmer's Market Dinner, open for all to enjoy at the resort that same evening.
"My love affair with the local produce continues to grow each and every day. As I get to know the seasons better, I find myself watching the local stalls in increasing anticipation for my favourite crops as they ripen to perfection. The wealth of local ingredients is truly amazing, what Chef wouldn't love being spoilt for this kind of choice?" says Hughes.
Hughes' local food focus has also extended to a regular program on the ABC radio, sharing with listeners his favourite recipes featuring seasonal ingredients sourced in the district.
The Byron at Byron Restaurant creates a constantly evolving, seasonal menu, working closely with and regularly showcasing the produce from some of their most used suppliers like Ballina Prawns, Burrawong Free Range Chicken, Bangalow Pork and Rangers Valley Beef from the nearby Northern Tablelands.
Current Menu Highlights:
Northern Rivers Salumi selection platter.
Parmesan and herb crumbed free range pork cutlet shaved cabbage, potato puree and Billinudgel brown sauce.
Native organic salt bush lamb for two with roast Winter vegetables, bush dukkah and native mint.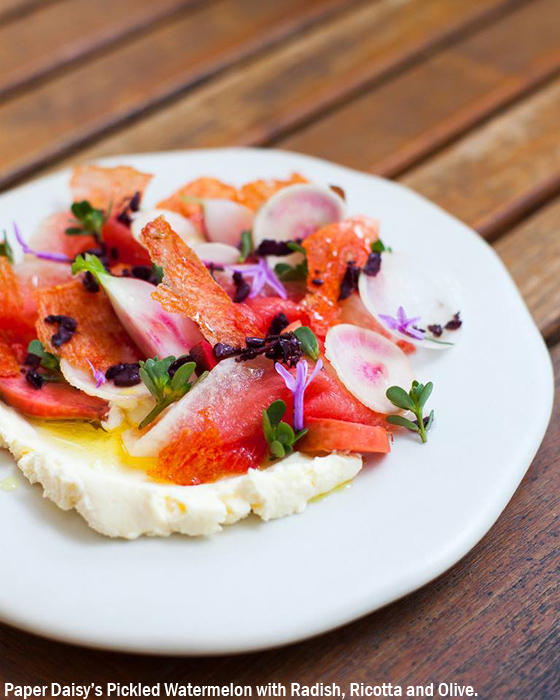 Travel a further 30 minutes North along the Pacific Highway to arrive at Cabarita's hidden gem, Halcyon House. A towering white building invites guests through arched doorways into a plantation-esque space, fitted with luxe coastal stylings and oozing a relaxed yet sophisticated beach holiday charm, carrying right through to the resident restaurant, Paper Daisy.
Having grown up in the Byron Bay area until the age of 18, Paper Daisy's Head Chef Ben Devlin brings with him a wealth of local knowledge. Previously heading Esquire, one of Brisbane's finest restaurants, the prospect of working with locally sourced produce from the Northern Rivers lured the award-winning Chef back to his home town.
Devlin expresses that he was fortunate enough to find a position and management team that matched his ambition and commitment, working with the high standards of a sustainable restaurant model. This vision is executed through his two imperative, pillar requirements of any dish he creates; the first is to always strive to inspire joy for the diner and the second being to create a good representation of the region on the plate, always seeking to use native and wild produce from his surrounds by working closely within the community of farmers and producers.
"We are really fortunate here to have a beautiful climate for growing everything from sub-tropical exotic produce, warm climate Mediterranean style produce and some colder climate root vegetables and greens. The soil is brilliant quality, the oceans in our region are clean and have a wide variety of species to choose from, and as a result of that, the area has attracted a wide range of producers that are extremely passionate about creating a fantastic product and doing it in a sustainable fashion," says Devlin.
Devlin inspires his team to control and contribute to the menu by creating as many housemade products as possible, from cheese to garums and vinegars, using a nose to tail philosophy and getting the most out of each product the kitchen purchases.
Current Menu Highlights:
Scorched kangaroo with mullet roe, macadamia miso and pecan.
Paperbark grilled fish with sugarloaf cabbage, wattle seed and seaweed.
Lemon aspen with pomelo, roasted kelp, buttermilk and fennel.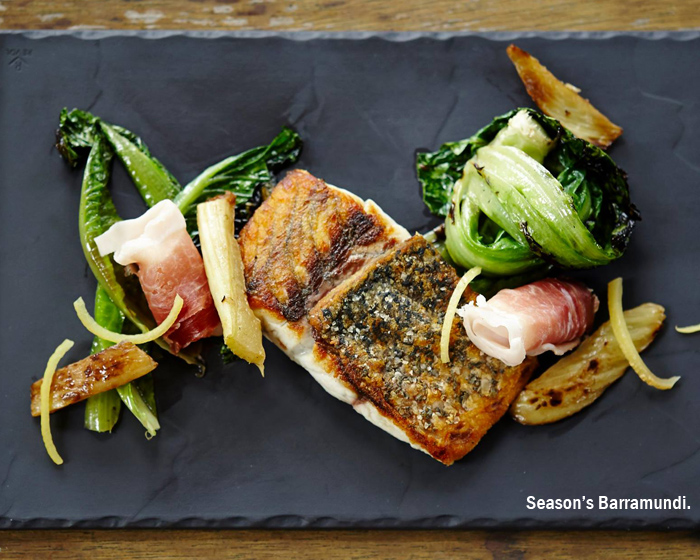 Located within the Peppers Salt Resort and Spa, Kingscliff is Chef Hat awarded restaurant, Season, an elegant escape for guests to enjoy an intimate meal in style. The ethos and apt naming of Season has always been to provide its diners with a culinary journey through each season, using the region's food trails created by nature to flourish for that time of year.
Season's Head Chef Michael Lee and his young family now call the Northern Rivers home after an invitation by the Peppers group to join their team at the restaurant two years ago, prompting Lee to leave his previous position at The Star casino on the Gold Coast.
Professionally, Lee revels in the area for its abundance of local produce available, considering himself as nothing but fortunate to work in the area as a Chef.
"There are fantastic markets, farmers and a sense of community here.
"From the macadamia nuts, to the finger limes, apples and potatoes. The lamb is also excellent in Northern NSW, along with the seafood," says Lee.
Describing his work at Season as a great base to showcase what the area has to offer, Lee changes the menu each season, educating his team and diners to be more conscious of the produce that is available and ensuring the delivery of the highest possible nutritional value for his guests by using ingredients at their seasonal peak.
"My philosophy is simple! Keep it simple! Let the ingredients speak for themselves," he says.
Current Menu Highlights:
Dry aged Northern River's rib eye with a MBS of 3+, served with a side of smoked campfire potatoes, truffled porcini butter, parsley and jus.
Finish with an interesting dessert of local farmhouse cheeses, muscatels, poached pear, quince, carrot marmalade and lavosh.
They say the grass is always greener on the other side of the fence, but ditching a Sydney city life to reside in the quaint suburb of Carool, west of Tweed Heads, was an easy decision for Chef Gareth Leslie, having grown up on a farm in the verdant fields of Northern Ireland.
Leslie was a former Chef of acclaimed health inspired eateries Earth and Water and Gwingana Lifestyle Retreat, moving to the region to achieve a lifelong dream of his and undertake the project of building a restaurant with partner Peter Burr.
The pair purchased a dishevelled period farm house in the lush surrounds of Carool, with months of pouring their heart and soul into the restoration following, before launching the highly anticipated Potager, A Kitchen Garden, taking little more than a year to have the fierce local following it has today as a popular foodie destination.
A short, 20-minute scenic drive from the Gold Coast Airport, Potager, offers a holistic dining experience, allowing guests to peruse the prosperous gardens and plots of planted vegetables, which directly help to service the kitchen of Potager. With savvy customers increasingly interested in knowing the provenance of the food they are eating, Leslie says it is wonderful to be able to tell them that any ingredient which has not been grown on site, has still been sourced from local suppliers.
However, the seemingly easy sea change transition for the pair did not come without its challengers, outlined when Leslie expressed that opening a restaurant in a rural area was not an easy fete.
"You realise that some supplies are a little harder to come by than when you are in a metro area," says Leslie.
Fortunately, that is changing. With more quality eateries opening in the area, together with changing dining habits demanding more interesting dishes, produce is becoming easier to come by as demand grows.
"We still don't have easy access to everything we can get in city areas, but what largely makes up for it is the fact that we have wonderful producers and retailers right on our doorstep in the Tweed Valley and surrounding areas," he says
With plans to increase the reliance on locally sourced goods, the duo are part of a team working with Liz Collyer from the Tweed Shire Council to improve the connection between restaurants and producers, allowing for local economic growth and prosperity for the Northern Rivers food bowl.
Current Menu Highlights:
Smoked ham hock and leek terrine with pickles, mustard and toast.
Lamb liver schnitzel, dashi glaze and caramelised apple.
In an area as abundant at the Northern Rivers, it is up to us as diners to let our forks talk, seeking out those eatery's influenced by inspired Chefs who are investing their focus into the locavore movement, ensuring a stable local economy and synergy between supplier and industry.