Discovering All the Wonders and Opportunities of Our Oceans
The International Seafood and Health Conference (ISHC) at the Melbourne Conference & Exhibition Centre –the world's newest and leading environmental Conference Centre- is happening on the 6-10 of November. This includes the inaugural "Wonders & Opportunities of Our Oceans" Exhibition where food and beverage sampling will be available amongst other entertaining and educational features.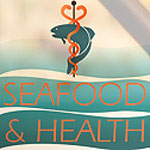 The AGFG has seen restaurants and establishments follow an industry trend similar to the theme of this conference. In particular, renowned Australian chefs are opting for fresh seafood dishes, highlighting local catches in their daily specials and showcasing seasonal fish in their quarterly menus.
Other wonders will include the presence of celebrity Chef Peter Evans, amongst other contemporaries, offering exciting cooking demonstrations. Some of your favourite chefs & restauranteurs will be displaying their business, serving up seafood, in the demonstration kitchens. On location pavilions will be set up theatre style showing audiences of up to 200 what various organizations have to offer in terms of new food ideas, promoting seafood's nutritional value, and simply inexpensive approaches to meal preparation, including family friendly recipes ideal for children.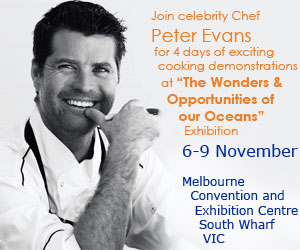 Previous Seafood and Health Conferences have been based in the Northern Hemisphere, in the USA and Norway and precedent indicates this event is really about health over fisheries. Emphasis on wellbeing through education and dietary selections will lean heavily on the positive role seafood plays when incorporated into daily and weekly meal plans. Education will also further stimulus to the fishery economy.
A problematic trend in Australia, the product of larger global phenomena, is dietary deficiency in DHA, omega 3, iodine, and selenium. Listing them as such may trigger a recognizable common thread, as seafood consumption can alleviate insufficiency. Seafood is full of unique vitamins and minerals, some of which are only accessible through actual consumption as they can not be replaced through supplementation.

ISHC Chairman Mr Roy Palmer is raising awareness in the media regarding an international concern that mental illness is becoming a worldwide epidemic. He emphasizes a global need to "provide adequate nutrition for a fast-growing population ensuring sustainability of seafood stocks and communicating health messages that will change behaviour."
It is important to note that this conference could be an once-in-a-lifetime opportunity to witness an expose of the world's finest health researchers united in a common purpose, finding solutions to serious health problems facing Australia and the rest of the world.
The International Seafood Health Conference will be held at the Melbourne Exhibition Centre from Sunday, November 7 to Wednesday, November 10. Meanwhile, the relating "Wonders & Opportunities of the Oceans" Exhibition runs from Saturday, November 6 to Tuesday, November 9. See: http://seafoodhealthconference.com