Book Review: Symply Too Good To Be True 6
With hundreds of columns throughout the country and six cookbooks –over three million sold- to her name, food writer Annette Sym is known nationwide as "Australia's Weight-loss Queen." Her latest book entitled Symply Too Good to be True 6 includes her popular homestyle recipes, a 28 Day Weightloss Masterclass, and other healthy lifestyle information.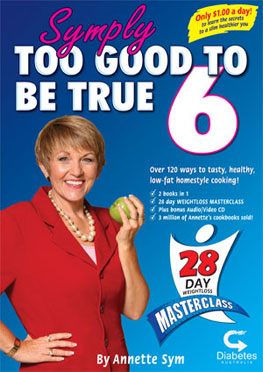 Interview with "Australia's Weightloss Queen" Annette Sym
The AGFG had the pleasure of interviewing Annette before she flew off to the states for a book tour and lecture series about the prevention of childhood obesity. Australian born and raised, Annette describes the low-fat, educational style of her cookbooks as a contribution to her culture. She includes dietary notes in her cookbooks for people's health benefit, friendly lessons aiming to inspire readers.
The archetypical Australian bronzed beauty is transforming before our eyes as statistics from 2002 indicate 65% of Australian adults are overweight and 20% are clinically diagnosed as obese. Annette Sym is proud of her own success story, as she was once obese, now living to spread the word of cooking into health and weight management. As such, her book is endorsed by Diabetes Australia, Dieticians and Doctors, amongst other professionals in the field.
Can Low-fat be Cooking be Gourmet?
As our own specialization at the AGFG is gourmet cooking, we had to ask about the nature of her recipes. Annette surmised that traditional gourmet cooking doesn't do anyone any favours when it comes to weight management noting, "Chef's have done a nasty job on people, cooking with lots of salt, lots of sugar, and lots of butter… Duck fat should not be in any domestic kitchen."
Symply Too Good to be True 6 is a 224 page book full of low-fat recipes that she assures can be considered gourmet and that hers is a modern look at "fabulous food that will impress any dinner guest" with simplicity – also an industry trend in many modern culinary hubs.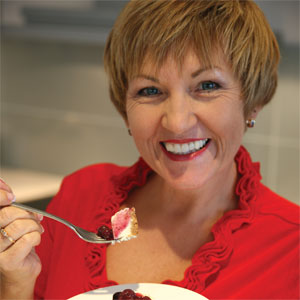 Having lost 35kgs in 20 months, Annette's new book includes all-new recipes that have helped her keep the weight off for 18 years. Every recipe is her own original creation, though she does not identify as a "chef" per se, as she is not trained as such, rather posits in a traditional sense, "What woman isn't really?" Her husband of 36 years was an award winning Chef in his day and loves trying her latest flavour combinations, such as the Roasted Vegetable and Pine Nut Salad in chilli lime sauce.
Whomever is cooking, Annette's sixth cookbook has a tone that everyone can relate to. Her writing builds trust, so essentially when you're trying out one of her recipes, it's as if your long time friend just passed it to you on a recipe card. Only this full colour matte publication offers stunning photos, offering a visual cue as to where you're going in the kitchen. When designing your own Chicken Pomodoro Parcels, for example, gazing at the picture can be helpful if you're looking for the perfect way to craft your pastry.
Aiming to inspire all to be fit and fabulous, falling into the "oh wow" category, Annette caters to the basics, including ingredients found in the local supermarket for those who are time poor or money conscious. Her Savoury Pikelets are elegant on display, though the most "fanciful" ingredient is finely grated parmesan cheese.
A Coffee Table Book or Kitchen Bench Staple
She claims Symply is a "fat book that will make you slim." It is full of recipes categorized as Starters and Light Meals, Vegetables and Salads, Seafood, Chicken, Meat, Desserts and even Baking. A recent publicity photo for Symply features Annette eating her own mixed berry baked cheesecake (the recipe can be found in her 3rd cookbook), showing that balance is key in the kitchen and in dietary practice.
As an Australian expert of positive habits, we asked Annette her recommendations for dining out, so that foodies need not fret when it comes to their weight. She articulated the importance of going in to your favourite restaurant with good intentions: 1.) Order two entrees, perhaps one cold and one warm, and a side salad or 2.) Opt for an entrée and a main, forgoing dessert or 3.) Share dessert or select a skinny cap instead.
Regarding healthy lifestyle, it's worth noting how eating in and cooking with fresh produce from the local market is always best - definitely worth the effort. Just as you look at the ingredients listed on the menu when you're ordering at a restaurant, always look at labels when you're cooking at home and be really aware of what's going into the dish you're preparing for yourself, family and friends to enjoy with confidence.
Author and entrepreneur, Annette Sym launched her sixth cookbook, Symply Too Good to be True 6 on September 9th, 2010. Having sold over 3 million copies of her cookbooks, Annette is a healthy cooking advocate and weight-loss Queen of Australia. For more information visit her websitehttp://www.symplytoogood.com.au/.