"I was very sceptical of truffles early on in my cooking career
and thought them an expensive oddity.
The turning pointcame in 1993 after sampling a
truffle dégustation menu inFrance." - by Neil Perry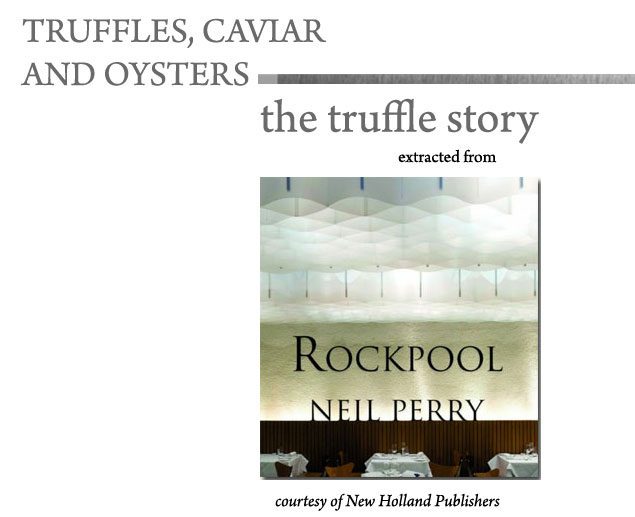 Truffles are a subterranean fungi known to grow near oak trees in Europe. There are many varieties, but the most prized are the white truffles from Alba, Italy and the black truffles from Perigord, France. Although very expensive, you only need a little of it to make a big impact, so they are worth their asking price. They have a rich, earthy perfume and an almost petroleum flavour (in a good sense) that awakens and warms the senses. Truffles are elusive — expect a huge aroma but a fine, subtle flavour. They will bring out extra dimensions of flavour in produce such as chicken, eggs and potatoes. The flavour compounds in truffles dissolve best in fats, so eggs, butter and oil are the best carriers.

Truffles are at their best when used as close to the time they are out of the ground, and if possible, use within ten days. There is a point during cooking when their aroma and flavour are at their height; beyond that they'll start to dissipate. With experience you'll learn to recognise those qualities. I've found that salt and garlic bring out the best flavours in black truffles. Most sauces benefit from truffles being added during the last 10 minutes of cooking, and a lid put on to hold in the aroma.
Try Neil Perry's truffle and potato salad recipe.
Black truffles are in season from December to the end of February in Europe. They are sublime and unbeatable when used fresh, and should be firm, in whole pieces, and free from bore marks. Store them in Arborio rice or eggs. Both will absorb the truffle aromas, and the eggs especially make the most splendid omelettes. Truffles are also available preserved. Buy first-cooked preserved truffles (premiere cuisson) that have been stored in a little water that becomes their juice. These are terrific when quickly warmed through in salads.
"They are sublime and unbeatable when used fresh, and should be firm, in whole pieces, and free from bore marks."
I was very skeptical of truffles early on in my cooking career and thought them an expensive oddity. The turning point came in 1993 after sampling a truffle dégustation menu in France. Adele, Trish and Lyn and I were in France in January, and met up with Simon Johnson, a very good friend of ours, in Paris. He was with gourmand extraordinaire, Ken Horn, and his partner Daniel Taurines. We all agreed to meet up at Robuchon's for a truffle dégustation lunch one day, which was sublime and enlightening. More good things were to follow.
We were also fortunate enough to be invited down to Cahors, in the south-west of Paris, to meet Jacques Pébeyre, the merchant for nearly half the truffles grown in France, and the ones most revered by the three-star chefs. We were met at the train station by the Pébeyres, and the next day, went truffle-hunting with Pierre-Jean, Jacques's son. For lunch, we were taken to not so much a restaurant as a door that led through a kitchen and into a small room, much like a worker's canteen (if only Sydney canteens served food like this). We were greeted by a wonderful woman with a beaming smile and big, swollen, workers' hands. A myriad of pots bubbled away on the stove. As we walked through the kitchen Monsieur Pébeyre discreetly passed her a very large handful of truffles from his pocket. She smiled and winked in reply. We went into a large dining room with bench-like tables, where many men were sitting around having their lunch. The menu was set at 50 francs, and for that we had a beautiful terrine and salad, followed by braised veal head. Two very large chickens (from Madame's backyard), completely blackened under the skin with truffles, with large hunks floating in the braising sauce were next. That's one of the things you can be sure of enjoying in France — chickens that taste wonderful, with a beautiful silky texture. The meal finished with a simple cheese and coffee, and we then headed for Pébeyre factory.
Walking into that factory was like being a kid in a candy store. I couldn't believe my eyes or my nose: truffles were being sorted, washed and lovingly brushed, preserved, cooled, and packed in delicate tissue within woven wooden boxes for restaurants the likes of Robuchon and Bocuse. The aroma was so intense that within three minutes my sense of smell was dissipated and exhausted.
We were then invited to dinner at Pébeyre's home, the only time in France that I've enjoyed the hospitality of a household. Monsieur and Madame were incredibly generous and I was allowed into the kitchen to watch Madame Pébeyre cook. Huge chunks of truffles sat in two bowls with about fifteen eggs in each, unwhisked. When she was ready to use them, Madame whisked them gently with a fork and poured them into simmering butter to give them a nice crust, turned them over and presented us with two beautiful omelettes. We ate these omelettes in record time, washed down with a 1970 magnum of Cos-de'Estournel. This wine complemented the truffles with its marvelous aromas of leather, barnyard and earth.
Next course was a wonderful saucisson that Monsieur Pébeyre had made by the best sausage-maker in Lyons, a friend of the family. The sausages were poached, sliced and served with a warm lentil salad. To finish we had a simple cheese from the area, a perfectly ripe cabacou wrapped in a chestnut leaf. Afterwards Jacques pulled out his collection of eau-de-vies and we drank happily until the wee hours of the morning. I think we were drunkenly unaware of how late it was, and what a merry mood we were all in, as we all sang and skipped down the street late that night, setting the local dogs barking and waking the sleeping villagers who had to call for quiet from their windows!
It was after that Cahors trip that Simon Johnson decided to import fresh French truffles to Australia (we'd only seen Italian ones so far). He asked me to prepare a dinner that showcased these fresh truffles. The day before, Simon presented me with four kilos of fresh truffles not four days out of the ground. I ran around the kitchen with joy when I saw these little black gems.
We started off with garlic toast topped with sliced truffles, and a salad with a thin veil of truffles over the top. The main course was Glenloth chickens stuffed with butter, salt and slices of truffle until completely black under the skin (the French call these 'chickens in half-mourning'). We put them in oven bags, added more butter, salt, stock and aromatic vegetables, and sealed them up. The chickens were steamed for 11⁄2 hours for the truffle flavour to permeate the breasts and through the whole chicken. When the bag was cut, the room filled with those delicious aromas. We sliced and carved the chickens, poured over the truffle-flavoured butter and juices, and served them with basmati rice cooked in stock with at least $1000 worth of truffles. Greg Frazer took this into the dining room and served each person separately.
We served the dinner with a red wine that Joe Grilli had made for Rockpool in 1991. The beautiful aromas, earthiness, Chianti-like truffle smells and fine dusty tannins in the wine worked beautifully with the dinner from start to finish. We finished with Gabrielle Kervella's matured goat's cheese, wrapped in a fig leaf, and a few bottles of eau-de-vie made from prunes from the truffles' native Cahors. I think everyone left as happily as we did the night we had dinner with the Pébeyres.
By Neil Perry, courtesy of Rockpoolby New Holland Publishers
For a limited time only, purchase top fresh WA black truffles online from the new AGFG Shop.