July 2012
Speaking Off the Chef Cuff
Sydney born chef and entrepreneur, Neil Perry just turned 55 last month and has much to reflect upon. He is regarded worldwide as a defining contributor to the modern Australian culinary canon, having maintained a multifaceted chef career spanning over 25 years.
In the late 80's Neil was deliberating where to build his flagship restaurant, and it was the site of Sydney Harbour Bridge upon returning home from overseas that ignited national fervour within him.
The landmark Rockpool Sydney launched in 1989 and to this day the Rockpool group's portfolio has expanded to include Rockpool Bar & Grill Sydney, Melbourne and Perth; Spice Temple Sydney and Melbourne; and The Waiting Room Melbourne.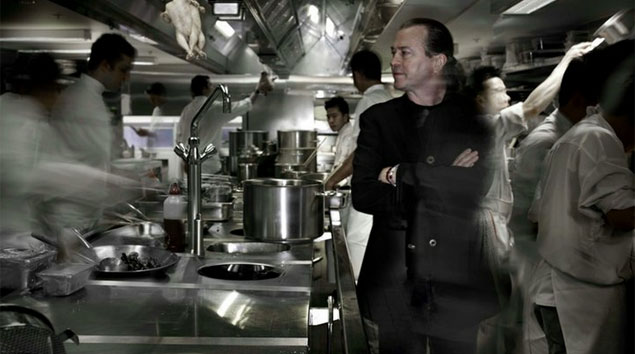 As Neil and the Rockpool group continue to influence how the world perceives modern Australian fine dining culture, there is rumour of a new restaurant development at Crown Melbourne; however, Neil will remain in the "no comment" phase for the next month or so.
Nevertheless, he spoke to us with remarkable off the chef cuff commentary on the evolution of his modern Australian cuisine.
Reflecting on Rockpool Group's Restaurants, Bars & Grills
AGFG: Just back from Manjimup WA, we have truffles on the brain and sounds like you and Dan Masters are in a similar frame of mind. With "Rockpool Rocks" returning to Mundaring Truffle Festival this year, we're wondering about your sources and if you stick to home grown produce?
NEIL: We serve Australian black truffles at all our restaurants, except Spice Temple, while they're in season… usually until August or September. Then at Christmas, when our native stock is depleted, we order a Christmas treat from Europe. But our main focus is on Australian produce and we order truffles from different sources, choosing various places with the best conditions as soon as they're ready – usually from WA, TAS and then NSW. Rockpool Sydney started up in '89 and it wasn't until '93 that Simon Johnson and I went to Cahors and become converted truffle skeptics.

Neil Perry's original Truffle Story was first published in Rockpooland is available for your reading pleasure as an extract in our AGFG blog.
AGFG: Rockpool Sydney has received S.Pellegrino The World's 50 Best Restaurants status seven times from 2002-2008. In 2002, when you were considered to be the 4th best restaurant in the world, what was the first sign of its positive impact on your business?
NEIL: Back then it wasn't as public as it is now and it took a number of years to gain some momentum… but more foodie-oriented travellers came through. At first the awards were germinating and by the second time around they knew there was something in the bag with the ideas so they invited all the chefs to London, driving the credibility of the awards – it was awesome. Great memories there and it's really extraordinary knowing people around the world are thinking of you.
AGFG: It's been a few years since the last time you ranked in The World's Best, so do you concern yourself with the ranks?
NEIL: It would be fun if it happened again, but I don't concern myself with it. We concern ourselves with being the best everyday and if the accolades come that's great, but that's not the reason we do what we do.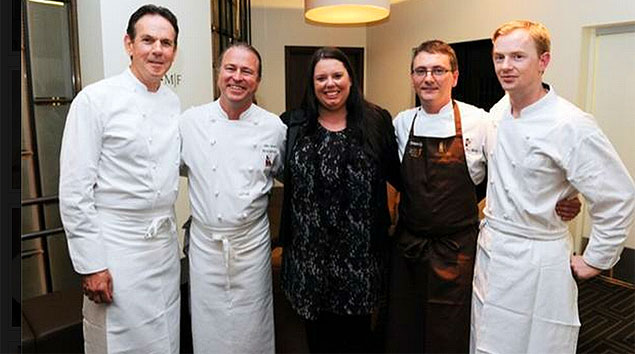 AGFG: What is your main aspiration within Rockpool group today?
NEIL: To make it one of the finest restaurant groups in the world. We are dominant in Australia with our single focus on quality and extraordinary reach, being in three states.
AGFG: In the formative years of Rockpool group, were you ever close to caving in and compromising on your original commitment to fine dining?
NEIL: No, never. In the 90's we expanded and made some mistakes, and even had to close restaurants prior to our successful expansion into Melbourne Crown with Rockpool Bar & Grill. We do not compromise on serving the best food, building strong supplier relationships, and using sustainable humane ingredients meanwhile mentoring staff. Our single minded vision will remain as long as I'm alive.
AGFG: And without you?
NEIL: I have a young daughter in the business… and my one desire is to leave a legacy so the restaurant group doesn't need me. My dying wish is that I'm not needed at all.
AGFG: With 520 staff, how do you inspire those around you to complete tasks with your esteemed dedication to detail and perfection?
NEIL: My philosophy comes across by working with my staff and maintaining a clear focus; I lead by example and spend time with the service team and the guys so that they understand what the brand is all about. In that way I establish our individual brand so that the guys within it can adhere to it. We have an uncompromising attitude with all that we do. So when we opened our first bar, The Waiting Room, we won awards for best bar food straight away and in one sense it's surprising, but we would never open a bar in the first place without doing it in the best way possible.
AGFG: Your modern Australian cuisine, falling into the New World camp, represents classic old-country quality but with cultural diversity and inclusivity. Are there any dishes that you've nurtured since the salad days of your career that remain on your current menus in refined form?
NEIL: The king prawn and goat's cheese tortellini comes to mind, originating at Rockpool and eventually landing on plates at the Bar & Grill. Some of the original dishes from my early work at Qantas have transferred over to the restaurant. We live in a diversified world where inspirations are continual and we're evolving all the time, changing and moving with the things we see around us.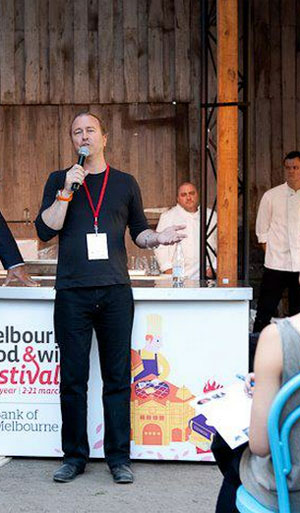 AGFG: With its American style steakhouse design, how does Rockpool Bar & Grill fit into your Old World, New World paradigm?
NEIL: It does in the sense that it draws from them great steakhouses of North America and in some ways parallels the assadores of Spain. Rockpool Bar & Grill is modern and contemporary, in a sense drawing on the past and presenting food relevant to now. We have the best steak program and premium fish in the country, plus handmade pastas… so if your friends want to eat steak, you can eat something else. The B&G certainly draws on the time honoured tradition of sourcing top quality Wagyu, looking after the beef, dry aging, and preparing it for a wood-fired grill as the heart and soul of the restaurant.
AGFG: How has the steakhouse become epitomized in modern Australian culture?
NEIL: The steakhouse is a very important part of Australian culture because in essence the B&G attitude is still about fine dining; service, wine and the quality of ingredients renders it to a point where people can truly taste the optimum simplicity of dry aged steak with sea salt and olive oil. Paring back ingredients for quality to emerge in the taste reflects our Australian lifestyle.
AGFG: How do you guarantee the ingredients you use have the best flavour?
NEIL: I think it's important for people to recognize that though the majority shop in supermarkets, but there is provenance in the food that we eat. How was the animal treated? How did it's life start and end? From an animal welfare point of view and farming point of view, this is an important consideration. Considering sustainability and environmental impact on human beings is and increasing priority and over the next 100 years, as humanity goes forward, this mindset will extend to sourcing and protecting clean water.
AGFG: Chinese, Thai and Vietnamese influences finding their way into Rockpool's kitchen, what are some of the philosophical parallels and stylistic techniques that people may be able to apply to their own cooking?
NEIL: Asian cooking can be really simple at home with basic methods such as stir frying, salt water poaching, deep frying, and double cooking. My Rockpooland Balance & Harmony cookbooks introduce Asian cooking influences, drawing on classic Eastern cooking themes, and encourage Western cooks to release their inhibitions and experiment in the kitchen. With Asian fish sauce, soy sauce, spices and chilli you can find a flavourful balance varied with the tastes and textures of the ingredients you're cooking up at home.
AGFG: Can you describe where Eastern and Western cooking styles align?
NEIL: Rockpool on George Street, Sydney. In the early 90's journos were writing about my understanding of modern Australian cuisine and today Rockpool's Head Chef, Phil Wood really understands the soul of it as a merging of Eastern and Western technique, the hallmark of what we are.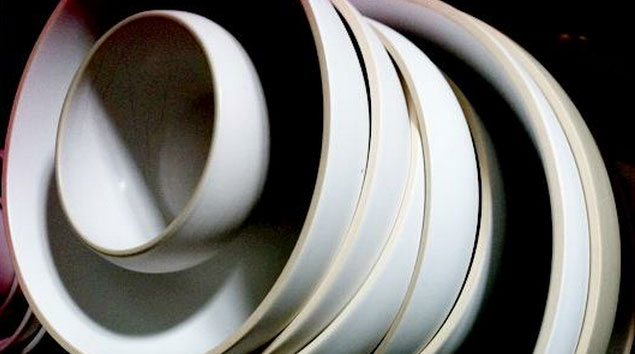 AGFG: In your opinion, what is modern Australian home cooking?
NEIL: What is cooking with convenience? Australian cooking. That's what it's all about. Utilitizing techniques from the east and west and feeling comfortable bringing them together for convenience. Our food style takes advantage of our diverse produce with a relaxed and comfortable approach to cooking. We take advantage of going to the market for English spinach and being able to pick up the bok choy displayed in the stall nearby.
AGFG: When it comes to food and wine pairing, you pay attention to four key criteria - seductive aromas, length, intensity and balance of flavour – and maintain that people who say that Asian food and wine don't mix as "quite mad"…
NEIL: They should be shot. Spice Temple runs the whole gamut of heat of and spice, and our aromatic Rieslings, Chardonnays and Pinots, as well as young Victorian Shirazes all go brilliantly with the food. People also say you can't drink red wine with fish and I drink Pinot or a delicate Shiraz with fish all the time.
AGFG: Considering that New World food and wine styles offer liberties, you further imbued this freedom as a restaurateur by developing your Rockpool wine label in 1989. Do you maintain it to this day?
NEIL: Yes, we offer wonderful Rockpool wines in house by Jeffrey Grosset, a great Australian winemaker, specializing in Rieslings that are up there in the top ten in the country – it's not the cheapest on the list and perfectly suits our restaurant. Jeff and I have a great relationship that spans 24 years and has brought forth amazing wine.
AGFG: When you went on holiday with David Doyle and pitched him on your American steakhouse concept for Rockpool Bar & Grill, how long had you been contemplating the idea?
NEIL: Basically I'd been thinking about it for awhile because my father was a butcher and meat was a really important part of my life. It was too big of an idea for classic fine dining… David and I had been travelling together before and this time we sat down and discussed it over coffee and he said he wanted to be involved. From there we were given creative freedom from John Alexander at Crown Melbourne, as long as the Rockpool brand name was there.
AGFG: There's rumour of a new Italian restaurant emerging from Rockpool group at Melbourne Crown…
NEIL: Crown is putting it together and I can't talk about it yet; hopefully, in another month or so.
AGFG: You credit the stimulus of Steve Manfredi and his mother, Franca, for setting the fresh pasta standard applied at Rockpool Sydney each and everyday. As an experienced and worldly chef, how is Italian food engrained in your repertoire?
NEIL: We have established a benchmark for quality based on Franca's authentic Italian influence, and Steve is a good friend. On 29th of June I turned 55 so I'm not a spring chicken anymore and have established longstanding industry friends.
AGFG: Recently two of your key staff returned from a research sojourn in Piedmont, North West Italy; as an advanced chef, widely travelled, what do you personally seek out in a culture's kitchens and dining rooms?
NEIL: I love to taste the authenticity of a place, to find out what the regional food tastes like, whether it's in Italy or China. Certainly not only in two or three star restaurants, rather it's in the markets and smaller restaurants that express the regionality of whatever part of the country I'm in that I'll head towards.
AGFG: As an expert modern Australian chef, where do you find authentic inspiration and innovative ideas at home in Australia?
NEIL: In wonderful restaurants that are ethnic and true; a falafel reminiscent of Khyber, for example, or chicken soup from the shop around the corner that tastes better than in China.
AGFG: Words to live by for those in hospitality?
NEIL: The most important thing is to have drive and an eye for detail. If you want to be in hospitality and have your own restaurant, you have to lead. There's no use being the best cook in the world if you don't serve with love, dignity and passion. It's really about an entire team and there's no one person that makes it special.
Read Rockpool Bar & Grill (Murdoch, 2011) and Rockpool (soft cover re-release by New Holland, 2012) AGFG book reviews online.