By Leigh O'Connor.
Get your groove on with a sombrero, crunchy or soft taco and an ice cold margarita – what could be more Mexican or more tempting? Aussies love tequila as much as they love footy and Mexican restaurants abound in cities and towns around this diverse land, where tastebuds can tingle with the spice of chillies and tang of lime.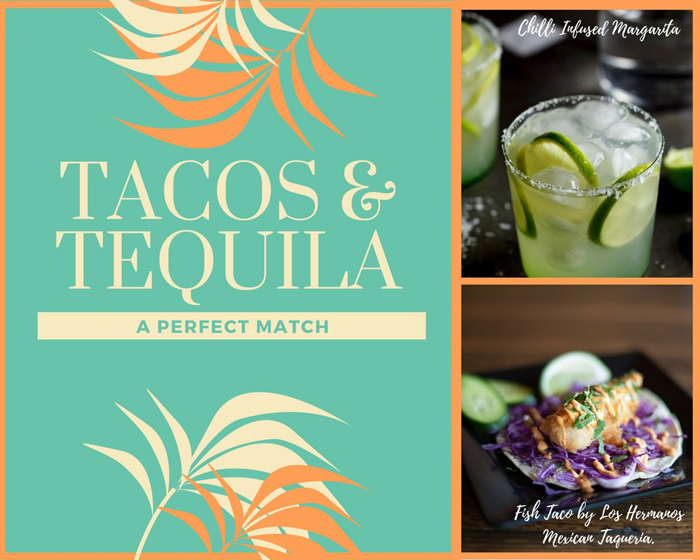 Pictured: Fish Taco by Los Hermanos Mexican Taqueria, we have the recipe here.
Think exotic…. not the norm. Tacos aren't just minced meat, shredded cheese and salsa – they can be hearty, healthy and dynamically bold with a vast array of fillings only limited by your imagination. Same too for the humble margarita, forget a frozen concoction from a churning plastic tub at the bar and dream up flavours that will send the mind to the land of Aztecs and Incas.
Here's a few ideas on how to spice it up Mexican-style… Arriba!
Fish Tacos with Fresh Mango Salsa
Tasty, fresh flathead fillets are marinated in lime, coriander, chopped green chilli and extra virgin olive oil, before being grilled to perfection ready to fill soft tortillas, stuffed with shredded lettuce and tomato. Roughly diced mango is combined with chopped jalapeno to make a zingy salsa to top the taco and add a texture and depth of flavour that is Mexican magic. A great healthy, midweek dinner, which will quickly become a firm favourite on the family menu.
Using the red, white and green of the Mexican flag, these tacos will liven up any occasion. Flour tortillas provide the white stripe, while avocado and cherry salsa add the burst of colour and gusto that is truly authentic. Using duck adds a meaty influence to a poultry dish and once coated in coriander, smoked paprika, chilli and cumin, it can be cooked to individual tastes from pink to medium.
Slow Cooker Shredded Beef Tacos
This recipe is ideal for the busy cook, who wants to have dinner on the table quickly once home from work with hungry mouths to feed, as the short beef ribs slow cook for 8-10 hours overnight or during the day, leaving only assembly required before serving. Shred the beef, making sure no bones remain and place in warm corn tortillas, topped with grated cheese, cabbage, lettuce, avocado and tomato – only one word for it, delicioso!
Spicy Pork Tacos with Pineapple Salsa
Using peri peri spice as a rub for the pork takes this dish to another level. The pork fillets are seared in a frying pan and then wrapped in foil to rest, while preparing a sweet pineapple salsa livened with red chilli, cider vinegar, coriander and red onion. A quick evening fix for ravenous appetites, a drizzle of lime and sides of choice will make this a memorable Mexican meal that is sure to become a midweek or weekend must have.
Starting with humble beef mince, these tacos become something special with the addition of spices, chilli, red kidney beans, cucumber, grated cheese and sour cream. Homemade guacamole adds an extra touch, along with a spiced corn salsa with sweet chilli sauce, cayenne, Spanish onion, tomatoes and coriander leaves. Affordable and easy to make, these tacos will get the kids eating Mexican in no time and create a communal vibe for all to enjoy.
What's better than green tea? A green tea margarita of course, lick the lips around the top of a chilled, salt rimmed glass filled to the brim with this concoction, that teams perfectly with a taco of choice. Actually this recipe uses Green Tea Liqueur, not the health food option, but who cares when it tastes this delicious, combined with good quality tequila, triple sec and a sour mix.
Margarita for breakfast… bring it on! Combining tequila with cointreau, lime juice and orange marmalade, this cocktail is a perfect brunch accompaniment to Mexican fare such as rostada, where a traditional tostada is served on a rosti base with fried egg and sriracha hot sauce, or perhaps huevos rancheros with runny eggs, fiery salsa, refried beans and fresh corn tortillas. Sip this citrus cocktail to cut through the fire and cleanse the palate and the day is certain to start off with a Buenos dias.
Using a simple citrus syrup teamed with pickling liquid made from pepperoncini capsicum, sets this margarita apart from all others. The flavour of basil leaves, lime, lemon and balsamic vinegar give a savoury twist to the tequila base and a garnish of more basil and cherry tomatoes, above the salt rimmed glass, add a classic Italian touch, in a nod to the Caprese salad of the same name.
Total indulgence perhaps best describes this drink with the use of truffles to create a magical mouth experience. Thin slices of black truffle are marinated in maple syrup and tequila for at least 12 hours, removed and combined with more tequila, cointreau and lime before coming together in a salt rimmed glass with crushed ice.
A classic margarita, with a fiery bite, this will have the tastebuds roaring and it will be hard to stop at one. The chilli-infused syrup combines water, sugar and red chillies in a pot to boil, bubbling away for five minutes before cooling and adding to tequila, triple sec and lime juice in a large jug. Then pour over crushed ice and garnish with lime slices for a caliente cocktail.