Early mornings, wild waves and a free spirit – such is the life of an Australian surfie
With all the beaches in Australia, it would be a crime to let the waves go to waste. Australia's surfing beaches are world class, with swells coming in from the Pacific, Indian and Southern Oceans. If you are close to a coastline, then you are guaranteed to be presented with a collection of different surf schools, each offering a selection of start up surfing packages to ride the wave of experience.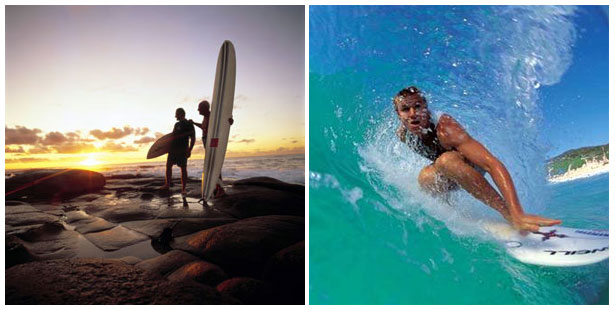 Where are some of Australia's best surfing beaches?
With over 2,000 kilometers of coastline, New South Wales has a significantly surf-able array of beaches. Sydney beaches such as Bondi, Manly and Narabeen are all famously renowned for their surfing breaks, although learning to surf may be problematic due to both congestion and localism. Beginners are welcomed at the pristine beaches of Queensland's Noosa Heads, where former world surfing champion Merrick Davis will run lessons, guiding you through the skills and styles needed. If you're further down, Victoria's Great Ocean Road is home to the famous Bells Beach, with ideal beginner's waves at Lorne, Anglesea and Fairhaven.
Well-known for its legendary breaks, Western Australia is also a great destination for a summer surfing holiday. Margaret River is the most popular destination for surfing and indisputably known as the surfing capital of Western Australia. The seaside towns of Mandurah and Rockingham are beginner's beach havens, with consistent rolling surf perfect for your first time on board. Whatever state you find yourself in, there is guaranteed to be a swell to tackle and even if you don't manage to jump on board, a sunbake and a day of swimming on an Aussie beach is a day well spent.
For the best beaches in Australia to catch a wave, see;
Surfing in Tasmania:http://www.agfg.com.au/Blog/post/2007/05/26/Beaches-Surfing-in-Tasmania.aspx
Surfing in Victoria:http://www.agfg.com.au/Blog/post/2007/05/04/Beaches-Surfing-in-Victoria.aspx
Surfing in Western Australia:http://www.agfg.com.au/Blog/post/2007/08/01/Beaches-Surfing-in-Western-Australia.aspx
Surfing in South Australia:http://www.agfg.com.au/Blog/post/2007/06/13/Beaches-Surfing-in-South-Australia.aspx