Relax with a secluded surf and sunbake
Completely surrounded by water, Tasmania boasts not only spectacular coastal scenery, but also perfect beaches for soaking up the sun or getting on board and catching a wave or two. Far from the traditional crowd driven beaches on mainland Australia, Tasmanian beaches offer a unique coastal experience, with seclusion, pristine waters and a mild climate the ingredients for a day's relaxation.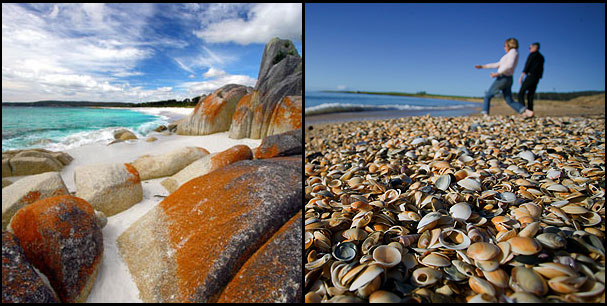 Where are some of the best beaches for surf and sun in Tasmania?
For beauty in its finest form, you can't go past Wineglass Bay, often renowned as one of the world's most picturesque beaches. Situated in Freycinet National Park, Wineglass Bay is best visited in summer, fast becoming a popular getaway destination. Close by, Bicheno situated on the states east coast is a laid back coastal town, complete with the white sand of Denison Beach.
Near Hobart, Park and Clifton Beach are two of the most popular for surfing, with Seven Mile Beach one of the largest and most popular beaches in the city for sunbathing or shallow water swimming.
For those who want to jump on board, it's a surfer's delight on Tasmania's south coast. Cloudy Bay on Bruny Island is awash with big breaks, with locals carrying their boards 7 kilometers to get to South Cape Bay to catch a wave. Shipstern Bluff in the Tasman National Park is home to Australia's heaviest wave, known among the surfing community as one of the most dangerous locations in the world, for both surf and sharks.
Find out more about beaches and surfing in Australia, here http://www.agfg.com.au/Blog/post/2007/05/27/Australias-Best-Beaches.aspx