By Leigh O'Connor.
The witchcraft of caffeine has us all under its spell, as every morning we race to our local for a shot of adrenaline to get the day started.
Once it hits your veins and reaches your brain, all is right with the world as we cope with the daily stresses of life, work and family. Nothing picks you up more than a coffee hit, you'll feel more awake, less tired and ready to take on any challenges thrown your way.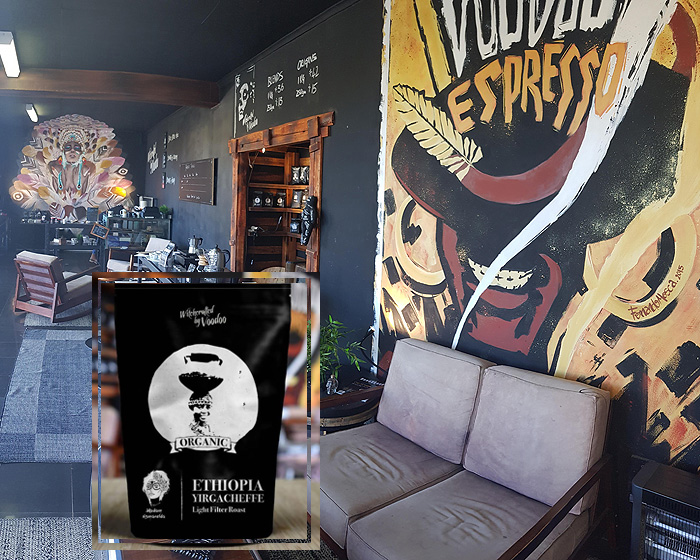 Voodoo Espresso, based in Marrickville, is the place for those who love tasting and drinking coffee. For more than 20 years, this Sydney company has been roasting organic fair-trade certified beans manually, ensuring control of flavours and blends.
Strong enough to wake the dead, their six, well established blends cover a broad spectrum of taste profiles along with a divine decaf. Voodoo's two roasters – both ex-Chefs – sample every batch before it is allowed to leave the premises, making sure each bean has reached its full potential.
Believing strongly in developing interactive relationships with individual café owners, Voodoo is all about taste, as they continuously develop new recipes.
Guaranteed to get the heart pumping and as intense as a Clint Eastwood stare, a cup of Double Shot Revolver blend with a hit of Robusta, is as bold as an espresso, but also has the strength to cut through any milk pairing.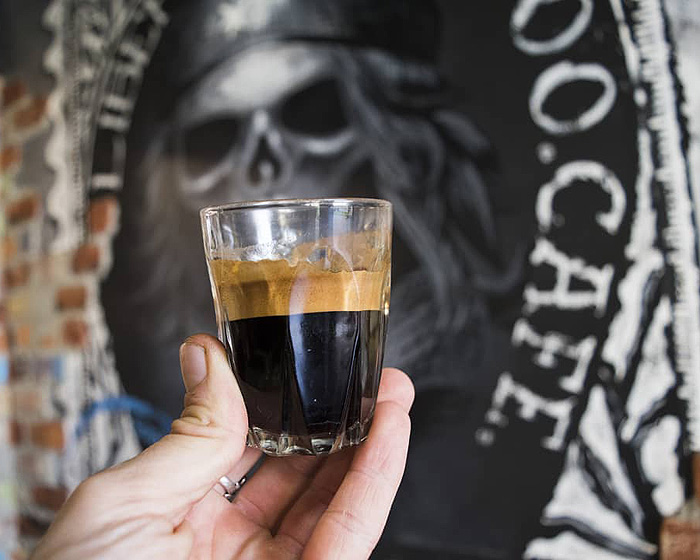 Highly addictive with a mid to high level of acidity, The Revolver displays a fruity flavour with a subtle nutty finish – making it sleek, sexy and distinctive!
Serious espresso drinkers will feel the might of the Fist Blend, a bold and powerful coffee that is not for show ponies. Earthy, full bodied and punching above its caffeine weight, this brew has a powerful chocolatey espresso taste, with a berry aroma off the grinder.
A low acidic 100% Arabica coffee ideal as black or white, it will feel sweet and velvety as a ristretto, with a lingering dark chocolate aftertaste.
An untamed coffee, the Fire Blend is a rich combination of the finest Arabica beans from the wild regions of South America, Africa and Indonesia. Carefully blended to harness real espresso fire, it demands respect and skill to bring out its true nature, whether as a milk or black cup, with rich caramel flavours and subtle hints of cocoa and wild berry.
The Heart Blend delivers a taste that will stay with you long after your cup is empty. Made from a combination of three high quality Arabica beans from Papua New Guinea, Colombia and Tanzania, its deep character blends well with milk, without losing its unique identity.
With a name that says it all, Locals Only is an Australian blend with individual beans roasted to mid profile and combined to produce a low acidic full flavoured espresso. Well balanced with delicate vanilla flavours and a sweet aftertaste, it will linger with you just like the endless Summer typical of the regions where the beans are sourced from.
High in flavour impact, while designed to reduce our carbon footprint on the world, the Footprint Blend has a fruity aftertaste and mid-level acidity. Without forgoing quality and taste, this 100% Arabica coffee is a mix of beans from Australia, Papua New Guinea, Vanuatu and Indonesia.

Voodoo's witchdoctor (roaster) has delved into the dark arts with the Spirit Blend, producing a dangerously volatile combination that can form into any taste profile he wishes to conjure. Are you prepared to take the challenge?
Hailing from Colombia, Moon Blend is an extremely high-quality decaffeinated drop, using a 100% chemical-free process of removing the caffeine from green beans, while maintaining flavour and complexity. Roasted to medium dark, it delivers a full flavoured coffee with a rich, clean taste.
So next time you head to your local café for a latte, remember, it's not just coffee, it's art.