By Leigh O'Connor. Photography from Quay by Nikki To.
In Peter Gilmore's own words, Quay restaurant was "kind of shiny" before its multi-million dollar reinvention earlier this year.
Now, it feels more intimate and modern, with an organic, natural vibe that the newly crowned Citi Chef of the Year believes is the future of fine dining in Australia.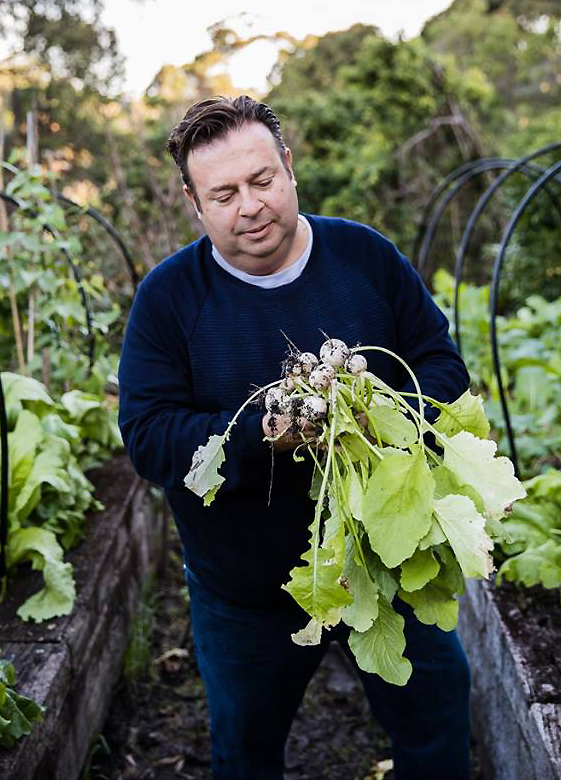 Chef, Peter Gilmore in his home test garden for menu development.
Speaking to AGFG one on one, Peter expressed his amazement at winning the award in Melbourne last week:
"Every year it is a real honour to do what we do and to get recognition, especially this year with everything that has gone on at Quay, [it's] amazing. You can't rest on your laurels, you have to constantly come up with new ideas – that's what keeps you going – to give your customers the experience they expect and deserve."
Peter says the reaction to Quay's new look has been overwhelmingly positive. From the Australian timber tables to the dining chairs, everything has been designed with comfort in mind and consideration to the new 10-course tasting menu; as guests are likely to be seated for up to three hours, as they delve into dishes inspired by nature.
Removing the white tablecloths caused a stir at first, but Peter says that is the direction fine dining is headed in the future.
"Places like Noma have done it for years, I guess there is still the old school fine dining idea, but I'm trying to shake that up. It is time for a change, the nature of dining at the top level has shifted dramatically in the last five years and you can't sit still," he explains.
"Fine dining maybe needs a new description – what the dining experience has morphed into at the top end is more of a holistic experience. It is a night out, a story of the food and ingredients; on any given night 50% of our clientele are there to celebrate a significant moment in their lives, so everything has to be perfect."
Quay's approach is to instil a sense of warmth and hospitality from the moment guests arrive and are welcomed by restaurant staff.
"We want people to be at ease, to come to our home and have a very special experience. In the past people have been intimidated by fine dining, but really it is all about the originality and uniqueness of the food, professional service and drinks offering. It has to be a seamless experience."
Peter says when the decision was made to renovate, he wanted to also shake things up from a food perspective.
"We had a couple of classics on the menu that we had stuck with for a long time – to make a big statement and remain creative, you have to move forward. I wanted to come back with a completely new menu and also spent time with ceramic artists designing specific plates for each dish to be served on.
"There is drama in a couple of courses when the plates are brought to the table and replacing bread with malted barley crumpets and truffle butter was part of that. They come to the table warm in a signature toast rack – it is something a little different to the usual sourdough."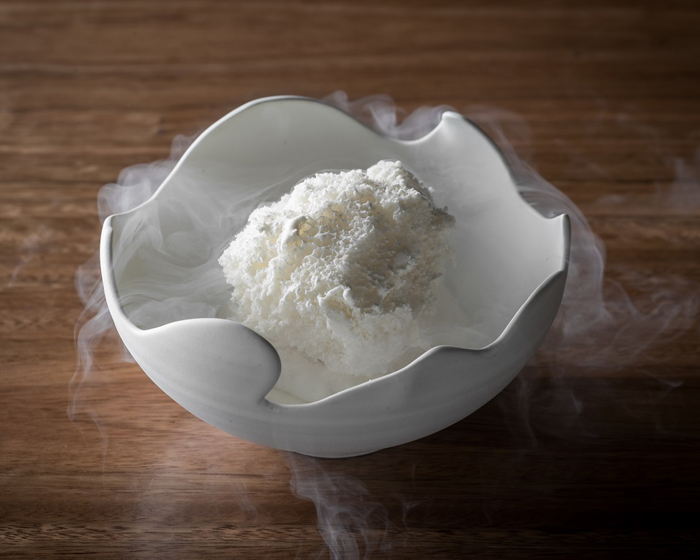 Quay's new dessert: White Coral.
It was a bold move to take the iconic Snow Egg off the menu and Peter knew he had to come back with something spectacular to meet people's expectations. Behold, the White Coral dessert was born!
"I put a lot of time into it and came up with the idea of aero chocolate – light and aerated – then I froze the ganache with liquid nitrogen. It shatters when you hit it with a spoon and that gave me a great place to begin creating this dessert."
Served with an intense fruit ice cream and in its own specifically designed bowl, the flavours are set to change and evolve. At first the ice cream embraced the unique taste of feijoas and now has mango influence.
So what does 2019 hold for this leading light of the Australian culinary scene?
"It has been a big year in 2018, re-establishing the restaurant, maintaining our standards and pushing forward with ideas, while refining what we do every day. I had a brand new kitchen built and now only serve a tasting menu, so we have changed things up quite a lot, I think we are just hitting our straps now.
"Next year will be a time of consolidation and innovation… coming up with new and surprising ideas for our guests."
Finally, we asked Peter what advice he would give his 20-year-old self in hindsight:
"That is always an interesting question. I would reassure myself to go with my heart and believe in myself. That is pretty much what I have done throughout my career. Also to take a little bit of time off to recharge the batteries."