By Freya Ensbey.
Growing up in Loire Valley, France, Gabriel Gate was raised amongst his family's vineyard, with an abundant orchard of raspberries, strawberries, rhubarb and redcurrants; living off the land and often hunting for wild blackberries, strawberries, hazelnuts, walnuts and chestnuts.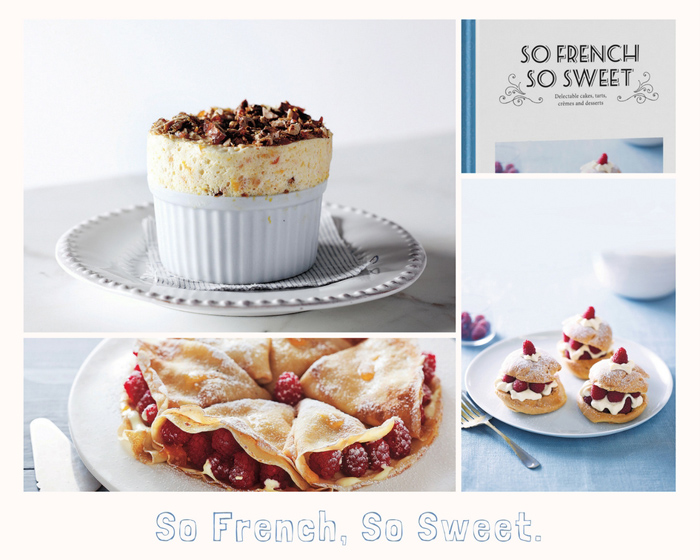 Gabriel was taught the joy, love and respect for food from an early age by his Mother and Grandmother, recalling his earliest memory of cooking being when he was 5 years of age, creating an apple tart in his Grandmother's kitchen. It was as no surprise that his older brother became a baker and Gabriel a Chef, specialising in pastry work, soon launching him into a career of teaching, presenting culinary shows on television and writing cookbooks, with sales of his books exceeding 1.1 million copies, making him the highest-selling Australian male cookery writer.
However, Gabriel's strongest connection and focus has always remained on home cooking, creating cakes and desserts using fresh seasonal produce, now sharing with us his passion and knowledge through the stunning pages of recipes in his latest cookbook, So French So Sweet.
For a quick dessert that is equally impressive, whip up Gabriel's raspberry choux puffs. The choux pastry and crème patisserie can be baked the day before you are wanting to serve the dessert, making it as simple as whipping up a fluffy crème with passionfruit pulp and assembling with fresh raspberries.
Originating in early 18th century France, the soufflé was created and aptly named for its connotation to the French verb 'souffler' which means "to breathe" or "to puff." The frozen apricot soufflé with hazelnut praline on page 148 is a creative take on the baked classic, with sweetness from the apricots and a crunchy texture from the praline, these frozen treats are a refreshing finish to any meal.
A French dessert cookbook would not be complete without the addition of a great crepe recipe and Gabriel delivers with his crepes with raspberries and marmalade. The tip to the lightest and thinnest crepe possible is all in the batter, with this recipe calling for it to first be put through a fine sieve before being chilled in the fridge for as long as possible before cooking. If you don't love raspberries or they are not in season, you can simply substitute them for any other berry or sliced fruit.
Making a very special gift for those who share the love of home cooking with a soft spot for sweets, or simply as an addition to any home recipe library for those seeking to learn the baking fundamentals to execute the perfect French dessert, So French So Sweet is guaranteed to give you brownie points in the kitchen.
Discover more culinary creative delights by Gabriel Gate with his acclaimed twenty-fourth cookbook in his stable, Délicieux.
This is an edited extract from So French So Sweet by Gabriel Gaté published by Hardie Grant Books RRP $29.99 and is available in stores nationally. Photographer: © Mark Roper.