By Freya Ensbey.
Hailing from the picturesque area of the Central Coast of Australia, Yasmin Newman has cemented herself as a sought-after writer and content creator for top media outlets including Delicious, SBS food and Australian Traveller.
Following the celebrated release of her first cookbook in 2014, 7000 Islands: A food portrait of the Philippines, a pregnant Newman decided to add another to her stable of published work, packing up her husband and young family to embark on a food lover's journey to New York for 3 months with the sole purpose of 'desserting' her way through the cities sweetest hot spots.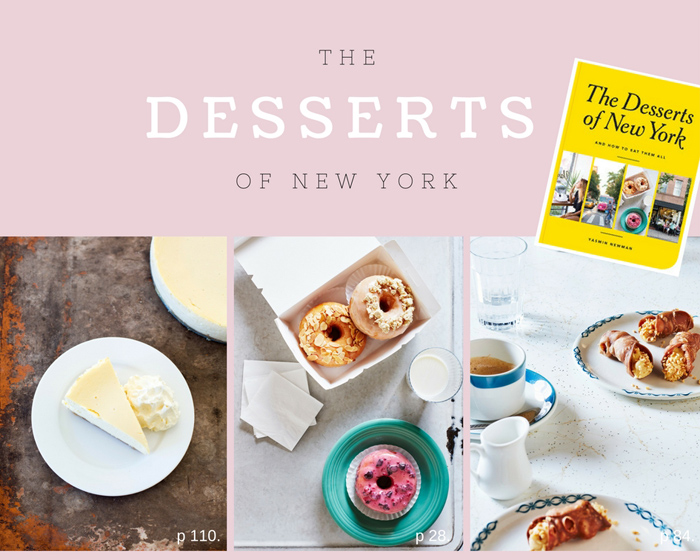 Ninety-one days, 169 eateries, 373 desserts and thousands of calories later, Newman reached her very own 'eat' in and Eat Pray Love journey to self-discovery, producing so much more than just a cookbook; part travel diary, part food adventure and all heart, with The Desserts of New York.
The New York cheesecake is the quintessential dessert of the big apple. The style now synonymous with the city, allegedly made its first appearance in the early twentieth century, when a product called Philadelphia Cream Cheese came onto the market, adopted and famously continued today by Peter Luger Steakhouse, Eileen's and Two Little Red Hens. Try this iconic dessert yourself with Newman's simple yet effective recipe, the trick being all in the top layer of sour cream to cut through the sweetness and cooking with a mild heat and allowing the cake to cool slowly.
When most think of New York City, images come to mind of central park, yellow taxis, the statue of liberty and of course the NYPD sipping a coffee with a doughnut in hand. When visiting New York, a glazed doughnut to accompany your mid-morning "cawffee" will have you living as the locals do. For those who want to re-create this in their own home, whip up The Glazed Doughnut of Your Dreams. Top with your choice of a fresh cherry glaze, vanilla bean and halva glaze or a dulce de leche and toasted almond glaze or make all three varieties for the ultimate indulgence.
If any sweet treat screams America it would have to be the peanut butter and jelly sandwich. Newman describes one of New York's mutual talents, to having respect but also disregard for tradition, taking the migrant classic of cannoli and making it their own with this recipe for peanut butter and jelly cannoli, making a fun and quirky treat even the kids will love making.
Making for the perfect gift for an American expat, someone heading to the states, avid sweet tooths, talented bakers or any traveller who enjoys discovering the inner workings of a districts sociology, The Desserts of New York will deliver 44 recipes that accompany Newman's delicious adventure and mix of inspired takes on signature New York desserts.
This is an edited extract from The Desserts Of New York by Yasmin Newman published by Hardie Grant Books RRP $39.99 and is available in stores nationally. Photographer: © Yasmin Newman (location) and Alicia Taylor (studio).