Why did the vegan go deep-sea diving? Just for the halibut!
From the waters surrounding Australia comes a diverse bounty of unique taste sensations, which have seafood lovers salivating at the thought of lobster, prawns and oysters.
Whether you reel in a fresh fish yourself to cook on the barbeque, or are lured in by offerings plated up every night at a local eatery – there's no denying Aussies love their seafood.
Did you know that most brands of lipstick contain fish scales? Here are five more fun facts to hook the conversation at your next seafood dinner:
•The oldest known age for a fish was 65 – and funnily it was an Australian lungfish.
•Sharks are the only fish that have eyelids.
•Most fish can't swim backwards…those that can are members of one of the eel families.
•Electric eels and rays have enough electricity to kill a horse.
•Starfish are not fish, neither are jellyfish.
Take the ocean drive from water to your plate and drop a line at one of these six restaurants: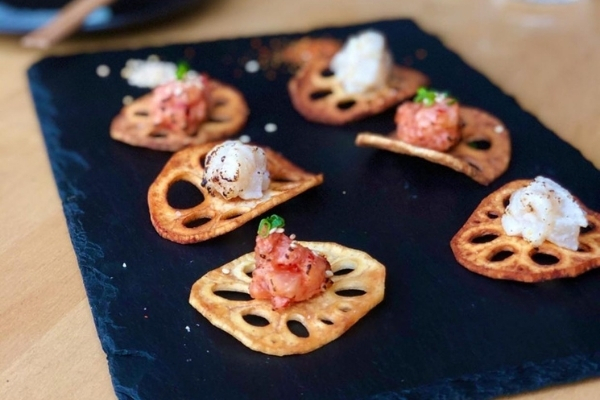 Project Tokyo signature fried lotus chips and salmon tataki.
Newly expanded and renovated
Project Tokyo
on Markeri Street in Mermaid Waters is the place to go on the Gold Coast for Japanese seafood delights. New booth seating, an awesome bar and function space transport diners to the streets of Tokyo; while sipping some sake in industrial-style surrounds of polished concrete, wooden floors and Japanese writing on the walls.
Say arigatou to a signature starter of fried lotus chips, with miso kingfish and salmon tataki, or seared tuna sashimi, salad, onion, yuzu and sesame; before larger plates of teriyaki-glazed charred salmon fillet, steamed rice and seasonal tempura vegetables, with tendon sauce. Sushi lovers may opt for scallop aburi, tuna, avocado and salmon roe, or cooked tuna with cucumber.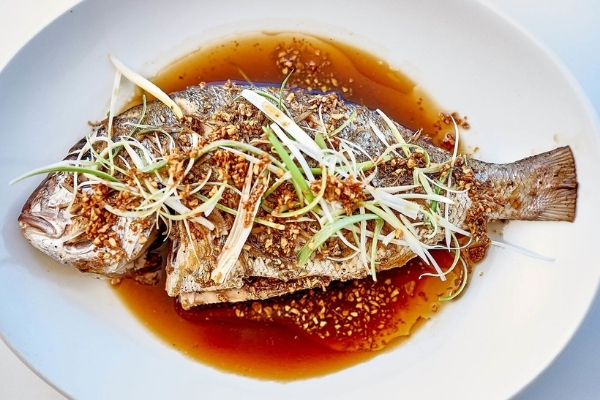 Rick Stein at Bannisters whole grilled snapper.
When it comes to seafood, few do it better than
Rick Stein at Bannisters
, located within the grounds of Bannisters by the Sea in Mollymook. Every diner has an ocean panorama at this waterfront venue, where the beach-chic setting is comfortable, classy and understated; while the food is exquisitely prepared from fresh, local produce.
Net a starter of swordfish sashimi, with wakame salad, pickled ginger, wasabi and sashimi dressing, or perhaps grilled Hervey Bay scallops in the half shell with toasted hazelnut and coriander butter; before delving into steamed whole snapper, ginger, soy sauce, sesame oil, crispy garlic and shallots. Lobster lovers aren't overlooked with the classic French thermidor version a menu favourite.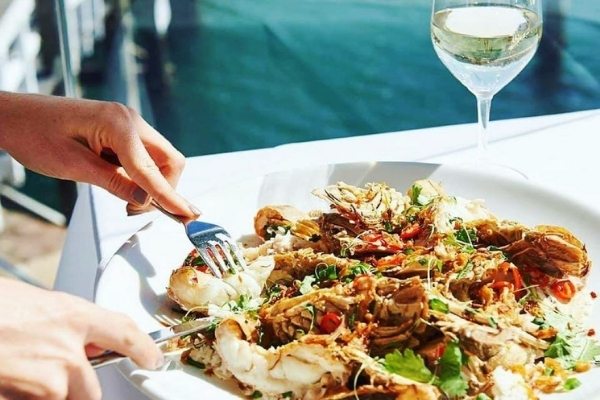 Grilled Moreton Bay bug at Harbourfront Restaurant.
Breezy outdoor decks and floor-to-ceiling windows make the most of water views on every level at
Harbourfront Restaurant
on Endeavour Drive in Wollongong. This tri-level venue is stunning both day and night, whether settling in for a glass of wine and light bite after the beach, or indulging in finer dining on an upper floor.
Seafood is obviously the specialty – so throw out a line and hook seared Atlantic scallops, yellow squash and lemon balm sauce, broad beans, spring pea foam and toasted almond to start; then anchor the main meal with a dish like grilled Moreton Bay bugs, turmeric, lime leaf, galangal and coconut cream sauce, jasmine rice, coriander and crispy shallots.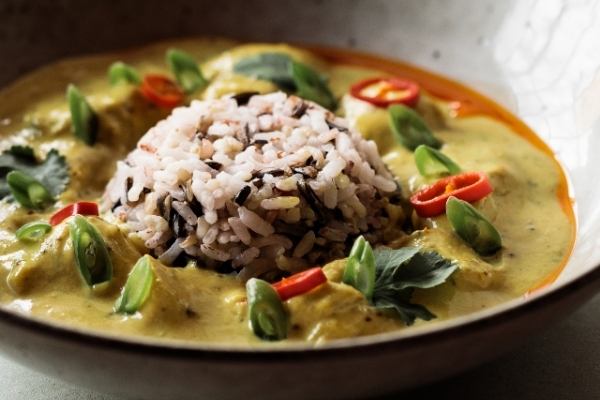 Mures Upper Deck seafood laksa.
Take in breathtaking waterfront views through floor-to-ceiling glass and watch the sky turn pink at
Mures Upper Deck
on Victoria Dock in Hobart. Relax with a chilled glass of wine and contemplate a fishing line-to-plate menu, showcasing local seafood catches to their ultimate best in a fresh approach to a la carte dining.
Tasmanian Pacific oysters never disappoint to start, perhaps with an Asian-style dressing of soy, sesame, mirin, chilli and herbs; before salivating over mains such as seafood laksa – scallops, premium white fish, Atlantic salmon, mussels, squid, tempura mushrooms, noodles, herbs and chilli. Chocolate mousse, salted caramel sauce and almond crisp provide the ultimate decadent finish.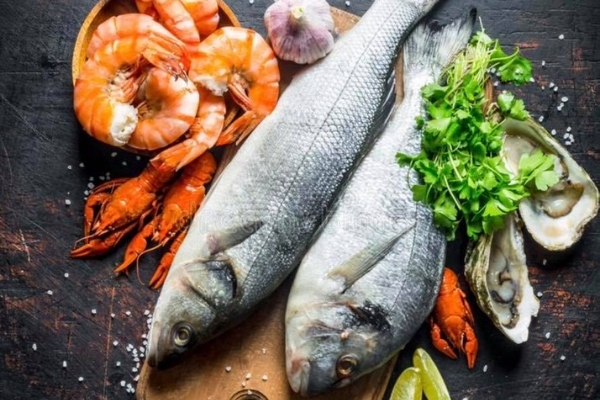 Fresh market seafood from Fish Tank in Brighton.
Browse and buy market-fresh local seafood to cook at home, pick up fish and chips to go, or enjoy a sit-down meal with a glass of wine at
Fish Tank
on Church Street in Brighton. This lucky Melbourne suburb is not only blessed with the beach, but also one of the city's most popular and finest fish and chipperies, offering a healthy alternative to your corner fish and chip shop.
Along with fresh fish like blue grenadier, King George whiting and Atlantic salmon, cooked to your liking; share a hot and cold seafood platter of smoked salmon, prawns, oysters, salt and pepper calamari and salad, or perhaps chilli crab, served with steamed rice. Burger lovers aren't forgotten – grab a Thai salmon patty, with wild rocket, onion, tomato and chilli sauce, on a toasted bun.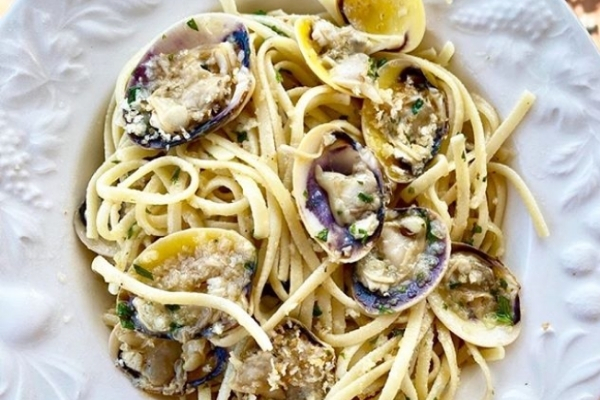 Luciano's Italian Marina Pier is the place for Italian seafood.
An Italian Amalfi Coast vibe combines with fresh seafood at
Luciano's Italian Marina Pier
on Holdfast Shore Marina in Glenelg. Ultimate waterfront views from the marina pier combine with an elegantly-styled restaurant with tiled floors, sandstone walls and softly glowing downlights, to provide the ideal backdrop for an intimate dinner with your special someone.
Those seeking an after-work drink can pull up a stool at the bar, while an open kitchen offers glimpses of Chefs preparing starters like calamari fritti – fried SA squid, zucchini, parsley aioli and lemon. Watch the twinkling harbour lights while contemplating main catches such as a barramundi parcel of tomato, fennel, potato, basil and butter; or crab meat linguine, chilli and mascarpone.
Still looking to jig a restaurant for a seafood feast…click
here
.