Be a guest of the Ghan
Due to the Northern Territory's considerable land to attraction ratio, travel and site seeing can become somewhat wearisome. The railway is perhaps the most efficient means by which to see the best of the territory in a comfortable atmosphere, without the hassle of independent travel and preparation. Home of the legendary Great Southern Rail, the Northern Territory offers a journey from North to South over three memorable days on what is considered one of the world's most recognizable trains – The Ghan.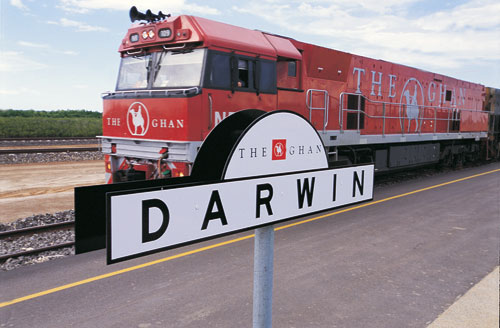 Where can I go on the Northern Territory railway?
Making the most of the daylight hours to offer some of the best views of the territory, the Ghan runs through the very centre of the Northern Territory, from Darwin in the Top End to Adelaide in South Australia. Over a distance of 2979 kilometers, The Ghan soaks up the essence of its ever changing surrounds, from Darwin's crystal waters and vibrant lush greenery to the Alice's red earth and glorious sunsets.
Stopping and passing through some of the territory's most picturesque sites, you'll be guaranteed a consistently rolling panoramic view. The Ghan has a variety of whistle stop breaks available for you to stretch your legs and explore amongst the outback. Explore Alice Springs and its rich Aboriginal heritage with a walking tour or enjoy the outback air and quad bike across the desert. Once in the Top End, relax in the tropics and head towards the rock pools, waterfalls and colourful communities full of art and adventure. An easy and memorable way to travel, a journey on The Ghan allows you to experience the best of Central Australia in a short time period, complete with luxurious accommodation, food and hospitality.