The colourful heart of the territory
The second largest town in the Northern Territory, Alice Springs is home to remote Aboriginal communities, sun kissed desert landscapes and quirky colourful festivals, made famous by the film 'Priscilla, Queen of the Desert'. And with events like the Alice Springs Beanie Festival and a film festival dedicated entirely to bicycles, you can be guaranteed this is an outback town in the red centre like no other.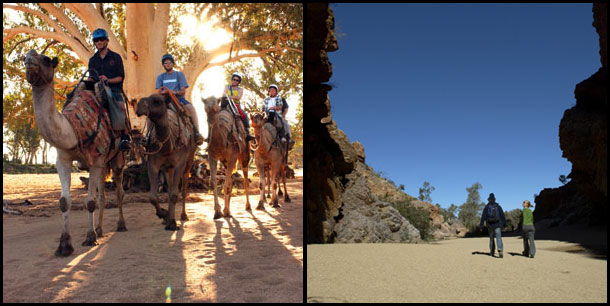 What can I do in Alice Springs?
For a day of history, inspiration and respect, head to the base of The Royal Flying Doctor Service (RFDS), an interactive museum, filled with aircraft memorabilia, medical equipment and tours inside the base that explain what a typical day in the RFDS entails. Tours throughout the base are available every half hour, along with a gift shop and café on the grounds. One of Alice's star attractions, Simpsons Gap is one of the Northern Territory's most prominent waterholes and a sacred, spiritual site for Aboriginal people. A scenic gorge within the West MacDonnell Ranges, Simpsons Gap is distinguished by its small gap, where water flows between.
To see some of the red centre's most famous desert dwelling creatures, head to the Alice Springs Desert Park, where you can discover all about the hundreds of plant and animal species that are found throughout Central Australia. Flying bird presentations alongside a range of interactive activities are available throughout the Desert Park, as well as a choice of walking trails and exhibits.
Find out more information on other regions of the Northern Territory here