When it comes to Easter gifts, what our furry friend delivers – a hopping symbol of fertility – best be determined in advance and it's no easy feat. We're overwhelmed with choice, from floppy-eared toys to woven baskets of flowers… you can't go wrong with food in the mix and sweet treats are the norm; creative gifts together with Easter egg charm (both sweet and savoury versions) you'll be met with smiles in abundance.
Nestled in the southern hemisphere we enjoy Easter feasts during autumn, with meals emphasizing seasonal flavours from sweetcorn and turnips to leeks, mushrooms and Asian greens. For adult guests, you may wish to gift them with a select assortment of fresh wicker-nested seasonal produce – consider picking two or three items that you're using as ingredients in your laid-back lunch or made-ahead (as much as possible) dinner.
At this time of year Australia is very much thriving and alive in the spirit of the wine harvest; we're red cheeked from working hard in the great outdoors and our feet are ruby toned from shiraz stomping. Everyone's ready to celebrate by twisting the screw cap on their favourite varietals, chosen to match this year's meal. Again, including a bottle of one of your chosen wines in a gift hamper for over eighteen guests is a novelty that will not go unnoticed.
As amicable host you may attribute your thematic Easter planning to traditional pagan folklore, opting to incorporate hand-painted eggs on your table. Colourful and ornamental, there is century's old Slavic technique for decorating Easter eggs that was developed to ward of evil spirits and misfortune.
Modern Martha Stewart types may opt for basic egg dyeing and convenient decals. With either approach, for an edible centrepiece opt for the hard-boiled egg option; however, if you're time poor, hollow eggs are viable so you can safely tuck them away to reuse next year.
Aside from the historic and aesthetic value of these characteristic dainty eggs, it's a good idea to further build on the prolific egg idea by incorporating the most crowd-pleasing variety, those made of chocolate. Little bags of chocolate eggs adorned in ribbons and bows complement any gift and larger versions can be the highlight for children's gifts.
Originally a 16th century German invention, chocolate eggs were originally solid but as moulding became more mechanized hollow chocolate eggs became widely available. They remain our favourite Easter treat, offering chocolatey goodness without being calorie dense beyond temptation.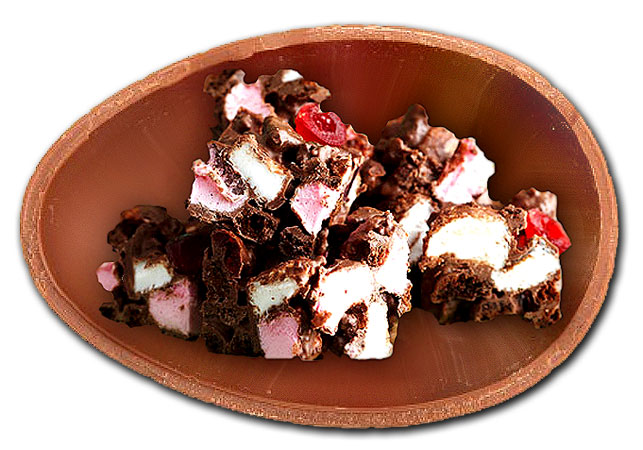 Easter egg trends have ebbed and flowed over the past 500 years and right now Australia's gone wild for homemade rocky road Easter eggs. There are many variations, though it seems easier approaches are preferable, especially during the busy holiday season.
Try this rocky road recipe, then simply prepare large, hollow, cool and firm Easter eggs by cutting them in half with a warm serrated knife. Put the half eggs on a sheet and and then instead of lining a tray with your rocky road mix (as the recipe calls for), use the hard chocolate egg halves as a base. Place in the fridge as per the original recipe.
When it comes to your Easter holiday meals, you will find many options in our AGFG Recipes section.
But we couldn't overlook this 'Produce to Platter' recipe originating in Victoria. Sault Restaurant's Chef Santiago Nine-Fernandez has created a most lavish Daylesford autumn garden dish, compelling and full of charm; home cook beware, this is not for the faint of heart – if you can pull it off your Good Friday will be one to remember.
Once you've decided what the Easter bunny's dropping off when he hops by, it's important to plan your main meals in advance and prepare as much ahead of time as you can.
In AGFG Recipes you'll discover a range of recipes that range in easability, from customary breads, tender roasts, and desserts that vary in sweetness, plus vegetables for sides or mains as preferred.
Sample recipes for you to consider include: Greek Easter bread, poached chicken salad, vegetable hotpot, honey glazed ham, and fig pudding.