As the New Year starts to sink in, festive activities tend to slow, leftovers are gobbled up and the booze trains starts to pull into the station. We think about the pilgrimage back to the gym, the year ahead and the challenges it may bring and vow to make our lives healthier and happier.
For those still in holiday mode, it's time to hit up one of our favourite restaurants before the daily grind of cooking after work meals sneak back into our repertoire. Here are nine restaurants to kick start your 2020 with a purpose.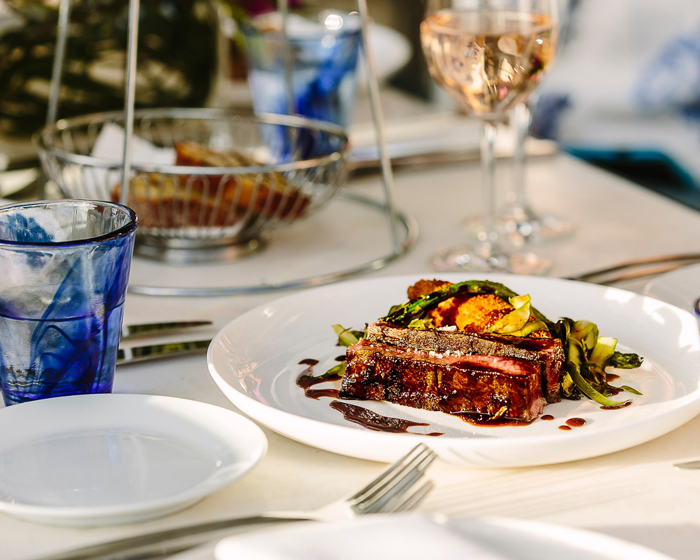 Bottomless lunch at Cafe del Mar.
New Year Dining in Sydney and Bathurst:
There's nothing better on a balmy Sydney Summer evening that enjoying a spectacular Cockle Bay Wharf sunset view at Café del Mar, with a chilled glass of wine. Panoramic water views of Darling Harbour, atmospheric music and a chilled-out style make this rooftop terrace venue a relaxing spot to partake in a Mediterranean dining experience.
Catch a glimpse of skilled Chefs at work in the open kitchen, preparing share plates such as char-grilled octopus, chilli, tomato and onion; or delve into roast lamb shoulder, salsa verde jus, truffle potato gratin and glazed baby carrots. For the ultimate 2020 experience, order a golden moon dessert of housemade white chocolate, frozen with liquid nitrogen at your table.
Step back to yesteryear to experience the charm and character of Cobblestone Lane on George Street in Bathurst. Housed in heritage-listed former Webb & Co department store built in 1863, this restaurant retains original features, as well as an open kitchen where the talented culinary team create tempting dishes.
White clothed tables, exposed brick and timber floors set an ideal vibe for romantic New Year dinners or catch-ups with family and friends, from a European and Asian-inspired menu, plating up entrees such as Peking duck, shallot pancakes, salad and plum relish. For the main, opt to try pistachio dukkah lamb fillet, pearl barley, broad beans, beetroot, pea brulee and jus.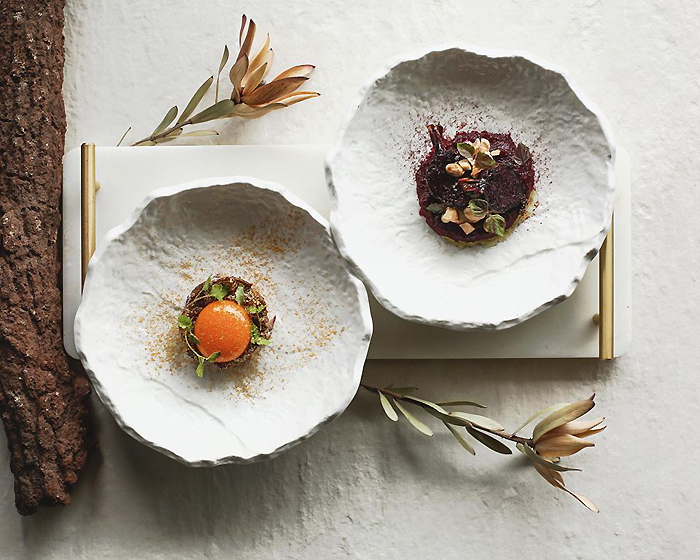 Peppered Venison tartare and a vegetarian version, Four Stages of Beetroot at Deer Duck Bistro.
2020 Dining Destinations in Auchenflower and Noosa:
Set the tone for stylish dining in 2020 with a visit to Deer Duck Bistro on Milton Road in Auchenflower. Emanating a touch of class and distinguished vibe, this bistro is bedecked in lavish furnishings, plush upholstered dining chairs spaced around notably set tables and warm lighting overhead – ideal for lingering over a leisurely meal with someone special.
A collation of classic European dishes sees entrees like peppered venison tartare, burnt golden shallots mayonnaise, pickled red cabbage and egg yolk; while for a memorable main, sous vide pork, sour apple, labneh, dark ale gastrique and crumble may entice. Desserts are a must – think burnt marshmallow, housemade cookies, candied orange and smoked dark chocolate.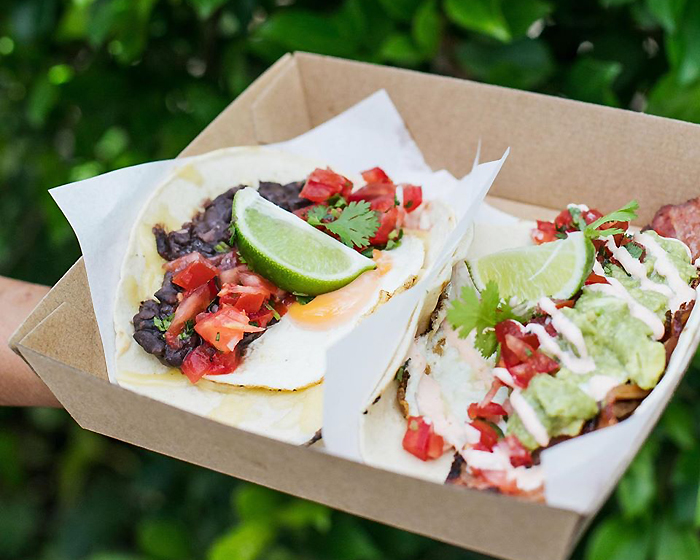 Breakfast tacos at Xalapa (you'll go back for seconds, trust us!)
Any time is a good time for tacos… locals and visitors say hola to Mexican with a Noosa twist at Xalapa Craft Taqueria y Café on iconic Hastings Street. This colourful taqueria serves craft tacos from vibrant alfresco surrounds of peach and aqua mosaic tiles, potted cacti and a chilled-out beach vibe making it feel like New Year all year long.
Whether stopping by for a Cat's Pyjamas specialty coffee or lazing over lunch, expect a menu brimming with tasty, clean and super fresh flavours ideal for boosting 2020 resolutions; such as achiote prawn tacos with crispy lime slaw, sliced avocado, house salsa and coriander lime crema, or pulled pork quesadillas with melted cheese, guacamole, pico de gallo and Baja sauce.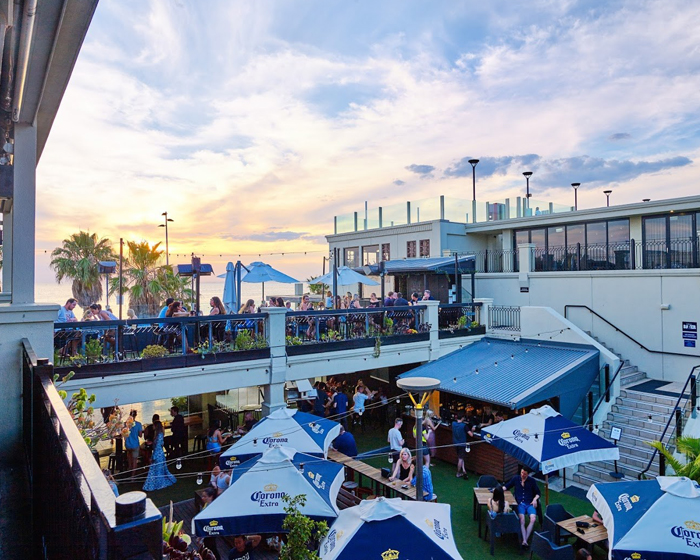 Outstanding views from Captain Baxter.
Dine at St Kilda and Southbank this New Year:
Sit back, put your sunnies on and soak up the New Year sun at Captain Baxter on Jacka Boulevard in St Kilda. This iconic destination in the Sea Baths Complex is one of Melbourne's go-to venues for lunch under the sun, drinks at sundown and relaxed dining. Inspired by the tropical beach bungalows of 1920, the vibe is cool and funky in keeping with the food and drinks on offer.
A retractable roof brings you even closer to the ocean and salty sea breezes, while sipping a chilled glass of Prosecco and sharing a Taste of the Sea plate – fermented rice crumpets, Crystal Bay prawns, Abrolhos Island scallops, First Harvest caviar and Appellation oysters. Jack's Creek pure Black Angus beef, bone marrow, pepper sauce and mixed leaves may tempt the carnivore.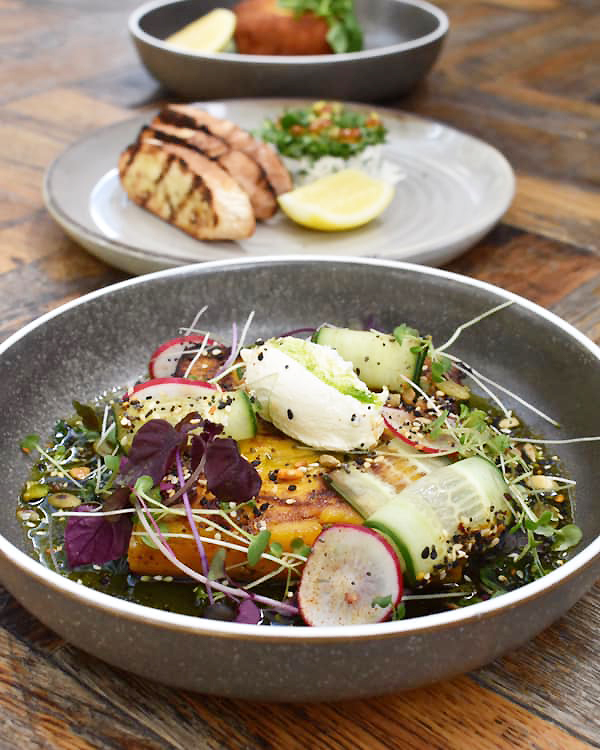 New Summer menu out now at Ludlow.
An open tiled terrace boasting views of the Yarra River and Melbourne city skyline makes for a happy spot to celebrate a new year with drinks and dinner at Ludlow Bar & Dining Room on Riverside Quay. Resonating with sleek sophistication, sheer charcoal curtains, white pearl tiling and a modern industrial style, this venue suits occasions both casual and formal.
Influenced by European flavours, expect to sample starters like torched King salmon, kipfler potato, crème fraiche, Avruga caviar and herb oil; perhaps share lamb koftas with smoked eggplant, yoghurt, cucumber sumac and mint for the main, or slice into a perfectly cooked rib eye with rustic chips, a baby gem and herb salad and red wine jus.
Celebrate a New Year in Port Adelaide:
Whether looking for live music on the weekend or a secret garden courtyard to while away time with a drink in hand, Port Adelaide locals and visitors head to Korked Lounge Bar on Divett Street. With muted pink tones and exposed brick, Korked projects an eclectic vibe indoors setting the scene for celebrating the new year in style.
From a share-plate menu, pick up some Jerry Springers – succulent housemade pork spring rolls with Chef's secret dipping sauce – or Fully Sick salt and pepper squid, with tomato and onion salsa, salad garnish and lemon vinaigrette, drizzled with kecap manis. Don't go past Chef's signature Bombay onion rings, seasoned with red wine salt and served with garlic aioli.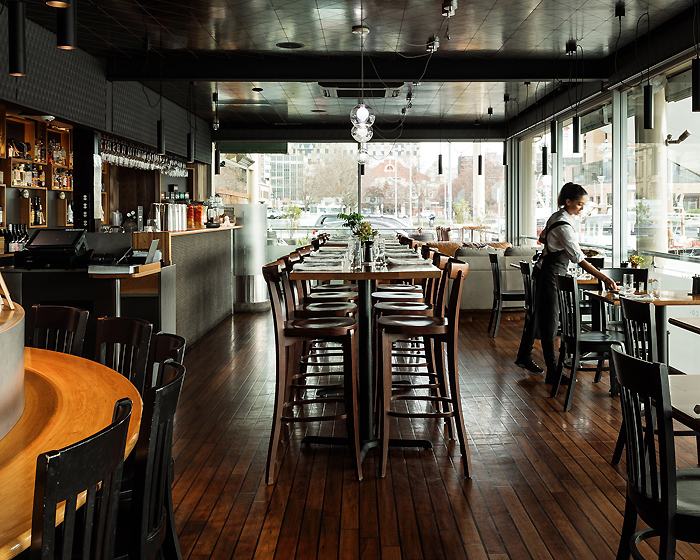 Glass frontage from Pearl + Co.

Hobart 2020 Hotspot:
Nothing says celebration more than treating yourself to oysters, drinks and views at Pearl + Co on the water's edge at Victoria Dock in Hobart. This stunning waterfront bar and restaurant dishes up floor-to-ceiling adjustable windows to watch boats gracefully glide into moor at the marina, while chilling out on couches both inside and on the sunny deck.
A classy haven for cheeky cocktails and grazing on share plates crafted from premium Tasmanian produce, dive in with a Japanese oyster shooter with sake, mirin, wasabi and ginger; before curried scallop pie, freshly baked bread and salad. Chocolate brownie, ice cream, marshmallow and chocolate pearls will satisfy even the sweetest tooth.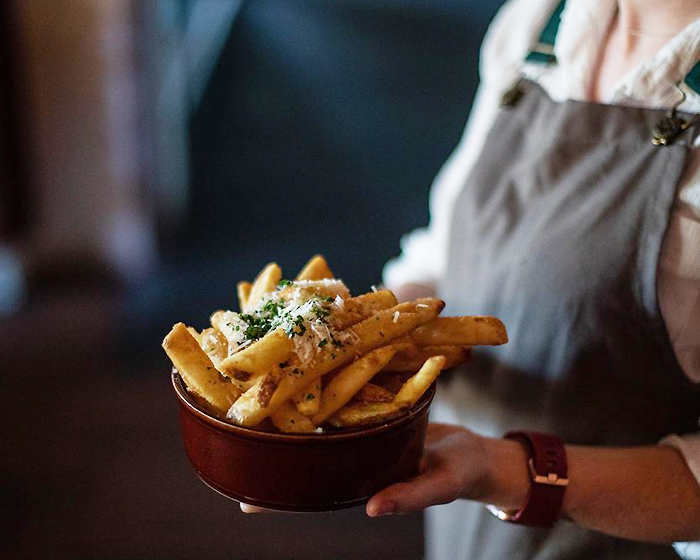 Samson's Paddock's famous beer-battered chips with Parmesan and truffle oil.
2020 Mosman Park Watering Hole:
A tapas haven for local foodies, Samson's Paddock on Glyde Street in Mosman Park has history dating back to the 1830s, when horses rested out front while riders quenched their thirst indoors. These days Samson's has evolved into a casually chic stop for a 2020 drink and bite to eat, in warm and inviting surrounds of worn brick, rustic wood and a paved alfresco courtyard.
Snack on grilled octopus, basil, olive powder, tomato and pine nuts; before more substantial plates of oyster blade steak, sweet potato, local mushrooms and mustard jus, or duck, fennel, orange, Port and anise myrtle. For a sensational sweet, try chocolate cremeux, Davidson plum and housemade ice cream washed down with Chalmers Chocolate Port.
Still, looking for a place to celebrate all that a new year brings? Click here for more restaurants near you.