Arriba, arriba… taco me to Mexico at Melbourne's first true taqueria Mamasita, where Head Chef Michael Smith pushes diners to think about Mexican food in a different light.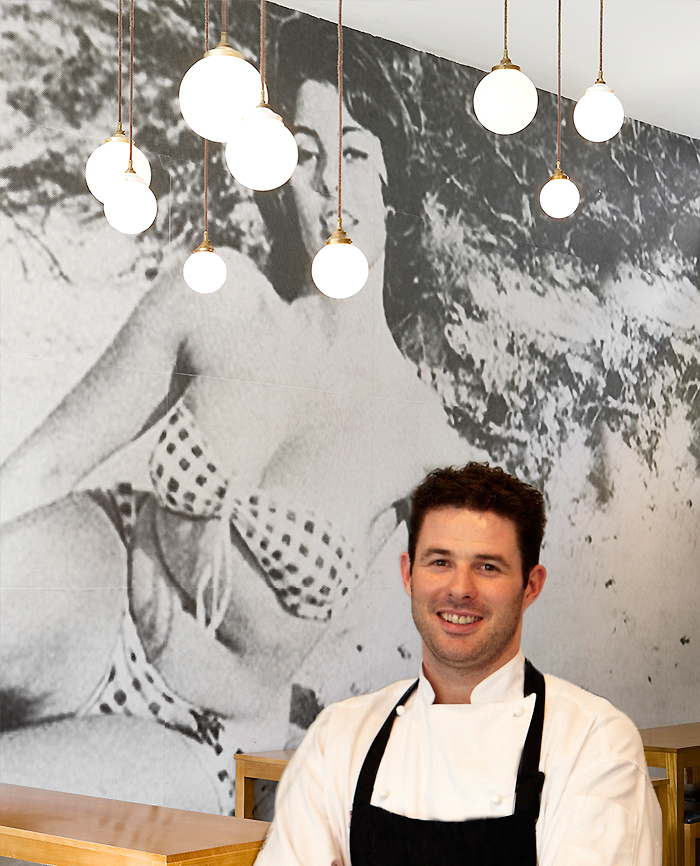 Mamasita's Chef, Michael Smith against Mamasita's iconic backdrop.
Mamasita puts a modern Melbourne spin on fantastic local produce, drawing a loyal local crowd to its Collins Street venue where smart wooden benches, banquettes and bar stools are full from lunchtime until late, as guests munch on south of the border dishes, washed down with margaritas.
Cutting his teeth at well-known Perth and Melbourne restaurants, Michael's first Head Chef gig was under the legendary Jacques Reymond and he tells AGFG the techniques he learnt have led him to strive for balance in his dishes in many different ways.
"Jacques is my greatest culinary inspiration – his palate is unbelievable!" Michael explains. "In the more than five years I worked for him, I came into contact with some of the most amazing producers and produce. He pushed me to find balance in many ways, I hear him in my head as I'm cooking new things saying: 'Does it need some more acidity Micky?', or 'It needs texture, mate.'
"I have used the techniques I learnt from him in every work place, since I left."
From there, Michael opened his own shared plate European dining restaurant Jorg in Fitzroy, before moving to modern Indian-inspired Tonka to much critical acclaim, also overseeing Melbourne's much-loved Coda. Joining the Mamasita team in 2016, he says Melbourne is considered the foodie capital of Australia because of the amazing offering of cuisines from around the world, coupled with an abundance of Chefs who are very well travelled.
So why does he think Aussies crave tacos and nachos?
"You won't find nachos at many places in Mexico – they're not Mexican! We fell in love with nachos in the 70s and 80s, then in the 90s we learnt a whole lot more about Mexican food. But hey, who doesn't love tacos?"
When asked what was the most outrageous taco he has ever made and what drink went best with it, Michael quickly came back with a pretty extravagant scampi taco, on homemade blue corn tortilla, with almond hazelnut sauce, dragon fruit salsa and scampi caviar.
"It was delicious, but not for the menu every day. As a mezcal match, we would recommend our Pierde Almas Conejo – I tried this on my first visit to Oaxaca. It is distilled with a rabbit hanging in the still."
As for his most eyebrow-raising dish, that's easy… lamb rib chop with pulparindo.
"It's out there! We took this secondary cut from under the shoulder and grilled it. Similar to Scotch fillet with its muscle structure and pockets of fat, it grilled really well," he says. "When I first tasted it, I thought it needed something like agave or a molasses-based sauce, so we took the bones of a barbeque sauce and went at it with our Mexican pantry. We serve it simple, the grilled meat enriched by the sauce and a tangy tamarind dressing based on the Mexican lolly pulparindo – finish by throwing in some lamb's tongue lettuce."
As for Michael's favourite dish, he tells a story of the last time he was in Ensenada and hit up a roadside taco stand in the middle of nowhere for tacos de carnitas.
"The taquero was telling me he cooks 150 kg a night, he starts at midnight with the fire, then the pork goes into a vat of fat that has used for as long as I have been alive. He's sold out by 11am the next day – I had a trotter, then neck and cheeks with a little bit of head and ate until I was full. Definitely in my top three tacos!"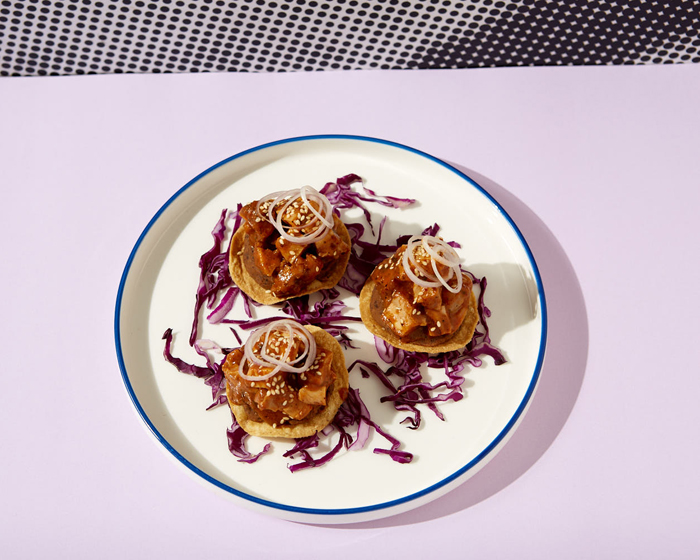 For our AGFG readers, Michael shares his recipe for grilled chicken in yellow mole, which surprisingly doesn't taste like chocolate at all. A traditional gravy like sauce used to top chicken and meat, there are seven classic mole recipes, each one with a different colour and distinctive flavour of its own.
As for an ingredient he can't cook without, again an easy question!
"Chilli. My view is there is a chilli for every dish and Mexican chillies are a great example of the range and contrast you can get – going from blowing your head off hot through to fruity and herbaceous tones and into the sweet, caramel and dried fruit end. I can't go a day without chilli in some form and when I'm not in a good mood, I just need a good hit of hot chilli to reset me!"
As Head Chef and a father of three, Michael doesn't have much down time away from the restaurant, but when he does he likes to forage, eat and read cookbooks.
"Mostly, I just can't spend enough time with my wife and kids. Nothing surprising about that."