By Leigh O'Connor.
At age 11, Sebastian Atkins-Davis has just finished making his fourth wine – a 2022 Shiraz which is now in the barrel at
Steels Gate Wines
in Dixons Creek.
The son of winemakers Brad Atkins and Matthew Davis, Sebastian made his first drop in 2019 when he produced a Merlot, followed by a co-fermented Cabernet Shiraz in 2020 and a Chardonnay last year.
How did an eight-year-old get involved with winemaking? Sebastian tells the story of Daddy Matt getting barrels ready for the harvest and writing Cabernet Franc on the front of one in chalk.
"I said to him 'hey, I wanted to do that, can I write the next one?' Daddy Matt said of course you can and for fun I wrote 'Seb'," he tells AGFG. "He then asked me if I wanted to make the wine and that was my first."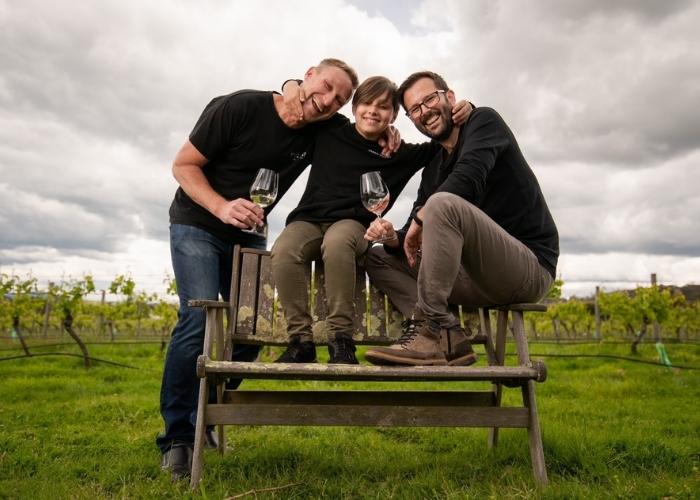 Sebastian says in the beginning he was focusing on fruit flavours like strawberry and plum, while this year he has been learning more about acid tastes and how they are different on the front and back palate.
"I have also learnt that I don't like cleaning up, so I leave that to my Dads! My first wine I helped destem the grapes and press them, because we had small machines; now we have big machines I watch because it's all forklift and tipping, which Daddy Matt does for me.
"With my red wines, I have done the plunging and pumping over when fermenting and I extracted the wine into the barrel before the fermented grapes were pressed. Daddy Brad tells me when things need to be tested and I do it with him for pH and TA (acid)."
Sebastian makes all the decisions himself, with his approach being minimal intervention, wild yeast, no added chemicals, filtering or fining, resulting in some of his wine having some sediment.
So, does he taste his wine?
"My Dads let me put a tiny taste of wine on my tongue so I can learn about the characters…I'm not great yet, but neither are they (just joking). Lately, I have been good at tasting acid but not many other things, because I think I need to be older and allowed to taste more.
"I let my Dads give me advice for taste – I do enjoy tasting the juice before fermentation and guessing the different flavours (characters)."
His first wine was nicknamed 'Smerlot' and is still referred to as that, while his second was a Cabernet Shiraz so he could learn about co-fermentation. This drop is only 8% Shiraz and Sebastian considered adding more – on his Dads' advice he trialled more Shiraz but didn't like how it tasted and stayed with his co-ferment.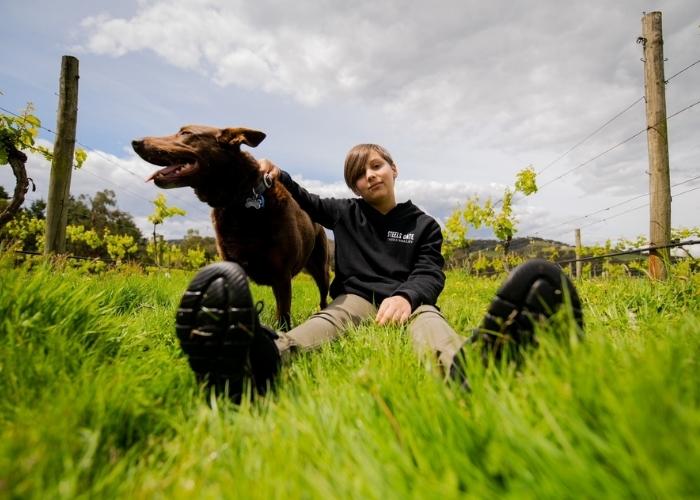 "I wanted to make a Pinot Rosé this year but we didn't have enough Pinot grapes, so I am hoping we have more next year so I can make a rosé."
Due to COVID lockdowns in Victoria, Sebastian has yet to release any of his wines – he had hoped to release his Merlot last year around Melbourne Cup weekend but that was delayed and he now hopes to release the 2019 Merlot and 2021 Chardonnay around October this year.
A brown belt-black stripe in karate and planning to get his black belt within a year, he isn't just a winemaker; Sebastian loves playing his Nintendo Switch and iPad, as well as going off-roading in his go-kart and driving the RTV around their property.
Where does this dynamo see himself in five years' time?
"In high school, juggling schoolwork, karate and my own business. I'm really looking forward to launching my own brand this year and can't wait to see what wine I'm making in five years' time and how it is different to my first wine.
"Maybe I'll make more than just wine, Daddy Matt likes making beer, gin and brandy too."
We look forward to seeing what Sebastian produces in the future!