By Leigh O'Connor.
Carb lovers of the world rejoice…Sunday, October 25 is World Pasta Day, meaning you can overindulge as much as you like without judgment!
We've been eating pasta since at least 5000 BC, but this saucy day to celebrate all things Italian was only established in 1995, when 40 pasta producers from around the world gathered to hold the globe's first World Pasta Congress in Milan.
Since then, we've all joined forces to honour one of the most delicious and versatile foods on the planet, from spaghetti to fettucine and all pasta in between.
Here are some pastabilities around the country to get your fix on World Pasta Day:
Inspired by a meal enjoyed in Fiumicino in Italy,
The Winery Kitchen
on Emily Street in Seymour is serving up mezzi pacceri - with a prawn bisque, prawns, mussels and pacceri tube pasta, topped with a raw prawn - to those pastaholics looking for their perfect plate.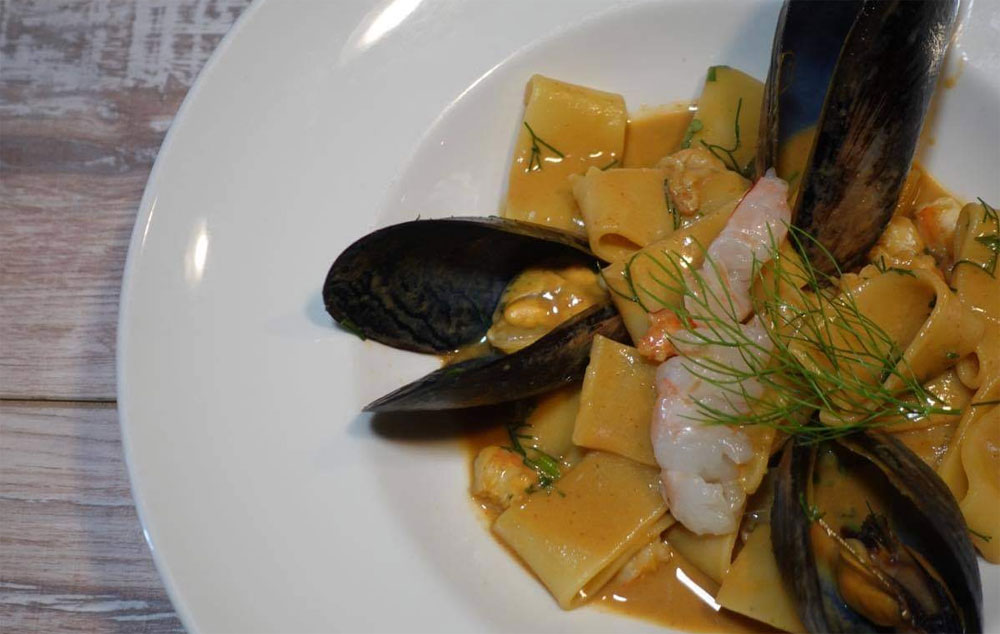 The Winery Kitchen's mezzi pacceri.
Espousing a paddock-to-plate philosophy and just an hour's drive from metropolitan Melbourne, this family-run restaurant nestles in the picturesque Somerset Crossing vineyard and has quickly become a gourmet destination, attracting foodies from all over. Take to the vine-covered alfresco area and delve into a Mediterranean-inspired meal, paired with a glass of estate wine.
There's no shortage of housemade pasta on the menu at
Bella Venezia
on the Esplanade in Mooloolaba. Prepare for a tantalising journey of Italian dining at this popular hot spot, found inside the Pacific Beach Resort, where plush blue and red velvet seating and dark wood radiate a charming warmth and high-backed bar stools provide an ideal spot for after-work drinks with friends.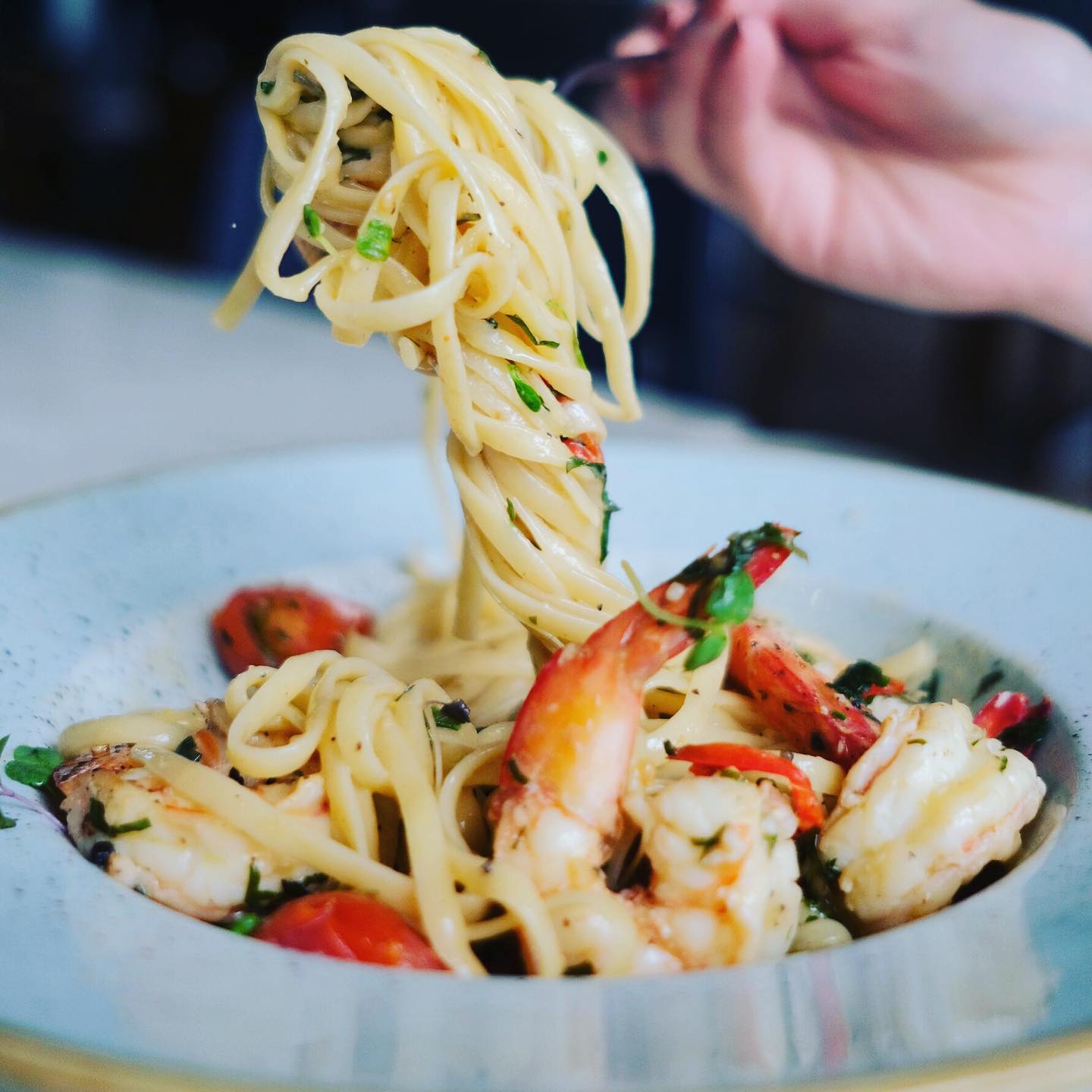 Linguine al gamberoni at Bella Venezia.
Take advantage of fresh local prawns in linguine al gamberoni, along with fresh chilli, garlic, cherry tomatoes, lemon zest, white wine and extra virgin olive oil; or perhaps opt for pumpkin, ricotta and macadamia filled hand-crafted tortellini, asparagus, green peas, crispy prosciutto chards and parsnip puree.
Delve into Chef Vincenzo's signature gnocchi, with slow-cooked lamb ragu, mascarpone, hazelnuts, crispy kale and truffle oil, at
Cucinetta
on Woolwich Road in Woolwich. When only the best will do head to this Italian restaurant overlooking Lane Cove and relax in rustic surrounds of warm, earthy tones, a sandstone kitchen, an abundance of natural light and bursts of greenery.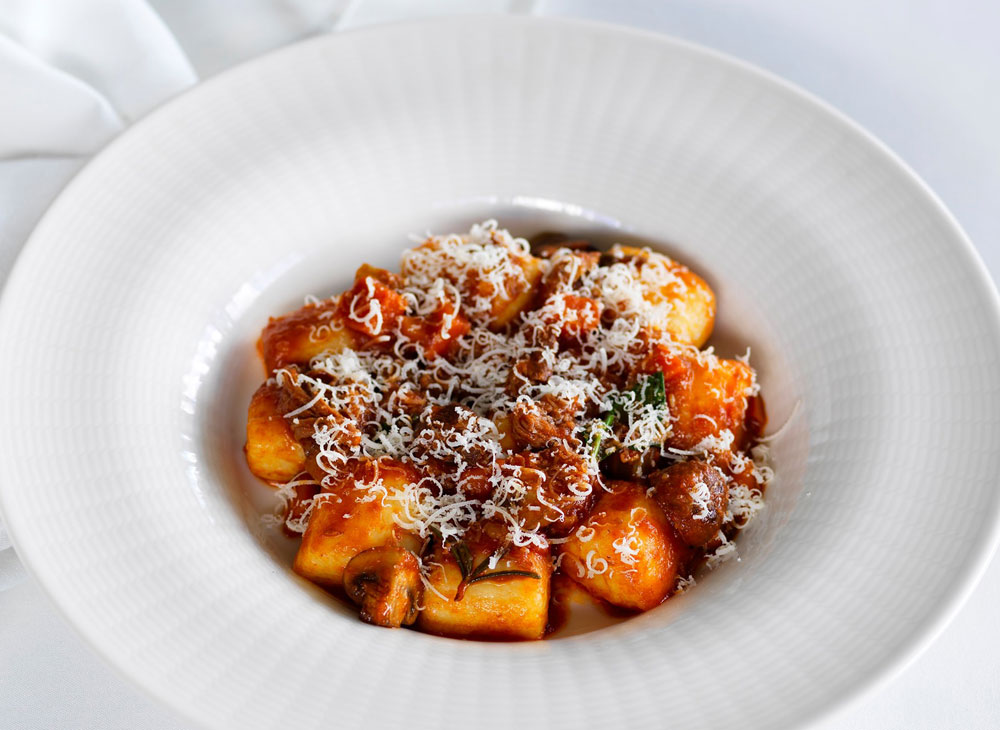 Cucinetta Chef Vincenzo's siganture gnocchi.
Cucinetta is committed to reviving old cooking methods and sourcing the finest, sustainable produce to dish up a progressive approach to seasonal dishes and create memorable experiences, with a dynamic open kitchen being the showpiece of the restaurant. Finish your pasta dinner with Vincenzo's hazelnut and chocolate fondant, honeycomb, gelato and caramelised white chocolate.
There's always a pasta special – like spaghetti with scallops and prawns in a rose sauce – on offer at
Enzo's Ristorante
on Port Road in Hindmarsh. Take the 10-minute tram journey from Adelaide's CBD and treat yourself at this authentic restaurant dishing up a traditional Italian dining experience, with three separate areas dedicated to a la carte, a wood-oven pizzeria and café and an intimate bar.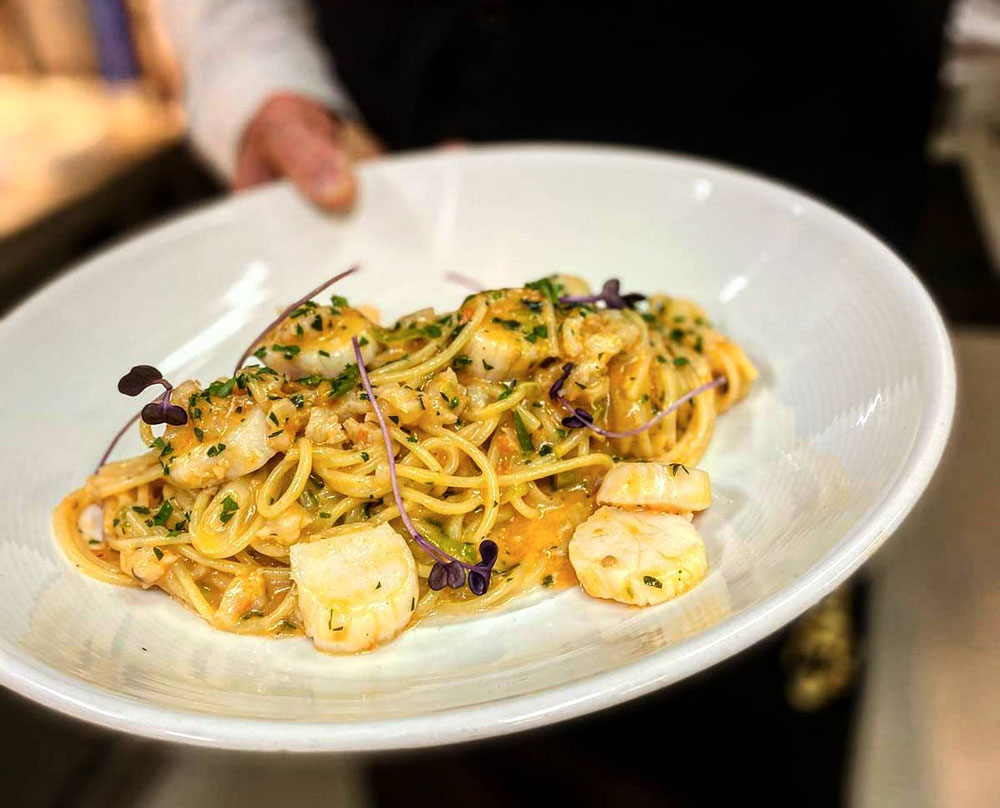 Enzo's spaghetti with scallops and prawns in a rose sauce.
Those dining in can sit at white-clothed tables beneath romantic chandeliers and ponder a menu created by passionate Chef Enzo, perhaps starting with porcini mushroom arancini, taleggio cheese and Italian truffle, with pesto aioli. A penne for your thoughts…don't go pasta penne, chicken tenderloin pieces, avocado, basil and pine nut pesto, in a rose sauce.
Ettalong Beach locals can get their favourite pasta at
Gusto Italian Bistro
on Ocean View Road, where a taste of Northern Italy awaits. A sleek and vibrant colour scheme makes for a cheery entrance, as guests enjoy a cheeky cocktail, imported wine, or beer at the bar – before an intimate dinner at small tables, in front of a crackling fireplace in cooler months.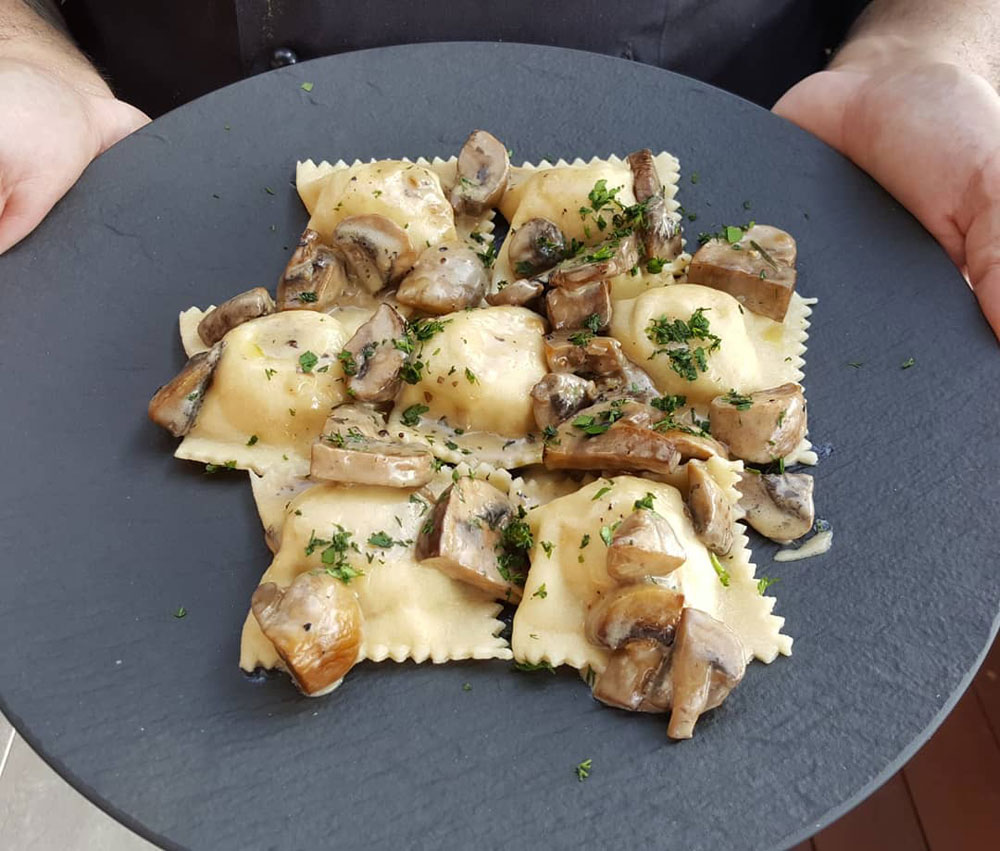 Tortelli di patate at Gusto italian Bistro.
Start with slow-cooked octopus on rosemary white polenta bread, before tortelli di patate, filled with potato puree and topped with rosemary mushrooms; squid ink risotto, scallops, carpaccio and lime zest may entice, then indulge your dessert desires with light and fresh vanilla bean panna cotta, strawberries and crystallised violet.
Feed the soul with nourishing pasta dishes at
Bar Emilio's
on Victoria Road in Drummoyne. There's nothing better than starting your day with an amazing coffee, great food and conversation, in sleek surrounds of a monochromatic colour palette, neon lighting and glass cabinets overflowing with goods to delight the senses.
Bar Emilio's fusilli pasta with tomatoes, olives, basil and fresh dressing.
Grab your favourite cup of Joe, whether a cappuccino or long black and catch up with family and friends over freshly made pasta like penne with eggplant, olives and Parmesan with Napolitana sauce; or fusilli with tomatoes, olives, basil and fresh dressing.
Sydney's first Grappa bar,
Vizio Caffe e Cucina
on William Street in Woolloomooloo makes the ideal romantically-lit restaurant, to celebrate with a bowl of housemade pasta come Sunday, October 25…or in fact any time you're searching for a pasta fix. Share the pleasures of life with family and friends, from brunch catch-ups to evening indulgences, in sophisticated and moody surrounds.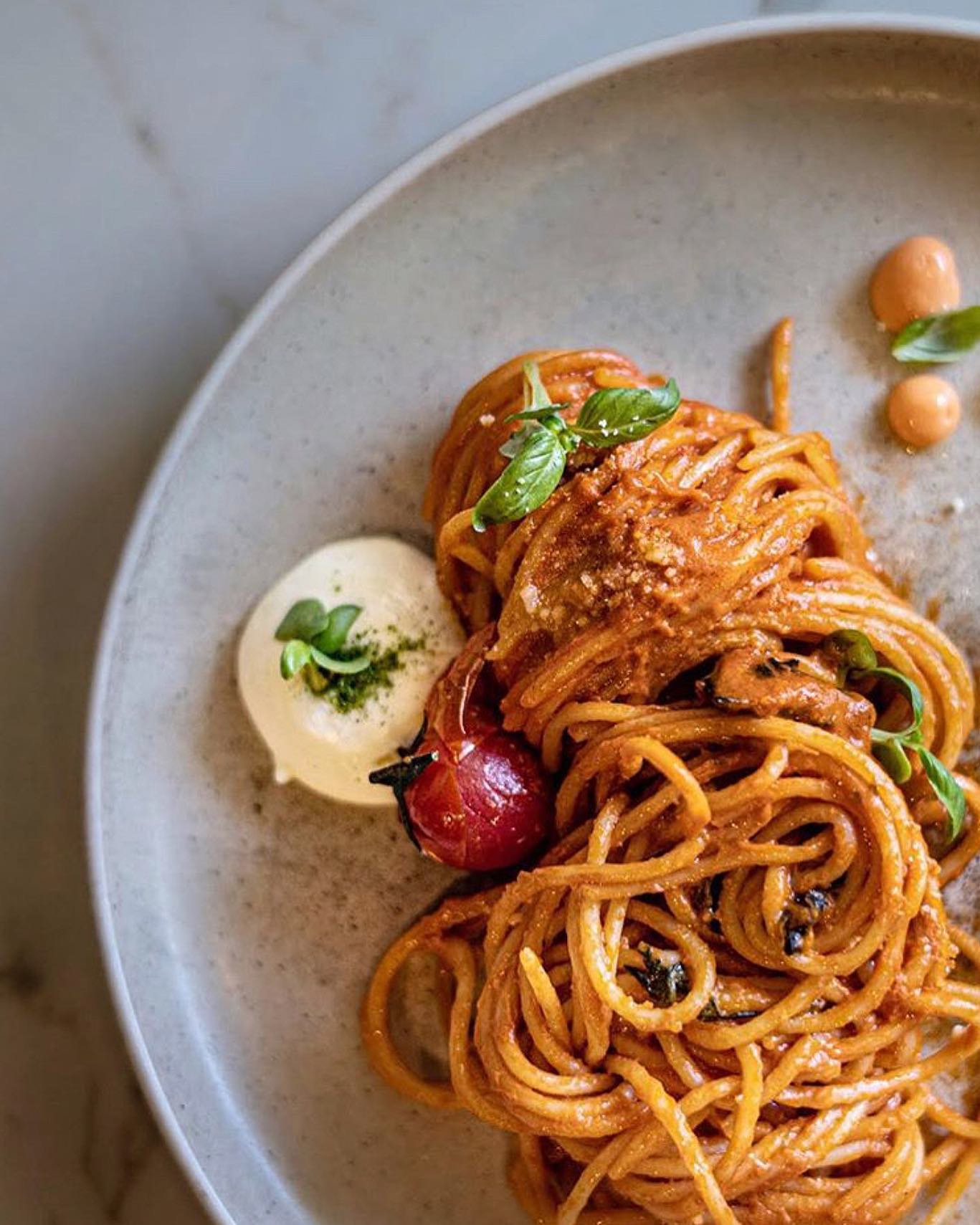 Perfect pasta at Vizio Caffe e Cucina in Woolloomooloo.
Say buon appetito to entrees of veal liver pate, black olives and housemade focaccia, or crispy skin pork belly; before pasta dishes such as potato gnocchi, Italian pork sausage, porcini mushroom and polenta chips, or casarecce, topped with chicken ragu, tomato and cured pancetta. Who can go past traditional tiramisu with mascarpone and espresso, to finish?
For great Italian destinations near you, click on the regions below: