Don your riding boots and take Australia by horseback
You can't have an outback adventure without a horse, and with Australia's golden beaches, flowing rocky streams and wide grass paddocks, it would be a shame to have to experience it all alone. Make like the man from the snowy river and saddle up. Horse riding is a great way to get around the great southern land, whether it's going from pub to pub, galloping along a beach or discovering the hidden trails.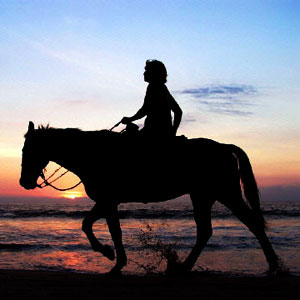 Where can I horse ride in Australia?
New South Wales is home to Glenworth Valley, Australia's largest horse riding and outdoor adventure centre, where you can take your pick from 200 horses and giddy up. Queensland beaches are spectacular for a sunset ride or if you want a little more freedom, Mount Tambourine is also perfect to explore whilst riding a horse. If looking to explore the beauty of Western Australia or the Northern Territory, keep in mind that the summer time heat may knock both you and your horse for six. It is then best to go horse riding on sunset or in the late afternoon.
For the some of best places in New South Wales to giddy up and roam free, see http://www.agfg.com.au/Blog/post/2007/01/23/Horse-Riding-in-New-South-Wales.aspx