Gallop amongst the great rolling hillside
With great rolling hills, vast beaches and rocky terrain, New South Wales is the perfect destination in Australia to go horse riding. Just like the man from the Snowy River, you can breathe in the fresh mountain air, take time out and venture amongst the scenic surrounds across the state. Horse riding in New South Wales is offered in regions all across the state, where you can go riding for a couple of hours, days or even up to a week. An activity that can be undertaken in most weather conditions, horse riding is a great outdoor activity for visitors to Australia who want a hand's on approach to travelling the great outdoors.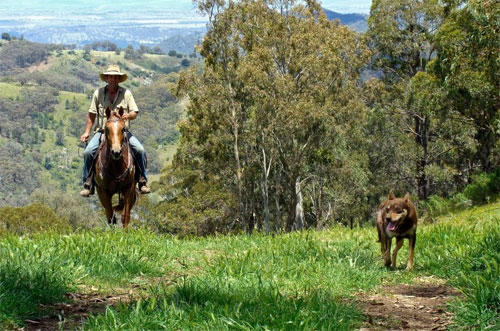 Where can I horse ride in New South Wales?
With spectacular views, the Blue Mountains is one of the most scenic horse riding locations in New South Wales, offering trails that run through the heart of the stunning wilderness bushland, allowing you to get the best possible experience of Australia's High Country.
New South Wales is also home to Glenworth Valley, Australia's largest horse riding and outdoor adventure centre. With over 3,000 acres of unspoilt wilderness, you can roam free and explore the luscious hinterland region of the state's central coast.
For advanced riders who want to explore the great southern land by horseback, horse trailing is offered on the New South Wales north east coast. Here, you can trek from beach to bush for up to 5 days, taking in scenery and bonding with fellow trekkers.
For more galloping getaways, see http://www.agfg.com.au/Blog/post/2007/04/25/Horse-Riding-in-Australia.aspx