Sometimes the greatest adventure can be found on home soil.
Harvest, foraging.
When it comes to hand-picked produce, you can't go past the collection of fresh ingredients and good food found in NSW's Northern Rivers region. From the flourishing Tweed Valley to the laidback shores of Bryon Bay, there's no question this area is blessed by Mother Nature and has cemented itself high on the list of 'must-taste' holiday hot spots.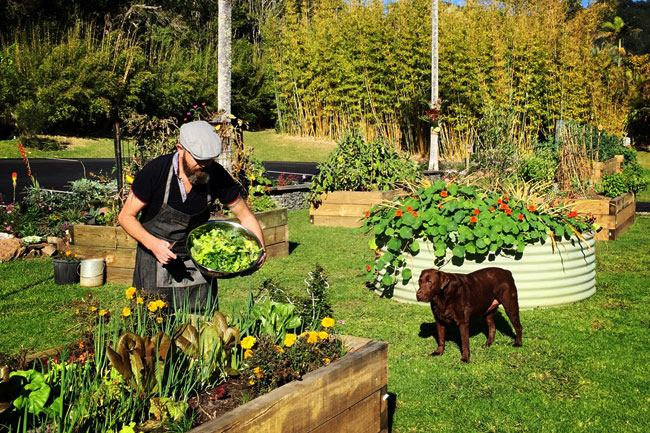 Stop #1: Potager owner, Gareth, picking fresh vegetables out of the Potager garden.
The first point of call for any foodie wanting to taste the freshness of the region would be to visitPotager in Carool, NSW. This little slice of heaven is set on a 10 acre family farm just 15 minutes outside of Tweed Heads. Growing your own vegetables right outside the kitchen door appeals to owners Pete and Gareth, and is something they very much pride themselves on. Seafood is also a favourite ingredient of theirs and features strongly on the menu with dishes like deep-fried Thai style snapper and Peruvian fish stew. Working alongside local fisherman PKG Seafoods has its advantages with fresh catches just off the Tweed shelf – now you can't get much better than that!
Stop #2: Season - chocolate and strawberries with hazelnut, dulce de leche, wild strawberry sorbet, coffee jelly, rice puffs and lavender.
Head 20 minutes down the Pacific Highway and you'll find yourself in the sleepy seaside town of Kingscliff. Bordered by the Pacific Ocean and the Northern Rivers Hinterland, there's no surprise Seasonwithin Peppers Salt Resort & Spa has a primary focus on fresh, local produce. Pushing the boundaries when creating his menu, Executive Chef Craig Robertson still stays true to his culinary philosophy of "keeping it simple – fresh ingredients influence my cooking style, and the produce keeps my passion," as can be seen in one of Craig's favourite dishes: beetroot cured salmon and wasabi aioli with shiitake mushroom and ruby grapefruit pearls.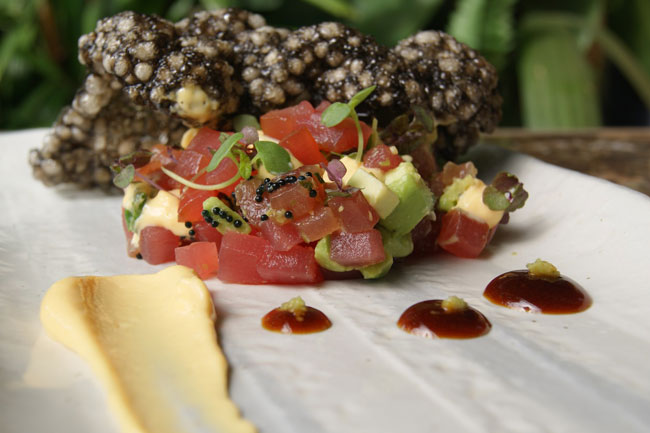 Stop #3: Fins - Tuna Tartare: Yellow Fin tuna sashimi, avocado, tobiko caviar, squid ink and dashi rice bubble.
A short walk down the road is one of the true gems of the North Coast, the multi-award winning restaurant in Salt Village,FINSRestaurant and Bar. Working to the freshness of the season is also a primary focus for Owner and Chef, Steven Snow and his team, with their main menu items highlighting the quality of seafood at the peak of its flavour. Setting them apart from the rest is the recently opened pop-up restaurant, located beside FINS called "The Local" which is serving local wines, beers and spirits – all homegrown and handmade. Steven's concept is all about showcasing unadulterated produce as seen in simple young carrots poached in their own juices with cardamom as well as vine ripened tomatoes with homemade burrata on the menu. When delving into any dish at FINS or The Local, you'll be certain that you've found the good life. Want to enjoy some of Steven's magic at home? Enjoy making Arroz De Marisc - Portuguese style risotto with local fish, prawns, cuttlefish and mussels, cooked in saffron, wine and smoked paprika.
Stop #4: Three Blue Ducks, The Farm at Byron Bay. Spring has sprung - charred broccoli with almonds, lemon and chilli, from their latest book, The Blue Duck's Real Food.
Back down the highway and you'll bump into a place that's continually grabbing culinary headlines. Frequented by city folk needing an escape from their busy work schedules,The Farm at Byron Bayis the perfect place to relax and unwind, whether alone or with kids in toe. Following on from their Bronte and Falls Creek offerings, Darren Robertson and Mark LaBrooy have created Three Blue Ducks, a 100-seat restaurant, cafe and deli on a 74 acre farm, just north of Byron Bay in Ewingsdale. Besides completely redefining regional food tourism, the duo say their biggest accomplishment is how proud they are of the staff that have worked so hard to make it all happen. Their main focus is creating a space where people can come, relax and enjoy!
Once hunger has been satisfied, be sure to stay a while and make your way around the farm, starting with the pig pen, followed by the impressive chicken caravan before ending up at the vegetable patch.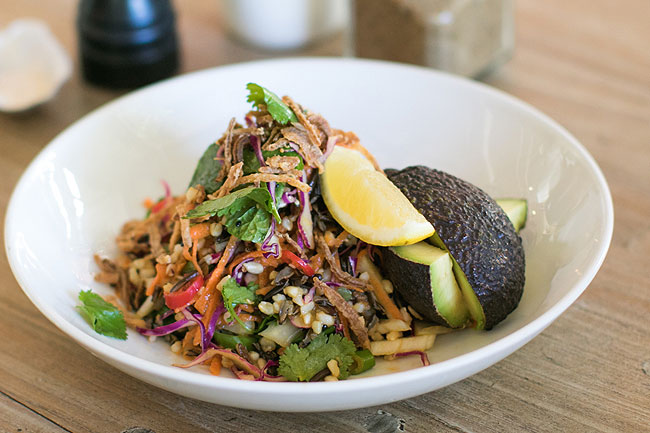 Stop #5: Espresso Head - brown rice salad with Tom's Alstonville Avocados.
Making your way back into town, a stop at long establishedEspresso Headis definitely worth your while. Over time this eatery has become a popular destination for a quality caffeine fix and a tasty seasonal feed. With the area being full of professional and amateur farmers as well as artisan producers of bread, cheese, eggs and meats, owner Sliver Groves says designing a menu can get quite exciting when you have so much to choose from. Our favourite? The brown rice salad featuring Tom's Alstonville Avocados.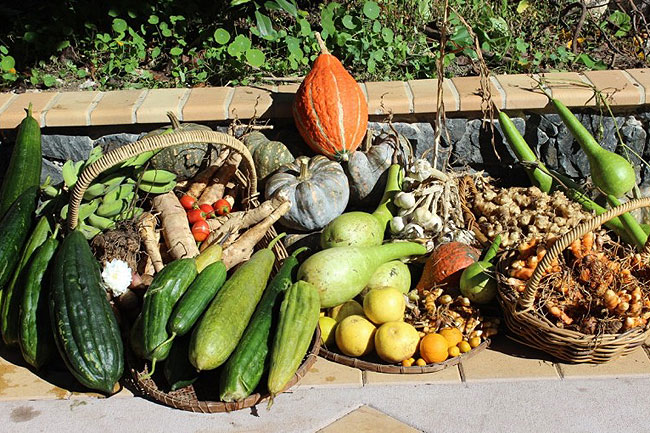 Stop #6: Hand picked, home grown Nimbin vegetables.
A bit off the beaten path, Nimbin's famous free-spirited culture is most certainly something to experience while you're in and around Bryon Bay. Set in the tranquil Djanbung Gardens of Permaculture College,Abundance Caféprovides visitors with a flavoursome local food experience. Enjoy grazing plates by the handful with Nimbin Valley Dairy Cheese on offer or probiotic ferments of Jun, kombucha and green tea.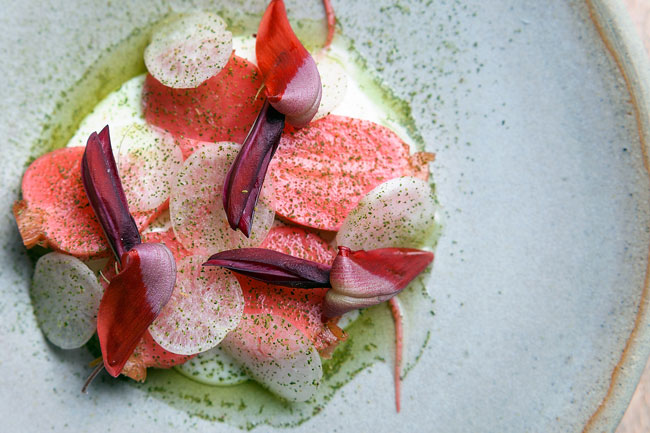 Stop #7: Wild Harvest Sessions - radish, yoghurt, strawberry gum and running postman.
From the rainbow covered streets of Nimbin to the pristine Byron Bay Hinterland, just 12 minutes down the road is our last foodie stop,Harvestin the village of Newrybar. Patrons travel from far and wide to dine at this heritage homestead, making the most of the café's wood-fired bakery and vegetable gardens. The surrounding region influences the menu completely at Harvest and the flavour of Spring this year will bring in some exciting menu elements like native raspberries, scrambling lily, black apple, running postman - which is an edible flower native to Newrybar and blue lilly pilly.
Every Wednesday night the team put together their Wild Harvest sessions which act as a test kitchen for menu development. On these nights, they combine that day's forage with what's in the garden, what's just come out of the ocean and anything from the local farm.
So where is the best place to get a bite to eat in the Northern Rivers you ask? We'll leave that decision up to you, but hopefully you're now spoiled for choice with amazing food around every bend. Want to endeavour on your own adventure? Check out our restaurant recommendationsin the area.