By Leigh O'Connor.
Greek legend says God distributed soil through a sieve and used the remaining stones to build Greece. These days Greek myths make for some of the most successful movies, books and works of art, with a world full of mythical creatures and superhuman deeds.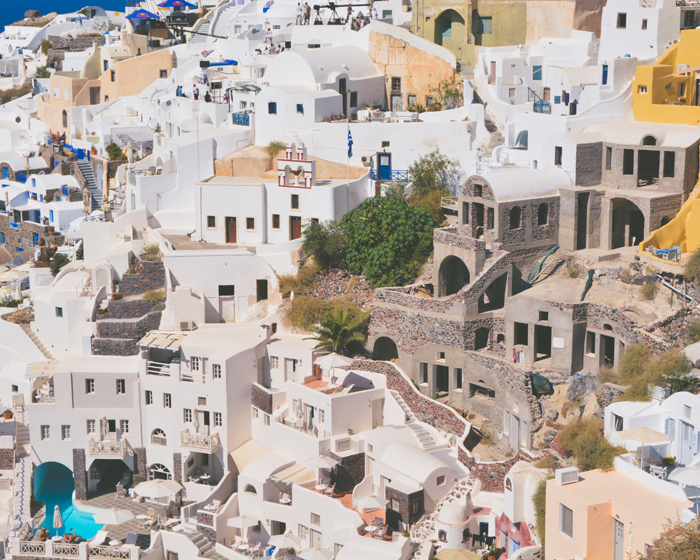 Fira, Greece.
From great Goddess Pandora and her infamous box (which was actually a jar), to Hercules, Jason and the Argonauts, we have been fascinated by stories of unbelievable physical feats, wars and forbidden love. Mythology carries seeds of truth, sometimes even more, but we prefer to believe the impossible, it makes for a much better story!
One thing is true, every year on March 25 Greece and its expats celebrate a national holiday commemorating the start of the War of Greek Independence in 1821. It also marks the Greek Orthodox Church's Annunciation to Theotokos, when Archangel Gabriel appeared to Mary and told her she would bear the son of God.
Towns and villages throughout Greece hold school flag parades and in Athens armed forces strut their stuff through city streets, as locals cheer on with a glass of ouzo in hand. Meanwhile Down Under, home to one of the largest Greek communities in the world, it is time to smash some plates, eat souvlaki and visit a favourite restaurant to celebrate the national day with pride.
Grab your chariot, don traditional dress and dance your way into a Greek venue nearby, to enjoy all this ancient culture has to offer.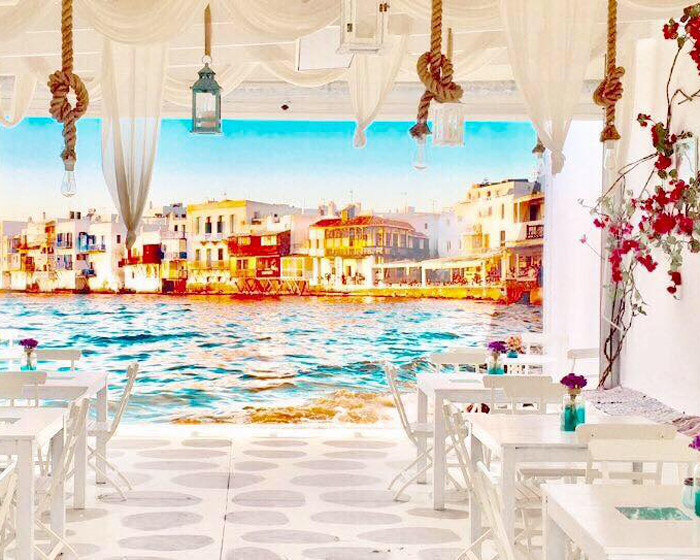 Mykonos Taverna's painted mural depicts the beauty of the restaurant. Photo: Sylvia Gabriel.
Victorian Vitality:
Sample Mediterranean delights and Greek hospitality at Meat Me Souvlakeri in Eaton Mall at Oakleigh. With a corner location and wide alfresco street side area, Meat Me offers guests the chance to people watch while sampling succulent souvlaki, or dine indoors where plastered brick walls and rustic wine racks create a relaxing vibe to while the night away. Settle in with an appetiser of chargrilled octopus or deep fried saganaki cheese, before mains like lamb pita gyro mega with lettuce, tomato, onion, parsley, paprika and tzatziki. Those with larger appetites may choose a Meat Me banquet or mixed grill for two.
Greek influenced café Melissa Cakes Café Bar, on Parker Street at Templestowe, offers an all-day menu with traditional dishes such as moussaka and spanakopita. Just out of reach of the big smoke and peacefully parked beside Ruffey Creek, Melissa's welcomes guests with a large garden pot encircled by ferns, sitting beside a columned entrance, leading to an interior theme of overhead cut out honeycomb shapes. Cakes of all shapes and sizes glow from a steel-framed display running the length of the café, while diners can also choose options like a mezze platter, scallop saganaki and loukaniko spicy sausage.
For an authentic Mediterranean dining experience with a feast of flavours, Melburnians head to Tsindos Greek Restaurant on Lonsdale Street. With friendly staff who can converse in Greek for those wanting to order in the native language, the menu is full of tempting tastes sure to delight the whole family, from banquet style options for large groups to individual dishes. Start with dolmades avgolemono – vine leaves stuffed with rice and herbs, then drowned in avgolmeono sauce – while for the main affair, try mouth-watering marinated chicken shaved off the spit, finishing with traditional sweet baklava.
Drawing on a long and rich tradition of Hellenic gastronomy, Yiamas Greek Restaurant & Bar on Sydney Road at Brunswick, dishes up tempting village style meats, seafood platters and tantalising sticky sweet desserts. A floor to ceiling glass frontage provides an outlook to bustling street action from the comfort of a warmly furnished interior, where diners can begin their taste journey with roasted pepper, feta and chilli dip, served with pita bread. Move on to a mixed gyros plate with tender marinated lamb, chicken, tzatziki, chips and salad, or garlic prawn skewers with a village salad.
Nike into NSW:
Meet friends for a flavoursome Greek inspired dinner at Georgia's Kitchen on Illawarra Road at Marrickville, just a stone's throw from Cooks River. A combination of exposed brick walls, high ceilings and thick timber beams create a down-to-earth rusticity, warmed by a handful of comfortable couches and smell of aromatic coffee. Opt to start with tzatziki dip with warm pita bread, then delve into the likes of kleftiko – slow cooked lamb shoulder in a lemon and oregano sauce, served with lemon potatoes and green beans. For a sweet treat, try loukoumades – housemade honey puffs with walnuts.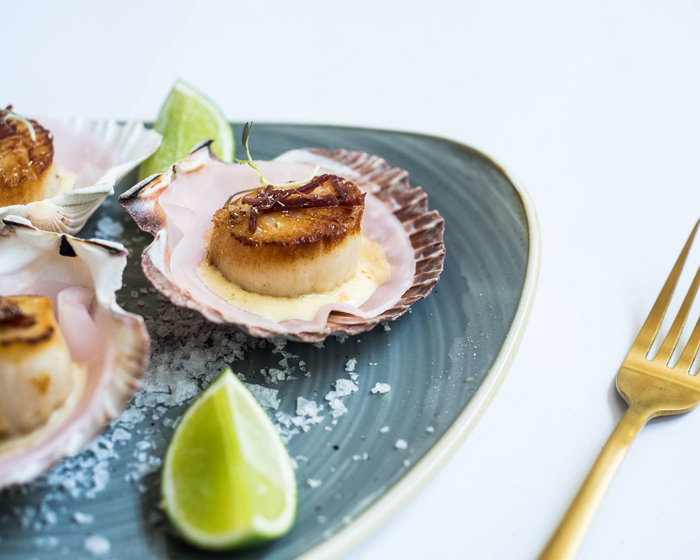 Aristotle's seared scallops with cauliflower puree.
Nestled in the sought after location of Sydney's lower North Shore, sits a little slice of Greece at Aristotle's Neutral Bay restaurant. A modern interior captures the sophistication and glamour of the shipping magnate it was named after, with polished concrete, white table linen, mirrored walls and plush booth seating under pendent lights. Choose from shared plates of halloumi with pomegranate, red grapes, honey, balsamic, oregano and walnuts; before Aristotle's lamb moussaka with eggplant, potato, tomato and kefalotyri cream, teamed with a classic Greek village salad.
Fresh ingredients and inherited recipes make Gyros Fix on Queens Road at Five Dock, a popular choice among locals. This establishment offers a light and bright space where diners come to enjoy tasty fare with friends in a welcoming ambiance, the creation of a father and son team with family roots in the Greek town of Nafpaktos. Choose flavoursome combinations bursting from gyros and skepasti – chargrilled pita stuffed with spit roasted meat and vegetables – such as pork with tomato, onion, tzatziki, special sauce and hot chips.
Plating up an authentic slice of heritage, Greek on Baylis brings the taste of the Aegean to Wagga Wagga. Blending mellow yellow walls, blond wood floors and touches of blue and white, this light, bright and cheerful restaurant celebrates all things family, food and love. Take a seat by the large glass frontage and admire colourful artwork adorning the walls, while contemplating a menu ouzing with traditional fare such as spanakopita with wild spinach, crumbled feta and fresh herbs; or feast like a Greek with a chargrilled selection of meats, teamed with pita, chips, tzatziki and salad.
Quirky Queensland:
Serving up authentic food like Yia-yia makes Brisbane foodies get their souvlaki fix from That Greek Truck as it trundles around the city. Setting up at various venues, markets and festivals, this food truck has diners salivating over mouth-watering meat marinated in olive oil, salt, pepper and Greek oregano, before being barbequed on board. Wrap your hands around a warm toasted pita, exploding with fillings of chicken, pork or lamb and topped with lettuce, tomato, onion and house special mustard mayo; or mix and match a tasting plate with meat and grilled vegetables.
Revel in authentic fare and flirty cocktails at Let's Do Greek on Macalister Street at Mackay. This traditional blue and white themed restaurant, where diners lounge alongside a wall mural depicting the beauty of the Greek Islands, embraces a sleek marble bar, Doric inspired columns and a lively atmosphere. Raise a glass of ouzo and celebrate Independence Day with share plates of marinated pickled octopus, spicy meatballs cooked in a rich herb and tomato salsa and slow baked lamb, with root vegetables. Finish with kataifi – baked shredded pastry topped with vanilla custard and Chantilly cream.
Visit the Mediterranean without leaving Coolangatta at Xenia Grill on the corner of Marine Parade and McLean Street. Well suited to the tropical, laidback style of the Gold Coast, this restaurant sets the scene with aqua tones and vibrant paintings, while a breezy alfresco area brings the ambiance inside with friendly locals cruising up from the beach for lunch or dinner. To satisfy ravenous hunger, choose platters such as Apollo's meaty feast, with sausage, lamb and chicken from the spit, moussaka, pork kalamakia, pita, tzatziki and chips; followed by Nutella doughnuts with walnuts, honey and gelato.
Still looking for a place to get your Greek on? Click here for more restaurants in your area.