Greek cuisine is so much more than just the food that is served. Meal time brings families together to rejoice in conversation, laughter, a glass or two of good wine and a table overflowing with different dishes, making eating a ceremonious ritual, imperative to their culture.
It was these dinner table memories and Greek heritage upbringing which inspired one of Australia's top celebrity Chefs, George Calombaris to pursue a career in the kitchen.
We spoke with George about his eclectic ethnic upbringing, his migrant parents influence on his work ethic, the ethos of Greek cooking and how he learnt what he knows today from the leading women in his life.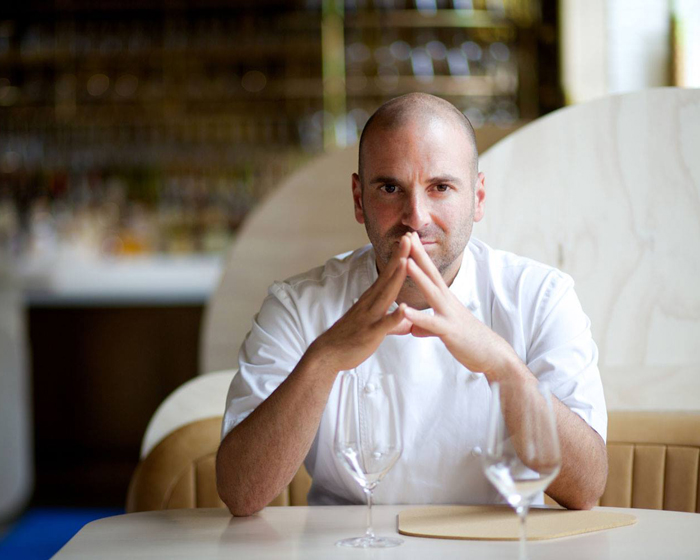 FE: Born and raised in Mulgrave, you were lucky enough to have the influence of Greek, Cypriot and Italian heritage in your family. Describe the type of food you can remember eating and making in your household growing up.
GC: I was very fortunate and grateful to be an Aussie growing up in a household rich and diverse in cultural roots. One day I could be eating falafel with tahini and yoghurt, and the next day a simple pasta with olive oil and garlic. The most common thing through all of these cultures, is the love and commitment to eat great food.
FE: As migrants, who came to Australia with next to nothing, your Mother and Father went on to own several small businesses, engraining a sense of entrepreneurial spirit in you to succeed through hard work. What other qualities did you inherit from them?
GC: Hard work was definitely a core value in my family, and not being afraid to take a chance or go out on a limb. But always doing it with integrity and loads of love.
FE: You've said previously that you learnt to cook from the leading women in your life, what is your earliest memories of cooking with them and what was the best lesson they ever taught you about food?
GC: For me the lessons were pretty simple. Everything we cooked and ate came from a place, a story or sense of spirit. This is a true reflection of what we do in all of our restaurants. They are not recipes or dishes, they are a story about my life.
FE: If you could invite only a handful of people to a dinner party, dead or alive, who would they be?
GC: All of my grandparents.
To create your very own big fat Greek feast at home, invite the family together and serve these simple and tasty dishes created by George, inspired from his very own childhood meal time memories.
Garden Peas, Cauliflower, Almonds and Lemon
Start your feast with a bang and serve up this visually stunning dish to your loved ones. A smooth cauliflower puree is added to the plate to begin with and topped with golden, deep fried cauliflower florets, bread cubes, toasted almonds with oregano salt and vibrant green peas. Ideally matched with a glass of crisp white.
Grilled Calamari, Watermelon, Olives, Goats Cheese and Crispy Vine Leaves
For a fresh and light option ideal for a warmer night, add this recipe into your feast to mix things up. Those who are yet to discover the flavour combination of watermelon and goats cheese, prepare to have your world changed! These two were made for each other, incorporating a fresh burst of fruity flavour from the melon and creaminess from the goats cheese, which marry well with the tender calamari.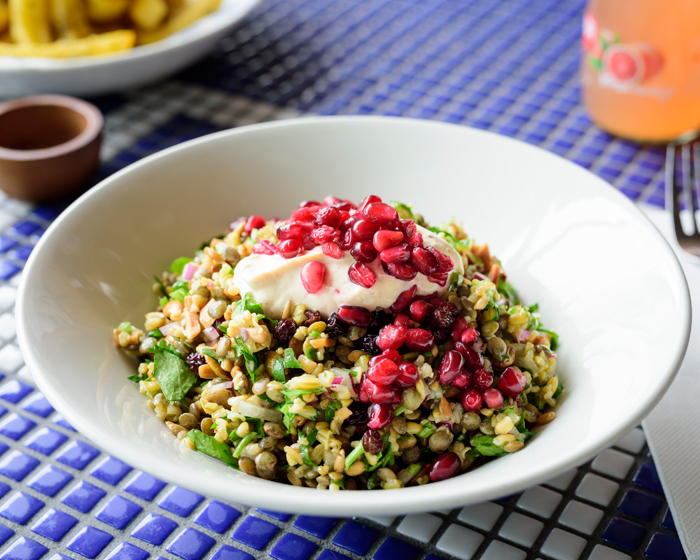 This hearty salad is not just your average. Incorporating lentils and Freekeh, it is filling enough as a standalone main or can be served as a side to accompany lamb chops, chicken or pork. Experience a burst of tart freshness from pomegranate seeds, sweetness from currants and the saltiness from capers, creating a well-balanced salad ideal for any feast.
For a sweet ending to the evening, create these easy to make and no fuss desserts which can be served in a simple wine glass. Starting with a base of fluffy meringue and topped with an orange blossom jelly, this decadent creation is finished off with an Ouzo infused strawberry sauce and flaked almonds.
For those who have been left inspired with talking all things Greek and found George's recipes oh so addictive, his latest cookbook 'Greek', is a must have addition for the home cook's kitchen bench.