By Leigh O'Connor.
What happens when veggies throw a party? They get a DJ to turnip the beet!
Most of us define vegetarians as those who don't eat meat…actually this isn't true as there are many forms of vegetarianism and even the hard core might not hesitate to eat meat when drunk.
As we celebrate World Vegetarian Day on Thursday, October 1, here's five surprising facts you probably don't know:
•Vegetarian is actually a new word – it was only coined in the 19th Century and before that was called 'Pythagorean' after Greek mathematician Pythagoras; who believed dead humans were reincarnated as animals. He was afraid of eating a dead relative!
•84% of vegetarians return to eating meat within 12 months.
•A new group of vegetarians has popped up Down Under – called kangatarians – who only eat kangaroo meat.
•A third of vegetarians have no qualms of consuming meat when drunk and it's not a one-off incident.
•Cheese is not always vegetarian and it's never vegan!
Wholesome goodness in abundance is on the plate at
Herb n Sprout Co
on Maroubra Road in Maroubra. Serving the tastiest vegetarian fare in Sydney's Eastern suburbs, this café is 99% organic and everything in the kitchen is made with love by the mother and daughter team determined to spread the health food culture throughout the city.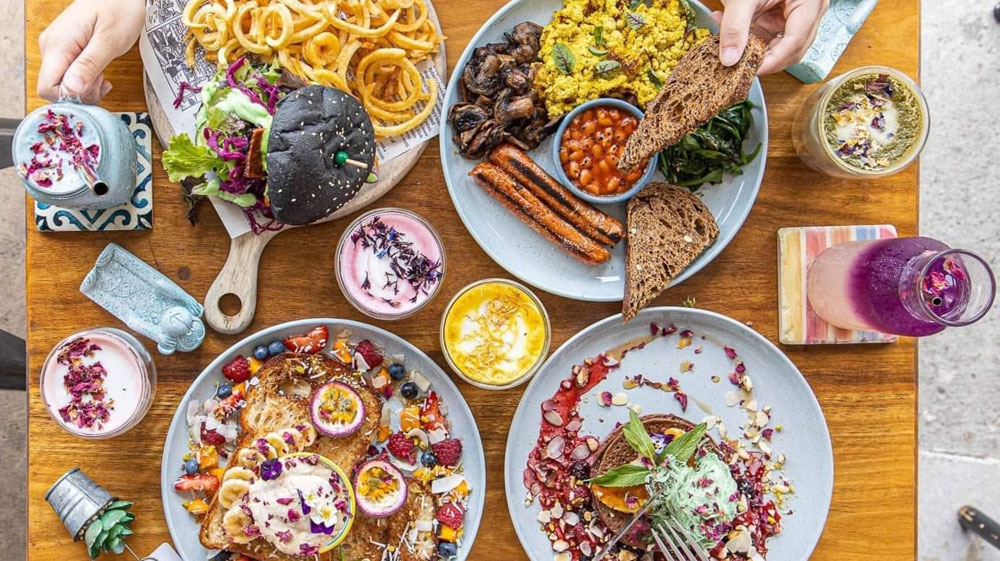 Herb n Sprout Co's tasty vegetarian fare.
Shiny black and green subway tiles, along with recycled timber counters and display cabinets overflowing with sweet treats, await as you ponder an all-day menu with choices like green tofu scramble, zucchini, spinach and herbs, seeded sourdough and bruschetta topped with basil oil and sumac. Grab a berry ripe bar, or choc vegan fudge slice on the way out.
Native herbs, fish, nuts and fruit – some foraged in their natural state – can be found on the menu at
The Banksia Tree Café
on St Vincent Street in Port Adelaide. A recycled timber counter and polished wood floors set a natural ambience for leisurely brunching on vegetarian dishes such as truffled mushrooms, Parmesan, toasted pine nuts, edamame beans and poached eggs, on sourdough toast.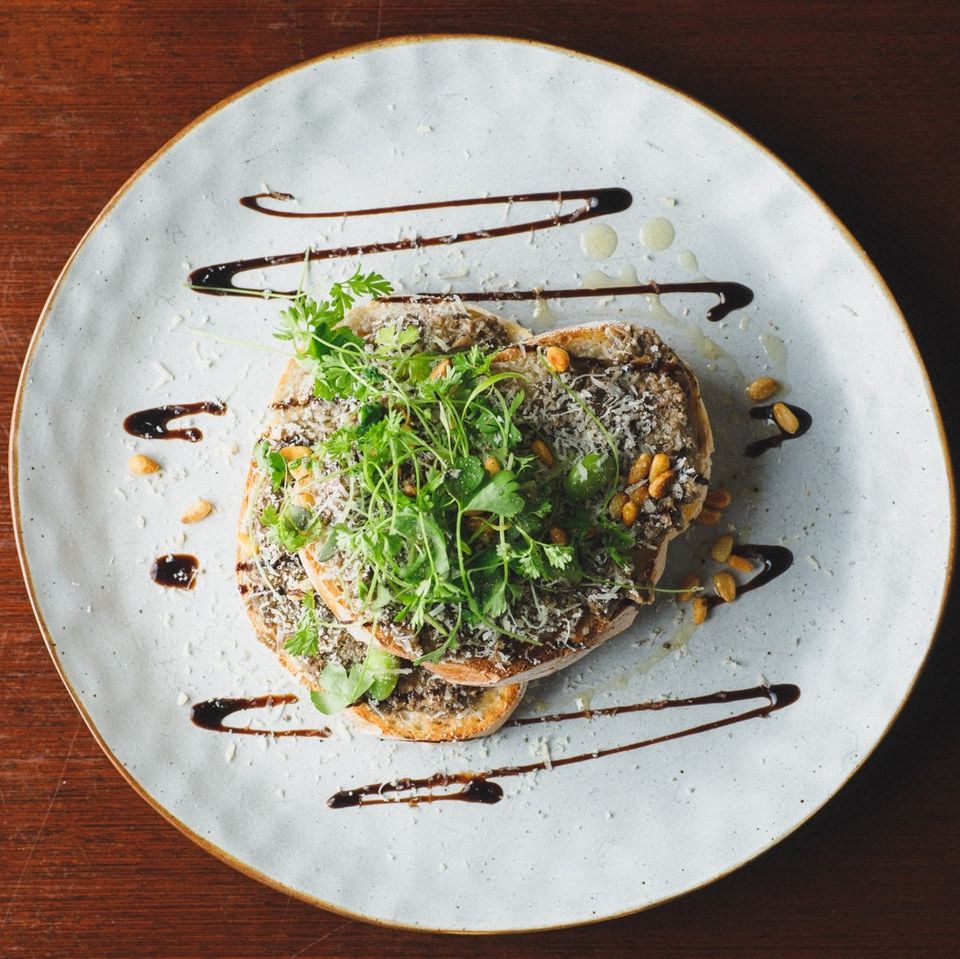 Truffled mushroom toast at The Banksia Tree Cafe.
Perhaps try smoked crispy tofu, smoked hummus, wombok and pear slaw, fermented chilli emulsion, pickle, tomato and lettuce on a Riviera potato bun; or wood-grilled pumpkin, pine nuts, Romesco, grains, herbs and feta, best enjoyed with a glass of McLaren Vale organic Paxton Pinot Gris.
Follow the mouth-watering aromas of African-Ethiopian vegetarian fare to
Yeshi Buna Ethio African Café Restaurant
on Beaudesert Road in Moorooka. This little gem is a no-frills establishment, where share platters go hand in hand with eating with your fingers, in bright and cheery surrounds of ochre-coloured walls, posters and traditional accents.
Grab a banquet platter of spinach, slowly simmered in vegetable broth, with finely chopped onions, garlic and ginger; fresh carrots, potatoes, green pepper cooked with turmeric, cabbage, onions, garlic and ginger in a mild sauce; and split peas – cooked and flavoured with green peppers, onion, garlic, ginger and spices.
Celebrate Thai culture, textures and tastes at
Siam South Bank
on Tribune Street in South Brisbane. Relax in an elegant ambience of red chairs, leather banquettes and carved wooden accents, while a balmy alfresco area awaits on sunny days, all setting the scene for a sophisticated culinary journey.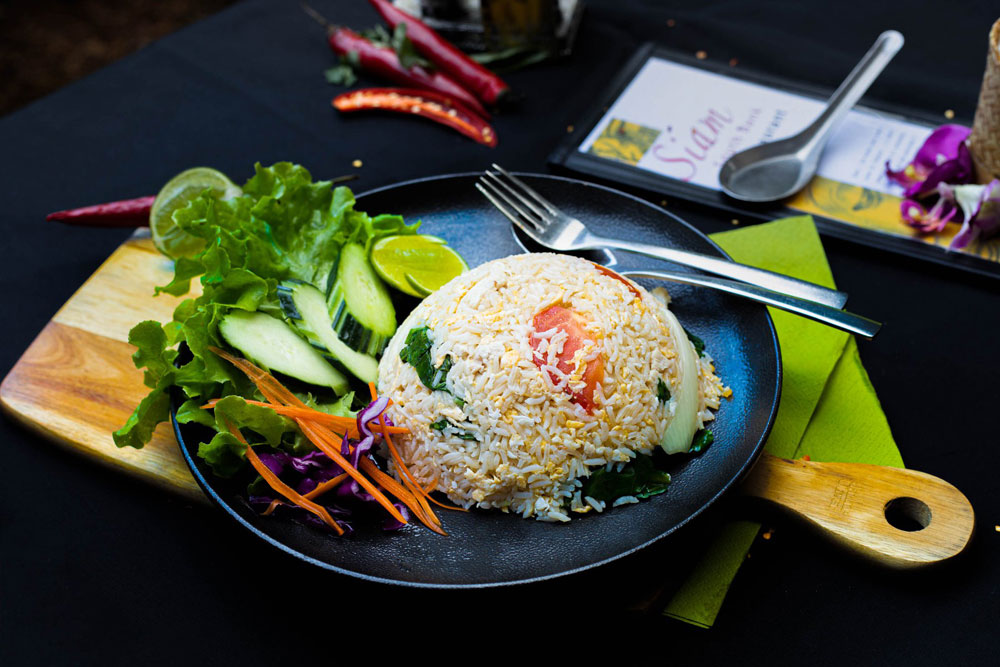 Pineapple fried rice at Siam South Bank.
Begin a vegetarian feast with traditional spicy hot and sour Tom Yum soup, with mushrooms, onions and tomatoes, mixed with lemongrass, chilli and lime juice; then be enticed by mains like stir-fried mixed seasonal vegetables, mushrooms and soy sauce, or pineapple fried rice, curry, turmeric, sultanas and peas.
Guiding Nobby Beach locals and visitors through the dark alleys of dining choices,
Ally Chow
on Gold Coast Highway tells your fortune through Asian fusion share plates and drinks. Grab a chilli Margarita and chill out in the alfresco laneway space; or in the moodily-lit interior, where Asian accents from the bar to Oriental cushions and bamboo, set the scene for a memorable meal.
Ally Chow's crispy eggplant and miso caramel.
With several vegetarian options on the menu, kick start your adventure with crispy eggplant, miso caramel, peanuts and fried shallots, or crispy cauliflower, yuzu kosho and sesame; before larger plates such as vegan Chiang Mai curry, chickpea, purple congo, cauliflower, tofu, shallots and coriander. For a divine dessert, opt for deep-fried ice cream, salted caramel and raspberry sorbet.
Okay, we know our vegetarian jokes suck…if you have any better, lettuce us know! Click on your region below to find where you can grab a meat-free meal near you.