Get trawling for a trout
If you come home from a days fishing in Western Australia empty handed, there is something seriously wrong. With a vast coastline, numerous lakes, estuaries and rivers, this state is spoilt for choice for places to cast off and sit back. With trout in the south west to a challenge for sports fishermen in the north, fishing is Western Australia's largest recreational activity, with a fish and a waterway to suit every angler.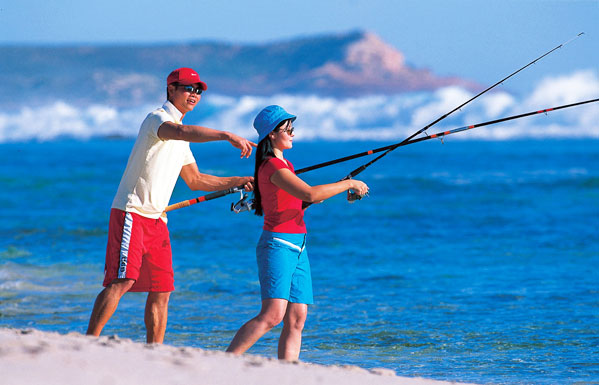 Fishing in Western Australia
Barramundi is the most prized catch in the north, growing to around 1 metre in length and often seen leaping out of the water. Off the reefs, snapper, cod, coral trout, sharks and blue water giants such as the cobia are found, alongside hundreds of other species. Sailfish and marlin are also caught in the north, the latter often found in deeper waters.
The southern rivers are plentiful for trout and crayfish, a gourmet dish on the menus of local restaurants. A license must be held for trout fishing, a seasonal catch in the West Australian waters. Closer to Perth, herring, tailor and dhufish are caught from both boat and shore, with similar catches on Rottnest Island.
Alongside a plethora of different fish species, Western Australia is also famous for its crayfish and crustaceans caught in the coral reefs from the Golden Outback in the south west to the Coral Coast further north. Try your luck at catching a mud crab the size or a dinner plate or a western rock lobster – but take care not to put your fingers near their nippers.
Continue fishing to the Northern Territory. Click here