Cast out and snap up a snapper
By rock, boat or beach, South Australia boasts bountiful fishing. While particularly renowned for snapper, this area also provides an assortment of destinations and locations for the land based fisherman. South Australia has an abundance of great table fish, well regarded for possessing the country's best waters for whiting, mulloway and impressive sized snapper.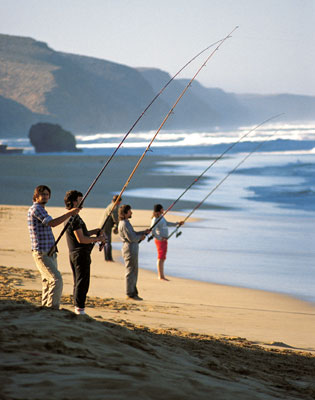 Where are some fishing hotspots in South Australia?
A seaside suburb of Adelaide, St Kilda has an extensive marina, where fisherman can easily access the waters to catch a boatful of snapper and whiting. At the northern end of the Port River, bream, yellowfin whiting, mullet, salmon trout are plentiful, with fishing best undertaken in the early morning.
Labelled as one of the world's best fishing locations, the waters of Kangaroo Island are abundant with a variety of famous fish species. Kingscote is considered Kangaroo Islands 'capital', provising good jetty fishing, with big hauls caught on the American River. Cape Willoughby is another of the island's fishing hotspots, with salmon schools around the cape for most of the year. Yellowtail kingfish up to 30 kg can be caught in the summertime.
South Australia's west coast is renowned for its rock fishing, where you can catch salmon, trevally, king george whiting and flathead. Fishing around the Eyre Peninsula is considered to be one of the finest fishing areas in both the state and Australia-wide, from Whyalla to the western boarder.
By boat, shore or jetty, South Australia's Yorke Peninsula holds some fantastic fishing action, where if you try hard enough, you can catch your own seafood basket, full of crabs, scallops, whiting and squid. Port Hughes in the eastern Spencer Gulf is one of the most popular fishing destinations on Yorke Peninsula, with snapper and king george whiting bring the most popular offshore catches.
For more information, read up on fishing throughout Australia