Heart racing height, steep declines and a spectacular Australian landscape
Another outdoor Aussie adventure to add to the already extensive list, abseiling is a great way to see the countries natural beauty, while being outdoors and in action. Imagine the freedom of being able to slowly descend down a cliff amidst blue skies, looking down upon nature and the stunning Australian environment. A country full of rugged rocky cliff faces and spectacular sandstone gorges, Australia has an assortment of abseiling destinations to tackle, for all experience levels. A more recent adaptation of abseiling in Australia has come under the form of rap jumping, a forward running form of abseiling. Predominantly undertaken on the side of buildings, rap jumping is not for the faint hearted with bruising and battering almost guaranteed.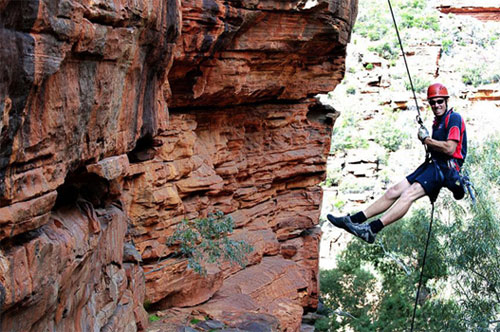 Where can I abseil in Australia?
The Victorian region of The Grampians is internationally recognised for its steep rocky terrain, with rock faces, cliffs, pinnacles and bluffs particularly suited to abseiling. The Grampians has more than 2,000 climbs available, ranging in difficulty from beginners to professionals. Western Australia's Bluff Knoll is an abseiler's dream and a popular extreme sports destination, with a 250 metre multi-pitch descent surrounded by magnificent views. In Victoria, Mount Arapiles is considered among many to be one of the best abseiling destinations in Australia, due to its reliable surface and various available routes.