Bream and blackfish on the breakers
Whether you choose to cast a line in the beach, try your hand at spearfishing or kick back with the family and head to a lake for the weekend, New South Wales is home to some of the best fishing spots in Australia. Before commencing fishing in any of the state's waterways, a recreational fishing fee is required, exempting that of charter boats, hire boats or those with a fishing guide. This fee goes towards improving recreational fishing in New South Wales. Fish caught in New South Wales waters are also subject to size restrictions so be sure to check before you cart your fish back to the barbecue.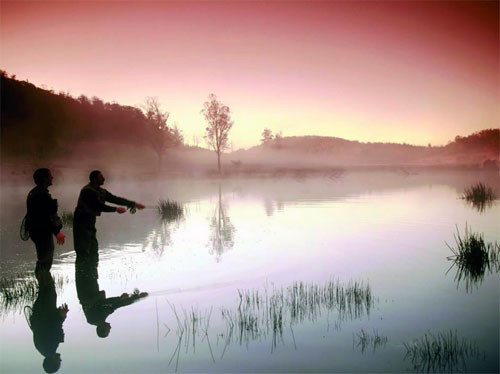 Where are some of the best fishing spots in New South Wales?
Byron Bay is home to a number of beaches for both surfing and surf fishing, where you can catch bream, tailor and whiting. Prime locations throughout the bay are Watego's Beach and Cape Byron.
If in Sydney and looking for a spot to drop a line, the three main waterways of Botany Bay, Sydney Harbour and the Hawkesbury River are the most popular fishing waters in the big city. Main catches in Sydney include bream, blackfish, whiting and flathead. Lakes and surfing beaches across the New South Wales central coast are particularly busy areas for fishing, attracting holidaymakers from Sydney to Newcastle. Tuggerah Lake is renowned as a recreational fishing waterway in the area, with bream, flathead, luderick and prawns plentiful in the water.
Southern New South Wales is full of tidal lakes, high cliffs and breakwaters providing excellent fishing for both locals and holidaymakers. Jervis Bay has a wide selection of fishing spots where you can catch anything from whiting to kingfish, salmon and even marlin. Ulladulla has excellent boat fishing with the nearby Mollymook Beach an ideal surf fishing location.
Find out more about fishing in Queensland