Home of the dry river races
Even though the territory may be dry, quiet and somewhat secluded, the Northern Territory's festival calendar is far from dull. With the dry season, the Northern Territory brings with it a wide range of festivals and cultural events, all of which are wild, wacky and a once in a lifetime experience to both see and be involved in. From the dry riverbed boat races of Alice Springs to the world solar car challenge of Darwin and Kakadu, an eccentric event is always in full swing in the Northern Territory, so make sure to attend a weird and wonderful celebration on your trip.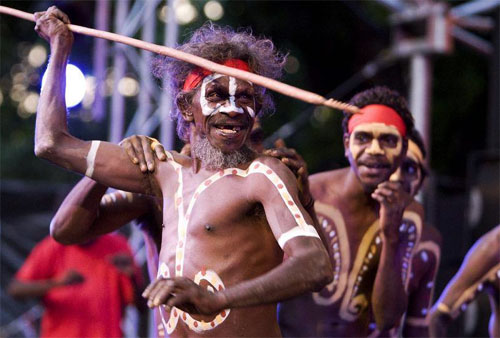 What are some famous festivals in the Northern Territory?
The Henley on Todd Regatta is a well renowned Alice Springs boat race - minus the necessity of water. Held in a dry sandy riverbed, the mock regatta is an all day celebration of absurdity, costumes and entertainment, with proceeds from the day going to charity. Featuring events such as the bath tub derby, sand shoveling and the tour d' Todd, the Henley on Todd attracts local, national and international visitors and has been labeled as an iconic event for the territory.
A multi arts festival embracing the best of indigenous and contemporary Australia, the Darwin Festival is an annual event running for 18 warm days and balmy nights. Outdoor theatre, music, cabaret and comedy are just some of the entertainment at the Darwin Festival, which began as a city revival after the devastation of Cyclone Tracy in 1974. Both local and touring entertainments perform at the Darwin Festival, with the city buzzing with vibrancy, colour and community spirit.
Just a sample of the Northern Territory's bustling event calendar, festivals in this region of Australia largely reflect the outback community as a whole, as well as both traditional and contemporary values.
Party your way down to South Australia. Click here