February 8-10, 2013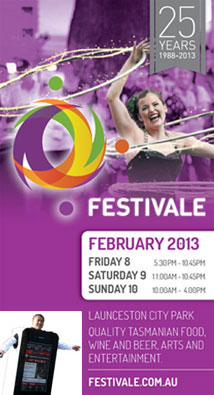 At Launceston City Park
Established in 1988, Festivale has become a significant part of Tasmania's food and wine scene.
Launceston's beautiful and stunning City Park gives Festivale so much of its wonderfully relaxed picnic-y alfresco flavour.
This year you can tantalise your tastebuds with offerings from over 75 stallholders and attend a highly informative master class led by an amazing line up of leading Tasmanian industry experts. Celebrate the 1st birthday of Harvest Launceston Farmers' Market with Stephanie Alexander's Kitchen Garden Foundation and Shawn Sheather, resident chef at Australian Good Food and Travel Guide (AGFG).
Treat your senses and enjoy the Festivale experience with us. This year the AGFG will be present as a judge for the Festivale Best Stall awards, discovering Tasmanian treasures within. The best overall stall award will win 12 months of marketing on the AGFG website and within the phone applications – both iPhone and android.
Come and celebrate Tasmania's highly regarded produce and unique local food. Amongst the talented line up, AGFG Resident Chef Shawn Sheather will take part in the showcase by hosting a celebratory Master Class.
Pleased to revisit the region he fondly remembers visiting with his family growing up, Shawn has closely associated with Tasmanian suppliers to present you with three inspiring dishes: fresh seafood ceviche, seared venison with baby vegetables and sweet strawberry risotto.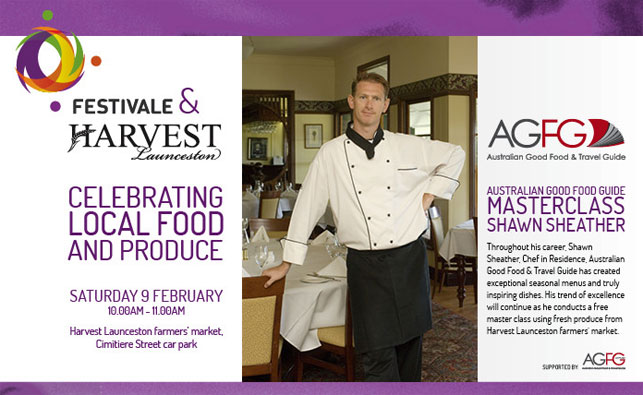 Shawn holds a high regard for seasonal Tassie ingredients solely available in the short-term, getting back to the way cooking was. He will distribute samples of his remarkable ceviche and signature dessert to everyone, while only 2 serves of his seared venison with merlot marrow jus and rich smoked foam will be plated up.
Come and join us on Saturday, 9th February from 10:00am-11:00am at Harvest Launceston Farmers' Market (Cimitiere Street car park). At the Australian Good Food Guide Master Class, everyone in attendance will welcome these pure Tassie tastes matched in accordance with cool climate wines. For those who prefer, boutique beers are available for purchase on site.
Festivale and Master Class tickets, as well as three day passes are on sale now from the Launceston Travel and Information Centre online at www.visitlauncestontamar.com.au or freecall 1800 651 827.