An AGFG Foodie Road Trip.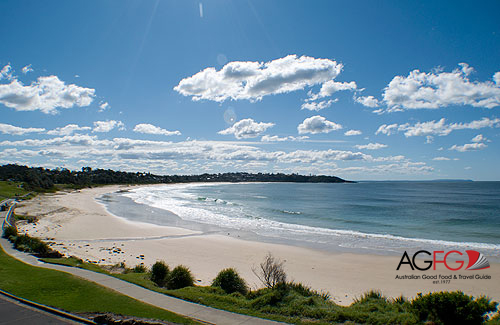 From where you'd rather be: Mollymook Beach.
A few members from AGFG took an early morning flight to Sydney, jumped in a sleek looking hire car and went on a road trip down the South East Coast of Australia and what a beautiful piece of the country it is to explore! The final destination was Mollymook in the Shoalhaven region; however, sticking on the main highway, driving as the crow flies was near impossible for the curious crew.
A quick turn off down the Grand Pacific Drive and the adventurers cruised the curves of this picturesque coastline almost the whole way down to Mollymook. Some sights along the way included Wollongong's Sports and Entertainment Centre and Win Stadium, the Port Kembla Steelworks with billowing clouds of steam and the Kiama blowhole with its deep rumblings and puffs of white foam.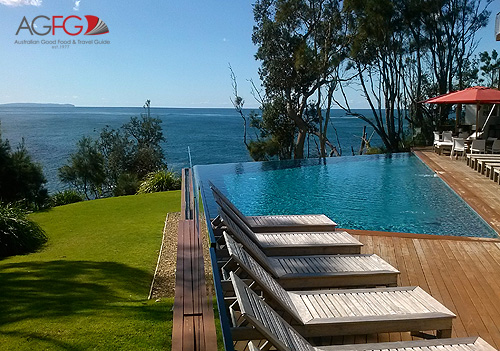 A guest's view from the pool at Rick Stein at Bannisters Accommodation.
A complete change of culture from city living is what road tripping will show you. Lush green paddocks and rolling hillsides, livestock of all kinds and townships that know the secrets of a life lived in fresh air, surrounded by space, the beauty of nature and an admiration for cultivated landscape.
The food trip roadies visited Coolangatta Estate Winery for a tasting of some of their most popular wines, sneaking around the guests of a stunning wedding party to slip into the cellar door and have a quick chat with the friendly staff and of course a few tastings. Be sure to take a wander around the grounds and discover the charm of old buildings, stopping in cool shade under the tall pines and tread carefully over damp grass.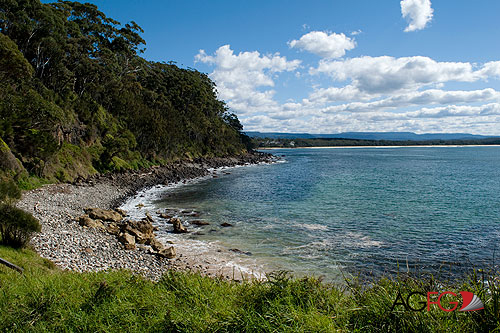 A sneaky find, just a few steps down off the car park at Rick Stein at Bannisters.
The AGFG crew arrived in Mollymook to be delighted by a wide stretch of beach, to the crashing of steady waves and pristine sands. Though small itself, Mollymook was a great base for exploring the Shoalhaven region, particularly if you enjoy a round of golf or two! For those who enjoy the sport, there are around 40 courses to choose from between Helensburgh and Eden, including both championship style courses and classic country clubhouses.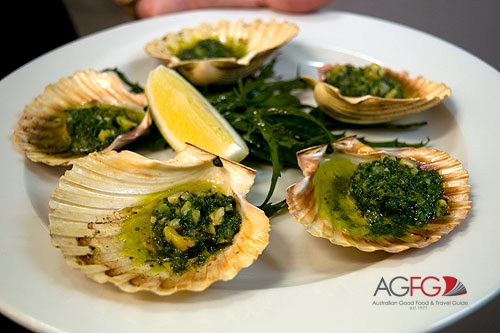 An appetising entree at Rick Stein at Bannisters of grilled scallops in the shell with toasted hazelnut and coriander butter, delicious!
A weekend of food inspired adventure began at Rick Stein at Bannisters with a menu focused on showcasing the best of the regions' fresh seafood, paired with wines recommended by the knowledgeable staff, both kind and professional. Scallops in the shell and prawns with Rick's chutney for entrees, lobster served in the shell and a seafood mix linguine for mains, paired with Spanish Sauvignon Blanc made for a delectable evening. The AGFG crew dined at night, however curiosity won out again and Bannisters was visited the following day. The view out North over the rugged coast is probably best enjoyed from the very edge of the pool that seems to drop away to nothing, or just grab a table in the poolside bar and relax with a drink.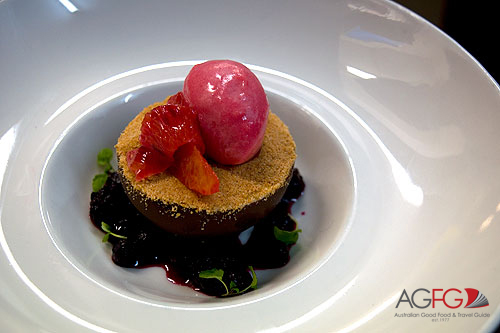 Rick Stein at Bannisters is not just about seafood, their desserts are pretty spectacular as well! Vanilla cheesecake encased in chocolate with berry compote and blood orange sorbet + dust.
After a long trip from an early flight, the team were excited to finally get to bed (midnight by the time the excitement settled) and Mollymook Aquarius Apartments was certainly the place to be. Rustic, old world charm is what you will find in these apartments, with a fully-equipped kitchen for families and multiple heaters for those cold nights, it was a more than comfortable stay.
The crew visited a number of other places along their three-day adventure, check out all the foodie fun HERE and be sure to delve into the world of Shoalhaven tourism over at the Visitor Centre (now in a handy, downloadable PDF's here).
AGFG was a guest of Shoalhaven Tourism.