An AGFG Foodie Road Trip.
Continuing the AGFG Foodie road trip, from a delicious evening at Rick Stein at Bannisters, the team headed to Tallwood for breakfast - the best start to a very busy day. You can read about the start of our trip here.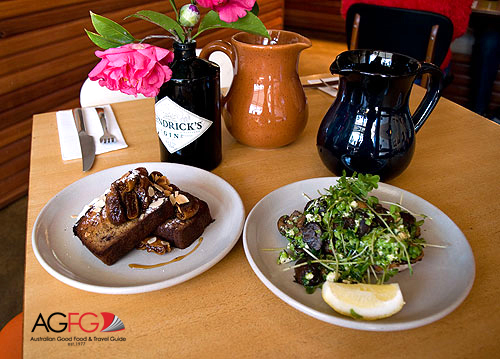 Breakfast Tallwood: banana bread, almonds, honey and poached figs. Local mushrooms, goat curd and pea smash with sprouts on sourdough.
Tallwood, the local café of choice for breakfast is co-owned and run by two close friends who ensure the menu is kept interesting and on-trend. The AGFG foodies' mouths were watering just walking up to the café's front as the tantalising smell of freshly baked banana bread greeted them meters down the path. It had to be ordered, shared with breakfasts of smashed peas with feta cheese and a medley of mushrooms on thick slices of sourdough and a warm quinoa porridge, bedazzled with edible flowers.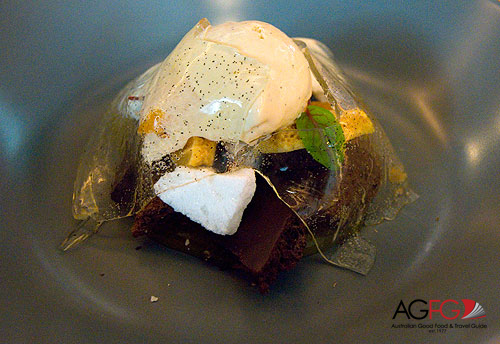 Dessert at Tallwood: Chocolate textures, mandarin, dulce ice cream and frangelico jelly.
Alongside a team of savvy staff, the exciting interior design is also something to note, with a long open window giving an insight through to the kitchen, a suspended floating ceiling and of course the signature pieces, two pieces of tall wood standing confidently in a room of warm hues. The AGFG foodies were also lucky enough to visit Tallwood for dinner that same evening, treated by the chef with the last of the truffle season's harvests in a gnocchi dish as well as a table of interesting share plates. Think taro chips with chipotle aioli, crispy prawn taro dumplings with a spicy African chutney, sesame crusted raw tuna with chilli and coriander, tender de-boned quail with crumbled feta and roasted cherry tomatoes and mixed roasted vegetables with labneh.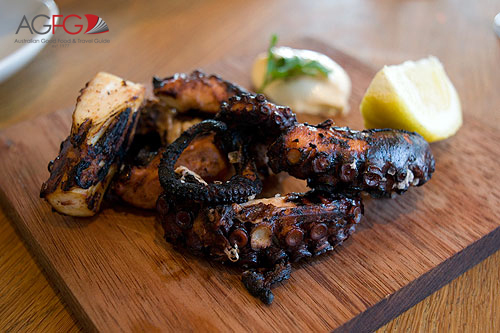 Grilled octopus, lemon and garlic aioli as an entrée at St Isidore.
Another stop for the flavour seekers was St Isidores, set among the vibrant farming lands of Milton with enough acreage to grow vegetables in large raised beds, to have a flourishing orchards of lime, Meyer lemon and orange trees hanging heavy with ripe fruits and still space for the quiet scratching and pecking of chickens with their own plot of land, complete with a timber hut for roosting.
Looking out to the farmlands really set the scene for what was on offer for lunch at St Isidores. Beets and carrots, leafy greens and pitted orange slices were all freshly picked, while main meats were melt-in-the-mouth for tenderness and desserts were to die for. Imagine a tart with crust that began to dissolve the second it hit your tongue, slightly sweet, immediately giving way to an entrancingly bitter chocolate filling. Now add a cool layer of house made peanut butter ice-cream, smooth and oozing with a caramel sauce broken by the crunch of peanuts, or if crème brulee is your go-to, picture the first satisfying crack of the surface revealing an irresistibly creamy, light yellow layer below. It was decided then and there that the AGFG foodies are dessert lovers. Growing ingredients to consume straight away in farm to fork style is certainly one of St Isidore's most attractive characteristics, just be sure to leave room for dessert.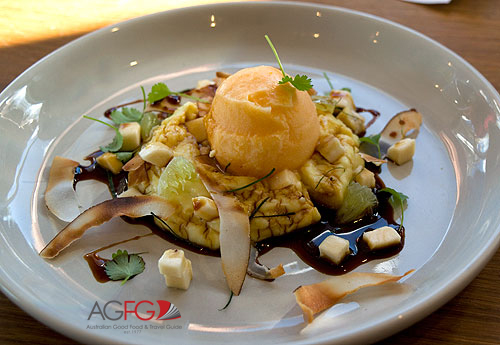 Dessert at St Isidore: coconut and pandan pudding, banana, lime, palm sugar and mandarin sorbet.
Milk Haus was another breakfast stop for the foodies on the move, as suggested to them over dinner at Tallwood by the host, happy to support other local businesses and who was in fact hosting the owners of Milk Haus for dinner that very night. Community spirit is prevalent in Shoalhaven's regional towns and good food that gives back to the region is a shared subject of mutual respect and passion for locals. Milk Haus café is hosted by Woodstock's 19th Century cheese making factory, now converted to the whole foods café and veggie patch. The space inside is lofty, charming guests with timber décor, big thick rugs to keep you warm in winter and vases filled with colourful flowers.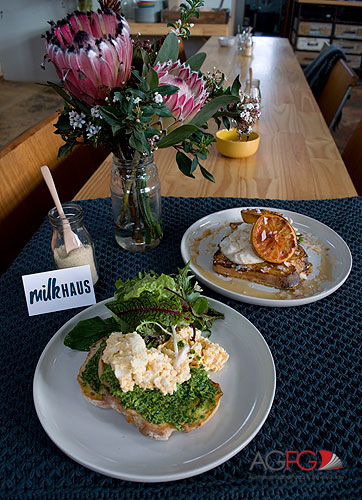 Breakfast at Milk Haus: creamed eggs, pesto and fresh leaves on sourdough. French toast with ginger and rosemary roasted ruby grapefruit, cashew cream and honey.
The crew was chilly this early morning and chose to sit as close to the fire as they could, stealing its warmth and ordering coffees straight up to warm their insides. If you like a big breakfast, Milk Haus is the place to go. The AGFG foodies were near on shocked with liberal portions of delicious breakfast items; a spoonful of cold, creamed eggs with handfuls of wild looking leaves picked fresh from the garden on thick sourdough with a lathering of house made pesto and French toast with ginger and rosemary roasted ruby grapefruit and more than a drizzling of cashew cream. The generosity of Milk Haus' dishes is evident of the nature of those who own and operate the café.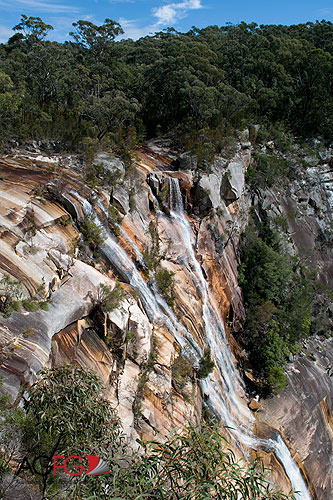 Granite Falls, just days after heavy rain and flooding - no signs up here!
Trying to work up an appetite between breakfast and lunch, the crew went on a trip out to Granite Falls in Morton National Park. With luck on their side, the AGFG explorers didn't run into any trouble with thick mud or deep ruts made from the recent rain when driving for 6kms of dirt along Twelve Mile Road to reach a short walking track through dense scrub. The path through native plants was strewn with delicate blooming wildflowers welcoming the spring season and after just a few minutes, thick flora gave way to open space, an awesome view over mountains, deep valleys and the sound of rushing water could be heard.
The AGFG explorers stepped out into the sunshine and followed the last few steps down to a platform suspended out above the valley. Though the water could have been flowing more heavily, it was a trip worthwhile to see layers of vibrantly coloured rock, smoothed from the rush of water over hundreds of years now shimmering in the morning sunlight. Overcoming nerves to hang out over the edge of the viewing platform rewarded the crew with some great photo opportunities, and after a few more minutes absorbing the breathtaking view, the crew headed back to the car, making a quick dash back to Cupitt's Winery in time for lunch.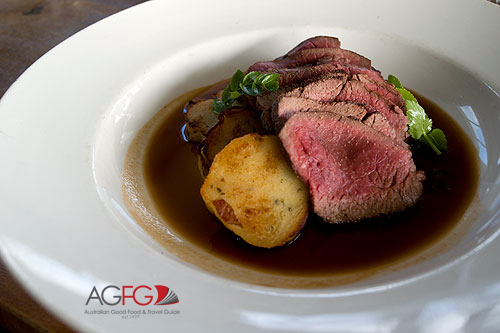 Lunch at Cupitt's Estate Restaurant: roast Venison, red cabbage and pan fried knödel paired with a 2014 Cupitt Nebbiolo.
Cupitt's Estate Winery, perched up on a hillside and looking out over farmlands made for a relaxing weekend lunch. Should you visit, take time to sip wine slowly, perhaps jump up and dance to a band rocking outside or ask for a tour around the brewery. Soon to cover all aspects of a seasonal menu and beverage list, Cupitts' space hosts a winery, brewery, cheese making facilities, farmlands and garden all either in direct sight or within close surroundings. The AGFG foodies were lucky enough to have a beer tasting of three beers brewed on site, wines housed in an underground cellar for temperature stability and aging and even a preview tasting of five cheeses now crafted on site, soon to be available for public tastings and purchase. For lunch, the foodies enjoyed fresh harvests from the garden and vegetable beds and meats the host informed them were farmed from the herd of livestock seen wandering around in the paddocks in view from restaurant tables. Slow food is Cupitt's motto and their impressive, all encompassing grounds are close to being self-sustainable in anything and everything you could want to enjoy a leisurely Sunday of wining, dining and dancing.
Silos Estate, dating back to 1870 and now restored, was included in the itinerary, with wine tastings, a stroll around the vineyards and the delightful addition of feeding the alpacas. Though the AGFG foodies had to hit the road with a drive back to Sydney airport, offering no leeway to stop and enjoy Silos, the Estate offers boutique accommodation for those looking to unwind and a fantastic location for holding weddings and special events, enjoying a meal in the restaurant and wine tastings in the cellar door. The AGFG crew is sure to visit when next in the region.
All in all, Shoalhaven is a picturesque destination for those looking to escape busy city rushing or looking for a seaside location to holiday. Whether for a quick weekend away, a golfing tour down a length of the coast, slowing down for caravanning, camping and four wheel driving, truly experiencing wild scrub lands or even looking for a permanent lifestyle change, a visit to the Shoalhaven region can include as little as you need for a stress-free break or as much as you want for an exciting adventure. Taste the region's fresh produce, straight off the farms you see when driving through, harvested from orchards on restaurant acreage and picked fresh from thriving gardens and be sure to keep any eye out for initiatives evolving from the Southern Coast Food Alliance, the keepers of all things flourishing in Shoalhaven.
Words by Annabel Rainsford, photography by AGFG and experiences by the AGFG Foodies. AGFG was a guest of Shoalhaven Tourism.