Family, food and tradition are intertwined for chef, Alessandro Pavoni and it's the traditions of his culinary culture that simultaneously anchor him to a food-filled past growing up in Lombardy by his Nonna's side and inspire his future endeavours not only as a chef, but as a husband and more recently, a father.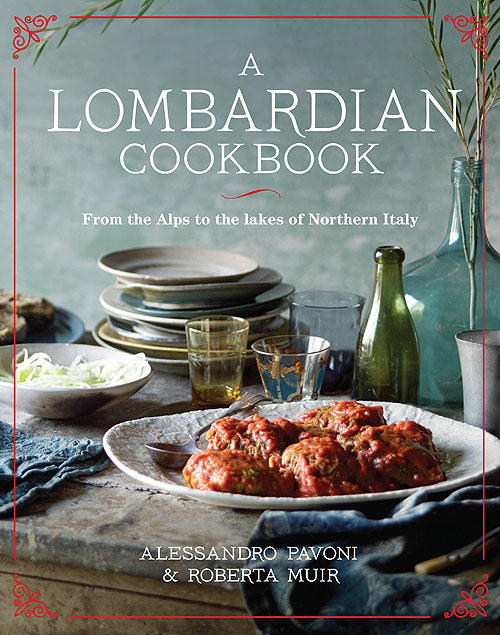 Alessandro spent his childhood growing up in Italy's Lombardy region and it is from his experiences both here, around the world working as a chef in renowned Michelin starred restaurants and now in his own chef hatted restaurant, Ormeggio at the Spit and the co-owned Via Alta, that he has created a collection of most loved recipes for readers and loyal followers to re-create at home.
Taught from a young age that food is for nourishment, to be shared between the family and enjoyed with enthusiasm, Alessandro's passion is eminent as it radiates back through pages of mouth-watering dishes like pumpkin gnocchi with gorgonzola sauce, pork belly roasted on the spit with apple salad and desserts like a comforting apple pie. His own personal favourite dishes are featured, alongside dishes typical of the region and of neighbouring regions where his immediate family visited extended relatives on vacation.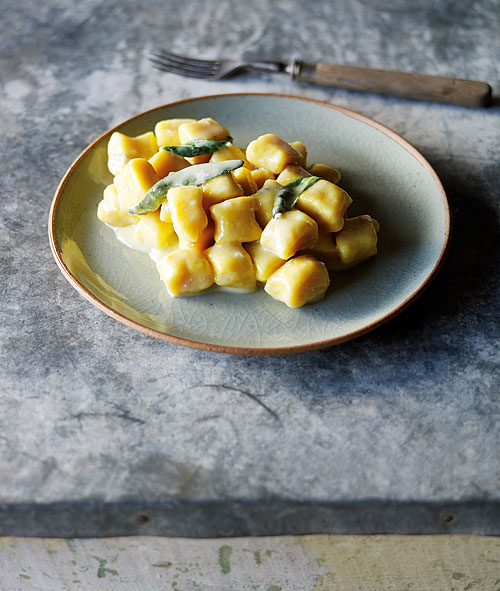 Pumpkin Gnocchi with Gorgonzola sauce, p.78-79.
Lombardy itself is one of Italy's primary livestock and dairy-producing regions and lucky enough to boast hearty, wintry meats and dairy-based fare associated with the Alpine region and also the lighter, more summery olive oil and fresh fish specialties of nearby lakes. Delectable, time-honoured meals, regionally inspired dishes and treasured family recipes are accompanied by rustic photographs to imply the sense of depth and emotional connection to every dish.
We were lucky enough to have Alessandro Pavoni share some insights into the Lombardian style of cooking in time for the release of his new recipe book, A Lombardian Cookbook, co-authored by Roberta Muir.
AGFG: When you think of cooking in Lombardy, what is the first dish that springs to mind and why?
Alessandro: Risotto! It is one of my favourite dishes, it represents the flavours of all the seasons because it so versatile with its ingredients, it was a dish that I ate with my family 2-3 times a week, and is one of my favourite dishes to cook.
AGFG: What are the biggest differences between Lombardian cooking and Australia's take on the cuisine?
Alessandro: One of the biggest differences was ingredients of course, particularly the seafood. In the book we have interchanged with similar species of salt water species mainly, instead of freshwater. Also, the Spiedo section we totally created the recipes to use on a gas BBQ like every Aussie has at home, instead of depending on the very specialist piece of equipment from Brescia.
AGFG: What do you attribute the popularity of Lombardian food to?
Alessandro: The incredible variety of dishes (light, heavy, butter vs. olive oil, seafood vs. game meats, etc) due to the many micro-climates found in the region of Lombardy.
AGFG: Is there still a big diversity in Lombardy's regional cuisines today? If so, why is this?
Alessandro: Of course. Italy is a lot less globalised than we are here. Tradition is still very strong there. The climates that dictate the ingredients and style of cuisines is still there.
AGFG: Upon your first visit to Milan, what culinary influence did it have on you?
Alessandro: I remember the first time eating in Milan the 'mondeghini', Milanese meatballs! I love these so much, and they're in the book and on the menu at my restaurant Via Alta in Willoughby!
AGFG: What has been the strangest food for you to eat outside of Italy?
Alessandro: Locusts in Thailand. Green ants in Australia. Flying Fox in Vanuatu. I think the thing is that the cuisine is so regional in Italy that I didn't experience a lot outside of my region until I was much older. Even tasting a different dish in Rome was strange for me!
AGFG: What advice would you give to those cooking your recipes at home?
Alessandro: Follow the instructions in the book! We tested and tested and tested each recipe in a home domestic kitchen, so I can truly assure you that the recipes in the book work!
By Julie Johnson.
Recipes from the book A Lombardian Cookbook by Alessandro Pavoni and Roberta Muir, with photography by Chris Chen, published by Lantern, RRP $59.99, copies can be purchased here.