Explore the island by sea
If you've seen and explored this state by air and by foot, why not continue the journey and continue your Tasmanian journey from the water on a river or sea cruise. Here, you can admire the apple isle from a different angle and see the rainforests, ancient Tarkine wilderness and vineyard lined banks from a whole new perspective. Whether you're on a cruise for snapshots or indulgence, many boat tours come complete with fresh Tasmanian meals and products, along with famous cool climate wines.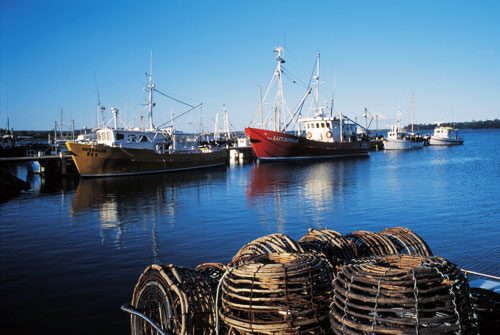 Where can I take a cruise in Tasmania?
Get on board one of Tasmania's major waterways, the Gordon River. Rising in the centre of the island and flowing westward, the Gordon River is uninhabited wilderness, flowing through ancient Tasmanian rainforests and into the harbour. Cruises along the Gordon River start at Strahan on the state's west coast, with luxury, relaxed trips lasting for around half a day. Along the way, take a short walk and see Hell's Gate- the harbour entrance to the Southern Ocean, as well as exploring the notorious penal settlement area of Sarah Island.
In northern Tasmania, the Tamar River is not so much a river as it is a saltwater estuary but is also used for shipping and commercial cruises. Australia's longest navigable estuary, the Tamar River stretches for more than 70 kilometers and is a sanctuary for many Tasmanian water birds including the white bellied sea eagle, pelicans and black swans. Cruises along the river allow you to see some of Tasmania's rich diversity with local vineyards, impressive riverfront communities and the famous Batman Bridge.
One of the state's seven major rivers, the Arthur River is the only one left completely wild, never having been logged, dammed or spoilt. Cruises on this tea coloured water take you through the Tasmanian rainforest where you can see an assortment of wildlife, including the iconically Australian platypus in its own habitat. When your tour is complete, make sure to stop off and explore the township of Arthur River where you can walk along the sandy beaches, watch the sunset and fish for some abalone and crayfish.
Continue river cruising throughout Australia. See http://www.agfg.com.au/Blog/post/2007/03/28/Cruise-around-Australia.aspx