Home of the famous devil
Due to its isolation from the mainland, Tasmania's native flora and fauna has largely maintained its survival. Endangered birds, animals and marine life surround Tasmania's pure land and waters, adding to the natural charm of this island home. With 33 native terrestrial and 41 marine mammals in Tasmania, you'll be sure to easily come across impressive wildlife and their history, from delicate sea dragons in the east coast to the little pygmy possum in the drier island forests.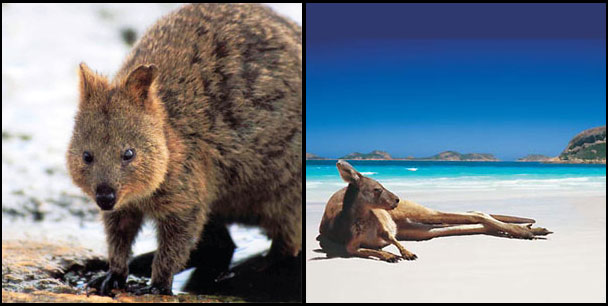 Tasmania's wildlife wonderland
Tasmania's bird life is quite aptly, something you will not see anywhere else in the world. With 12 species specific to Tasmanian shores as well as a range of sub species endemics, bird watching is a popular tourist activity for both locals and tourists who wish to get a glimpse of the Tasmanian native hen or the orange bellied parrot, one of the world's most endangered species. The South West National Park is one of the state's areas plentiful in bird life, with Bruny or Maria Island off Tasmania's east coast a popular home for the 40 spotted pardalote.
By sea, Tasmania's marine life ranges from southern right whales passing through the east coast to sea dragons and giant kelp forests, drifting around the ocean waters. During the winter time, see the humpback whales pass by on their way back to the Antarctic or watch the fur seals off Bruny Island, the Tasman Peninsula and even around the Constitution Dock of Hobart. Fairy penguins are also often spotted along the River Derwent and along the Bass Strait coast, where seahorses, pipefish and cuttlefish reside.
Back on land, the Tasmanian Devil Conservation Park is home to some of the devilishly charming creatures, where you can catch as they feed, play and entertain. Tasmanian Devils are an endangered species, now only found on the island itself. Famous for snarling, aggressive behaviour, these creatures are not to be approached too closely, unless you're willing to go home a finger or two short. Tasmanian Devil Conservation Park is also home to the likes of falcons, wallabies, quolls and rare hawks, where you can observe free flight presentations and feed them by hand.
For more Australian animal information, read up on wildlife in Queensland here