Dust off your hiking boots and embrace Australia's great outdoors
Australia culminates a different picture in everybody's head. Whether its sand islands, a dusty outback serenity, vast plateaus or rocky ranges, some of it is rough but all of it's real. All of the beauty that this extraordinary country holds makes it the perfect location to take a walk – sometimes a really long walk. Bushwalking in Australia is a safe activity, meaning although you may come across some insects or spiders that don't like to be touched, rest assured there is nothing in the bush that will devour you. Whether you decide to undertake bushwalking by means of basing yourself in a camping area and exploring the wonders of nature by day or a self sufficient journey consisting of carrying your own tent and food, a big beautiful terrain will be waiting.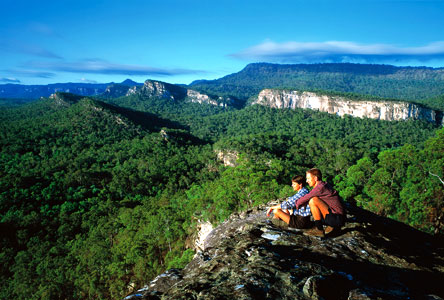 Where are some of Australia's best bushwalking and hiking trails?
One of Western Australia's most popular tourist destinations, The Valley of the Giants, is an ideal bushwalking location, full of towering forest and gigantic tingle trees. West of Denmark and east of Walpole on WA's southern coast, the Valley of the Giants can be explored from the bottom up or the top down, with a tree top walk available for an eagle eye view. On the other extreme, the Overland Track in Tasmania is a spectacularly diverse bushwalk that can be undertaken in 5 days, beginning in Cradle Valley and ending in Cynthia Bay. However this track is not your average walk in the bush as you'll be blessed with huts, toilets and even the option of undertaking a guided walk complete with hot meal and shower – luxury in the bush! For a bushwalk that features the beach, the Fraser Island Great Walk takes you on a stroll through the forest and creeks, where you can stop at the popular haunts along the way and savour the solitude on the longer stretches. Not technically 'bush', this walk comes complete with Aussie dingoes, often spotted on the island.
To find the best Australian hikes and bushwalks, see;
Hiking in the Northern Territory:http://www.agfg.com.au/Blog/post/2007/07/04/Hiking-in-the-Northern-Territory.aspx
Hiking in South Australia:http://www.agfg.com.au/Blog/post/2007/06/27/Hiking-in-South-Australia.aspx
Hiking & Bushwalking in Tasmania:http://www.agfg.com.au/Blog/post/2007/05/08/Bushwalking-Hiking-in-Tasmania.aspx