Trek the Top End
With the Northern Territory's natural splendor remaining largely unspoilt, hiking is a perfect activity to slow your holiday down a little and enjoy a refreshing piece of Australia's outback. This state is home to a myriad of hiking and walking trails, each displaying a unique panorama of remote nature, from Kakadu's wonderous waterfalls to Arnhem Land's rocky escarpment.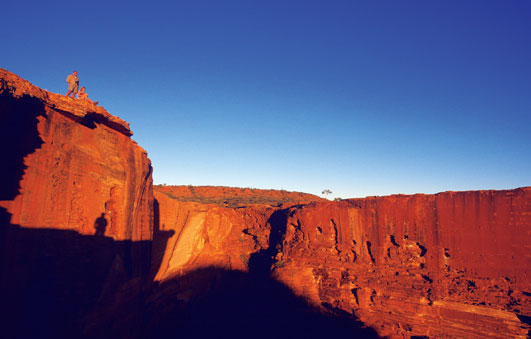 Where are some of the best hiking trails in the Northern Territory?
One of the world's best hiking experiences is that of the Larapinta Trail, running 223 kilometers from Alice Springs to Mount Sonder. Weaving amongst rocks, down red dusty slopes and through sheltered gorges, a hike on the Larapinta Trail rewards your hard leg world with spectacular central desert landscapes and unique scenery. Some camp sites along the trail have free barbecue cooking facilities, with the trail taking around 20 days to fully complete.
For a smaller walk that won't take you the best of a month to finish, the Giles Track is a 22 kilometre journey between Kings Canyon and Kathleen Springs. Along the Giles Track, be sure to stop along the trail and observe traces of ancient Aboriginal art. Ensure you prepare before tackling this trek, particularly by taking a swim in the Kings Canyon waterhole.
Located within Nitmiluk national park, the Jatbula Walking Trail is a 58 kilometre journey, from Katherine Gorge to Edith Falls. A four to five day adventure covering a vast range of terrain, the Jatbula Trail highlights some of the Northern Territory's most spectacular outback water attractions from cascades to rock pools as well as mighty waterfalls and fast flowing rapids.
Read up on hiking in Australia, here