As Festa della Repubblica (Italy's National Day) draws closer and closer (June 2), we couldn't help delve into the world of Italian cuisine, wine and its seductive charm.
There's nothing more comforting than a steaming bowl of Spaghetti Bolognese dressed with real parmesan and a glass of chianti on a cold winter's night followed by cannoli dipped in warm caramel syrup, however, imagine for a moment something completely different. It's still winter, but it's lunch time and you happen to be at a family gathering, the sun is beating down on you and suddenly that chianti is not looking like the right drinking companion - may we dare suggest you veer towards the white varieties of Italian wine?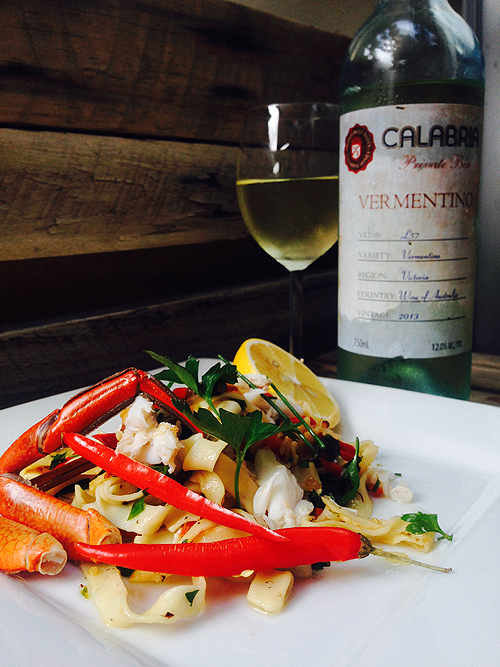 You really can't ignore the vibrancy of this dish.
We even put this wild and crazy suggestion to the test. Beginning our winter lunch with an aperitif of Prosecco, straight from Italy itself and from Calabria Wines' Private Bin Range was a deliciously light, fresh bubbly that seduced you from the first sip. With delicate aromas of white peach, apple, pear and lemon it cleansed the palate and prepared you for the main event of Chilli, Lime and Chive Crab Linguine (find the recipe here).
To pair with our lunch, we chose Calabria Wines' Vermentino. Calabria's 2014 Vermentino is the first of its vintage and certainly promises a bright future for this exotic and late ripening white grape as it was the perfect wine to pair with such a light seafood dish. A palate of lime zest and lemongrass as well as a particularly fruity floral taste was just enough to sweep away the intensity of the chilli.
Now we know we're going against the grain here and it might be a little too much to handle, however, if you have a winter lunch (may we even say dinner) planned, go against the cravings of heavy tomato sauces and vigorous reds, you may just be pleasantly surprised.
You can find Italian recipe to try at home in our AGFG Italian Recipes Section.
If you want to know more about the Italian lifestyle, check out our dynamic interview with Stefano Manfredi.
Want to know more about Calabria Wines? David Ellis put together a tantalising wine review here.
Don't want to make a mess in the kitchen? Check out these Italian Restaurants near you.
Happy Festa della Repubblica!