Stefano Manfredi puts Australian food culture into perspective.
As we come up to Italy's National Day on June 2, we're all about celebrating the influence of Italian culture on the Australian food scene. In that respect, who better to talk to then the Italian restaurant 'Godfather' himself, Stefano Manfredi.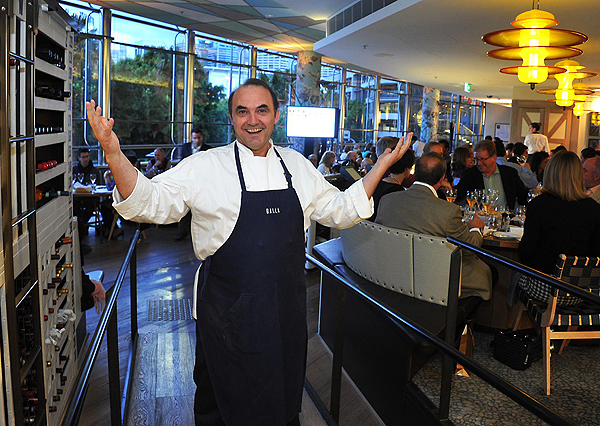 Stefano Manfredi in his restaurant, 'Balla.'
With exuberance and passion, Stefano spoke to us about growing up in Australia as an Italian family, opening authentic Italian restaurants as well as his custom work at Pretty Beach House.
"When I arrived with my family in Australia (1961), Australians ate very different to the way we do now, my mother used to have to go into a chemist for olive oil in 50ml bottles because Australians used it for swimmer's ear," say Stefano.
Australia's food scene has certainly grown since then, from top restaurants, to the local street cafe as well as the home kitchen; Australians are becoming more conscious of what they're cooking and eating. Now, with a thriving extra olive oil industry as well as balsamic vinegar and artisan cheeses, Australia is being recognised on the world stage.
"I still think we have a long way to go though, Australia is the biggest consumer of America's fast food chains, the oils and fats are not fantastic, we need to become more food conscience."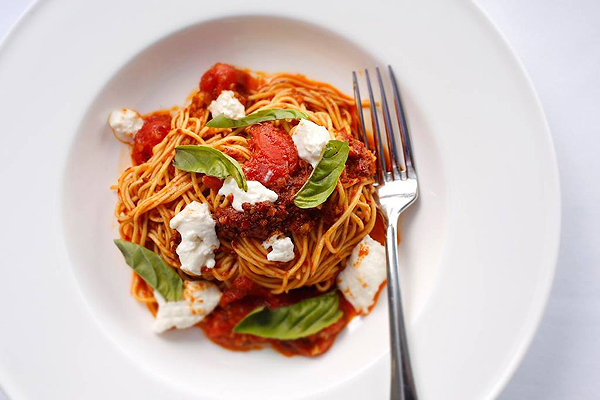 "Above all, Italian cooking relies on the freshness of the produce, which is dictated by the seasons and by simple but skillful preparation," ~Stefano Manfredi.
Stefano went on to say that although we've come a long way in 50 years, which is a not much time at all, it does take more than that to change a culture. For some polarity, Italians are very close to their land; food trends are based around what is being sold by the local farmers in markets where as in Australia it's top restaurants creatively using fresh produce that influences the market.
"Change doesn't happen through farmers [necessarily] it happens through restaurants, media and then it ends up on Masterchef," says Stefano.
Headlining trends and giving the Italian loving community a place to explore Italian cuisine is Stefano's restaurant Balla and his recent restaurant Pizzaperta. Modern Italian cuisine merged with the casual style of Osteria is what you'll find at Balla which will have a special menu for Italian National Day along with a personal playlist of modern Italian songs curated by Stefano. Special pizzas for the day will be on show downstairs from Balla and we can also assume Pizzaperta will be honouring the day.
Coming into winter be prepared for root vegetables and fennel oranges in Stefano's meal creations of Sicilian fennel and orange salad with prawns or scampi as well as hearty dishes such as Osso Bucco with polenta and braised lamb shanks.
"We love doing soups in the restaurant; I come from one of the soup regions of Italy, [think] veal shanks, lots of vegetables and kale. At Bells at Killcare, we have a big garden where we grow a lot of our own vegetables and herbs like parsnips, potatoes, broccoli and roman beans," says Stefano.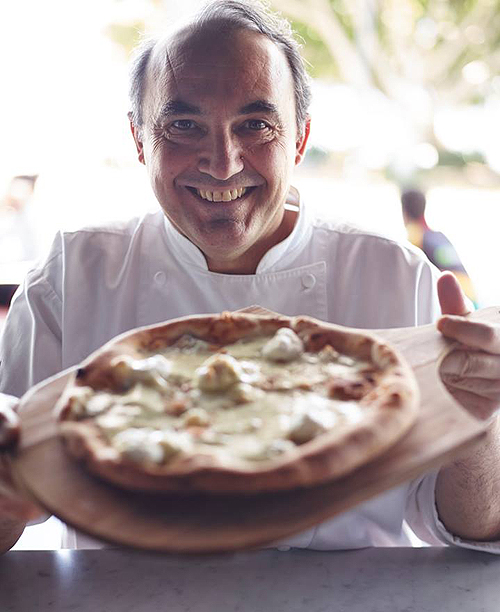 Stefano and his pizza pick - Quatro Formaggi (four cheeses) at Pizzaperta.
As of April, Stefano along with Karina and Brian Barry of Bells at Killcare and Sydney designer Michelle Leslie have brought Pretty Beach House at Pretty Beach to life again.
"For more than 30 years I've found a passion in designing restaurants, like Balla, Pretty Beach House was a fantastic opportunity to design things; I worked with Michelle on the kitchen to create an Italianate Ambach kitchen that we built to our specifications."
"In the old Pretty Beach House people wouldn't eat in the kitchen while the chefs cooked, so we've now created a comfortable setting for this interaction," says Stefano.
Pretty Beach House can sleep 8 people at any one time, with four private pavilions, three freestanding and one penthouse ensuring a luxurious stay.
If you're ever visiting, be sure to check out over 100 hours of Stefano's handpicked playlists for guests to enjoy during their stay (the in house ipod is for sale to take home).
Stefano is a passionate advocate of Italian cuisine as well as the development and evolution of the Australian food culture. If you're ever in the area of Balla, Pizzaperta, Bells at Killcare and Pretty Beach House, make sure you accompany Stefano on an enjoyable Italian journey.
For more information about Stefano, his restaurants, as well as his own coffee brand Espresso di Manfredi (with accompanying cups and saucers "Ceramica di Manfredi") head to www.manfredi.com.au