"It is an honour and a privilege to delve into this mystical and elusive ingredient, steeped in an aura so over powering that it dissuades most people from ever tackling it in the kitchen." ~~Rodney Dunn.
Hot on the heels of his first cook book The Agrarian Kitchen, founder and celebrated chef Rodney Dunn will captivate you and leave you with a need to cook more from his latest edition, The Truffle Cookbook. Serving up a comprehensive and informative guide about the truffle industry abroad and within Australia, The Truffle Cookbook captivates with stunning, beautiful photography by Luke Burgess.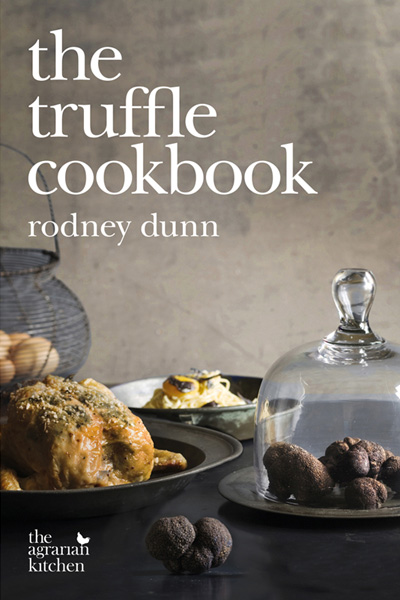 Embark on a magical journey though cheese, entrée, mains and desserts with this cookbook, enabling all ranges of one's culinary expertise; whether beginner, sous chef or first time truffle enthusiast, become lost in pages on truffle varieties, selection and storage of this delicate subterranean fungus.
At the beginning of a cold weekend morning, cosy up to the fire with a serving of warm poached apple, truffle cream and maple syrup topped with the crunch of oats, or simply bask in a warm dish of goat's cheese and truffle baked filo pastry. The Truffle Cookbook encompasses the ease at which certain dishes represented can be, while still offering a perfect balance of complex and opposing flavours, which are sure to be a hit at your next gathering.
Goat's Cheese and Truffle, baked in pastry, p.30.
As temperatures begin to drop around the end of May in Australia, so too does truffle season, with the Tasmanian Perigord Black Truffles coming into full bloom as they start ripening in the cooling soil. The Truffle Cookbook offers a complete range of delicate and hearty dishes to warm the soul and to tantalise the tastebuds, delve into a divinely steamed snapper 'en papillote' (French for baked in paper) with gently infused flavours of delicate ginger and truffles.
After extensive research and first hand dealings with truffle distributors and retailers, Rodney has devised a checklist for first time truffle buyers to relieve any anxiety caused by handing over a considerable amount of coin: check for a strong aroma, they must be firm, dense and heavy, be clean of all dirt and when giving the truffle a small nick, make sure it is showing clearly, the white veins surrounded by a jet black interior.
Storing truffles is also very important as they can quickly lose their aromas, so it's best to store them in an airtight container with a paper towel to absorb the moisture, make sure the towel is replaced daily and take full advantage of the aromas by placing a couple of eggs into the container for a couple of days to scramble the eggs at a later date, delicious!
"Whether it's the alluring aroma and flavour, the incredibly short season or the folklore that maintains the appeal, I really hope I can encourage many more of you to fall under their spell. Just remember a little goes a long way." ~~Rodney Dunn.
This truffle guide will have everyone toasting to your culinary abilities, whether you're creating an intimate meal or hosting a long table dinner, your friends will be sure to ask you to divulge your secret weapon.
By Kirsten Kruck.