Pizza It Is
Pete Evans started his career rolling dough at pie shop in the Gold Coast and now, after over 20 years in the business, he has finally embraced the opportunity to roll out his topical "Pizza" cookbook. Pete's lifelong love affair with pizza permeates the pages of his widely anticipated new book; here he shares tips of the trade that he picked up under the guidance of an authentic Italian pizzaiolo and put into practice when he was executive chef at Hugos restaurants.
It was always in the back of his mind to write a book about pizza and now it has arrived, representing his sixth cookbook with Murdoch Books. "Pizza" encapsulates his best tried and true recipes.
"Pizzas are a great way to showcase good ingredients. That's one of the main reasons I love making them," explains Pete.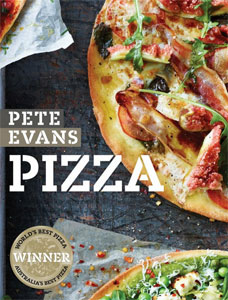 There can be a lot of freedom in pizza-making because the recipes are typically simple and achievable, plus you can customize the ingredients for whomever you're cooking for. Pete has embraced this opportunity and "Pizza" offers his loyal readership over 90 recipes.
He covers classic pizzas such as Meat-Lovers, and modern versions including Brussels Sprouts with Pancetta and Mustard Seeds. This book takes pizza to an exciting new level with a definite Aussie spin in terms of ingredients - there are breakfast pizzas, seafood pizzas, vegetarian pizzas and pizza desserts.
"I think that's what we like to do in Australia, take great foods and put our own stamp on them," Pete remarks.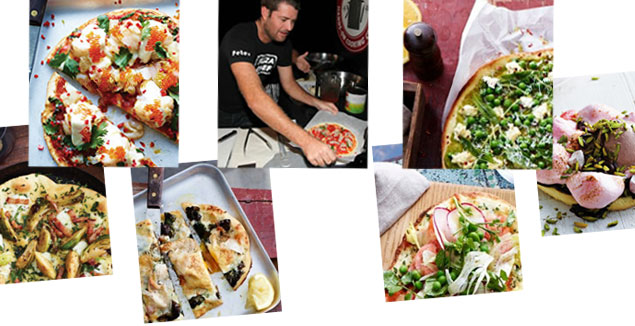 With a predilection for seafood, you'll find Pete has a number of pizzas designed to feature brilliant ocean flavours, both modern Australian and globally inspired. Your tastebuds will thank you upon being introduced to his Moreton Bay Bug with Chilli, Coriander and Yuzu Mayo pizza; though the yuzu hints of Asia and may not be for pizza purists.
You'll find pizza variations in different shapes and sizes such as Stacciatella Pizza and Salmon Carpaccio with Fennel and Radish. Mint being one his favourite herbs at the moment, Pete embraces that trend with his Spring Mint and Salted Ricotta Pizza.
His Rocky Road with Turkish Delight, Pistachios and Marshmallows recipe is especially recommended for chocoholics, a re-creation of his famous rocky road dessert adapted atop a pizza base.
Award-winning chef and restaurateur, Pete Evans has a relaxed disposition that translates to his devoted fans through his writing, television shows, catering and travel adventures. His elegant and easy-to-follow cooking combined with his laid-back Aussie charm is displayed in his books, including "Pizza", and on TV in Channel 7's high-rating 'My Kitchen Rules' amongst other appearances and spokesperson roles.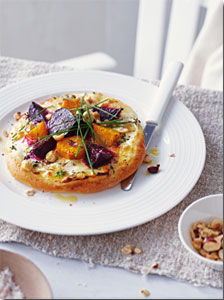 For a taste of what's to come in "Pizza", try out his Goat's Curd, Baby Beetroot and Hazelnut Pizza. This recipe emulates something sublime in its perfect combination of ingredients.