June 2012
Catering to Pizza Lovers
With his sixth cookbook due out next month, we had to ask Pete Evans to tell us a bit more about "Pizza" in a Q&A. Topping off the interview with a few other topical tid bits, we touched on Pete's experience in the world of catering, discovered a few of his memorable moments and received some of the skinny on 'My Kitchen Rules'.
AGFG: Amongst your many foodie adventures and tours, you have a three course dinner coming up at Lake Crackenback Resort & Spa. How does the location influence your menu when planning for events?
PETE: When I plan menus the location and produce always factors in. Whenever you can cook with ingredients that are local and in season you're already a few steps ahead because they taste so much better even before you've done anything with them.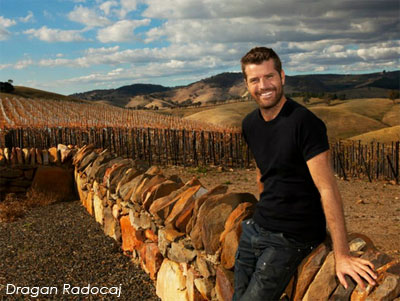 AGFG: Looking at your emerging career in the 90's, having recently graduated from catering college you landed the executive chef role at Pantry. How did you merge into the business seamlessly?
PETE: I was lucky because my brother and his mate started that restaurant and offered me that job. I was fresh out of school so it was definitely a case of being thrown in the deep end, but it gave me a chance to really find myself as a chef and learn straight away what it takes to get an operation up and running.
AGFG:Since catering fuels your professional fire, will you describe one of your most satisfying moments when you had the opportunity to work with a client to deliver a most unique menu? Ultimately, is there any experience more memorable than cooking for Princess Mary?
PETE: That was a big, high-pressure event, and of course it was an honour; I felt really happy about how it came together. But like you said, catering really does fuel the fire for me. It's an area of cooking that gets me working with all kinds of people and I'm happy whenever I know they're happy and proud of the event they've just hosted.
On a personal level catering also gives me a chance to have cool experiences, like cooking for people I admire. I had the team from Billabong around recently for a dinner and was stoked to have those surfers at my house, at my table, eating my food and telling their stories. Those sorts of events are always memorable.
AGFG: In 2001 the Lifestyle Channel seduced you onto TV with the series 'Home' and you've been an active television personality since. A chef by trade, will you explain that initial reluctance to move into television media?
PETE: This might sound strange coming from someone on TV, but I'm a pretty shy guy and when I was younger I was definitely happiest behind the scenes, cooking my food and running the kitchens. Being on TV sounded a little scary, but 'Home' turned out to be a good stepping-stone for me because I got to test the waters by doing cooking segments rather than entire shows. By the time the proposal for the 'Fish' series came around, I'd settled into things a bit more and was ready to step up.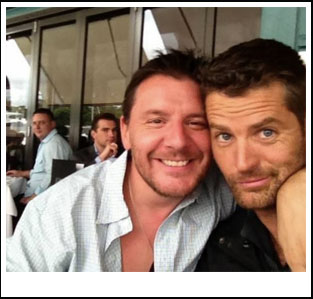 AGFG: Twelve years later, you co-host Channel 7's 'My Kitchen Rules' with Manu Fieldel whom you initially met in the early days of Hugos. You've known him a long time now… what is one of Manu's most annoying habits? If I asked him the same question about you, what do you think he would say?
PETE: Manu's most annoying habits… where do I start?! No, in all seriousness, the thing about Manu is that he's a great chef, a good person and one of my favourite people to be around. If I was pushed to pick an annoying habit, I guess I'd say his fake French accent (again, just kidding). Not really sure what he'd say about me; you'd have to ask him.
AGFG: Aside from the daily dynamics between you two, MKR has an intense shooting schedule for over 5 months of the year. The hard work has definitely paid off as it is now one of the highest-rated Australian TV shows. What keeps you going when there's stress on the set?
PETE: I think it's important to remember that what you see on a one-hour TV show has usually been shot over a much longer period of time. So even though things may come across as really tense from time to time, we don't necessarily feel that same level of pressure or stress on set. Plus, the guys on the crew have been working with us for a long time now, so we spend a lot of time off-camera just cracking up and joking around.
AGFG: What was it like meeting Martha Stewart? What have you picked up from your experiences with the American media? In your opinion, what distinguishes Australian television productions from comparable shows in the USA?
PETE: I've met Martha a few times now and am always humbled by what she's achieved. I don't know that I can comment too much on American media other than to say that, like everything in the US, TV tends to be bigger there: bigger budgets, bigger reach and bigger production teams. But I think we Aussies can definitely hold our own. The quality and content of our shows is right up there and (in my opinion), just as watchable and compelling as any international food show.
AGFG: Aside from television you're a cookbook author, your sixth thematic title "Pizza" being released by Murdoch Books in July 2012. This experience allows you to continue experimenting in the kitchen and sharing your recipes with the world. You've covered impressive terrain with your books so how do you boil down your personal style?
PETE: Not sure that I can. I've always tried to be really diverse and keep growing as a chef, and I love all sorts of cooking, from homemade sandwiches and a good steak to something more elegant and sophisticated for a party - I think there's a time and place for all of it. I guess my books really reflect the sorts of dishes and styles that I'm into when I'm putting them together.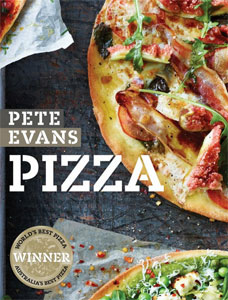 AGFG: Can you explain the freedom "Pizza" has given you as a chef to showcase a range of specialized ingredients?
PETE: As you say, pizzas are a great way to showcase good ingredients. That's one of the main reasons I love making them. They are so versatile, really fun to make, and the kind of thing you can customize to suit whoever you're cooking it for. So many people seem to love and feel comfortable with pizza, and I think this book is a great way to share the recipes they already know and love, but also take them beyond that to some other exciting ways of enjoying them. The recipes are really simple and achievable too, so you don't have to be a pizza chef to pull them off at home.
AGFG: What sets "Pizza" apart from similar cookbooks?
PETE: I'd say this book is different because, although I'm respecting the traditions of making pizza, I'm also taking a modern approach with the recipes which have a real Aussie spin to them in terms of ingredients. But I think that's what we like to do here, take great foods and put our own stamp on them.
AGFG: What are the ingredients you can't live without?
PETE: The fundamentals would be garlic, citrus fruits, fresh herbs (mint is probably my favourite at the moment), and then pretty much anything from the sea.
Read Pete Evans' bio brief in our Chef Profile section and check out our AGFG book review of "Pizza", his latest cookbook published by Murdoch.
For a taste of what's to come in "Pizza", try out his Goat's Curd, Baby Beetroot and Hazelnut Pizza. This recipe emulates something sublime in its perfect combination of ingredients.