From the Menu – Launceston is the unofficial guide to dining out in Launceston, bringing together recipes from 28 restaurants around the city, all complemented with eye-catchingly beautiful photography by Philip Kuruvita. From the Menu is book number five in Philip's collection and he shows no signs of slowing down as From the Menu – Hobart is in production to be published by December 2016. (Want to get involved? Let us know at pr@agfg.com.au).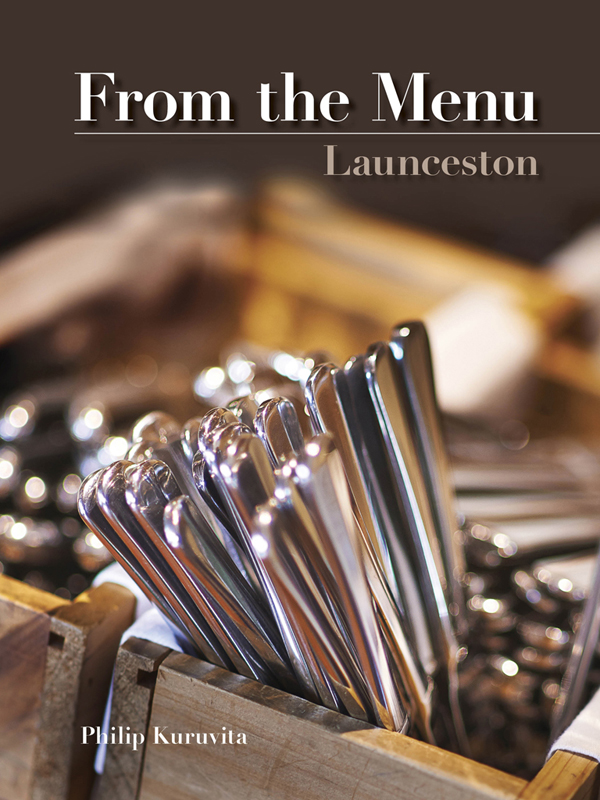 Enter here to win your very own copy!
Leaning on the universal appeal of cookbooks, From the Menu showcases some of Launceston's best restaurants and from them come some of their finest recipes designed for the at-home-cook. A winning combination of innovative menus and world class produce alongside a pristine location truly makes Launceston a foodie's dream destination and with this, From the Menu makes the perfect souvenir and travel companion.
Launceston's most famous sights captured by awe-inspiring landscape photography, lead you on a journey to discover the heart of the city where each restaurant is showcased in six-glossy pages, from interior décor to the kitchen, along with quotes from Head Chefs and Owners. We're first led to Hallam's Waterfront, operating since 1996 by owners of the same namesake Sally and Stewart Hallam, it's a Launceston stalwart just recently taken over by their son, Salisbury Hallam and specialises in the freshest seafood from the Tasman coast.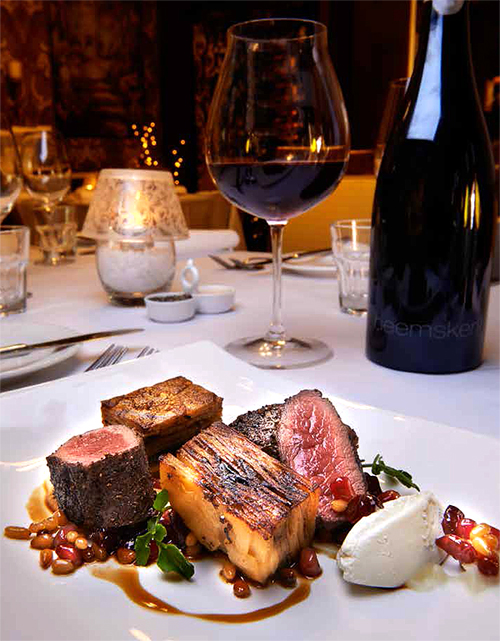 Rossy Roasted Loin of Fallow Venison, Brisbane Street Bistro, p. 58.
From page to page, hard work and passion seeps through from the likes of Josef Chromy Restaurant, Larceny Restaurant, Le Café on St George and Star Bar Café to Stonesthrow Launceston where love for Tasmania and its local producers is evident in each recipe. "Why go elsewhere?" is echoed on each page and between locally grown fresh produce, hormone free, grass fed animals, fresh water from Cape Grim and award winning local vignerons, it's no wonder the restaurants have no need to.
AGFG Readers' Choice Winner for the region as well as AGFG Chef Hat Winner, Pierre's, can be found within the pages. Boasting a history from 1956, it's a truly iconic brasserie, wine and whiskey bar in the very heart of Launceston's CBD that flies a significant history flag of being Tasmania's first coffee house (second oldest in Australia), so if you're a coffee lover, best pay Pierre's a visit before delving into French classics of Escargot in their shell with garlic, champagne, shallot and parsley butter.
Steamed Blue Eye Trevalla with Mussel Cream, Kombu and White Soy Broth, p. 176.
Launceston can be best embodied in local talent, Stillwater, located in the historic Ritchie's Mill at the mouth of the Cataract Gorge it glows with the authentic warmth only an 1830's timber building can offer. A philosophy of "local wine, local food, local talent…" resonates in recipes such as Textures of Beetroot with Smoked Goat's Curd as well as Steamed Blue Eye Trevalla with Mussel Cream, Kombu and White Soy Broth.
From the Menu – Launceston is a true accomplishment for everyone involved, so take the time to peruse the stunning photography as you make your way to the kitchen to prepare some of Launceston's finest recipes.
Recipes from the book From the Menu - Launceston by Philip Kuruvita published by Philip Kuruvita Photography.
More delicious recipes: