Born from a collaboration between one of Tasmania's most respected chef's, John T. Bailey and award-winning, internationally recognised photographer, Philip Kuruvita, comes Cradle Coast Pantry, a book dedicated to celebrating and sharing the knowledge of Tasmania's fertile land and fresh produce with the world.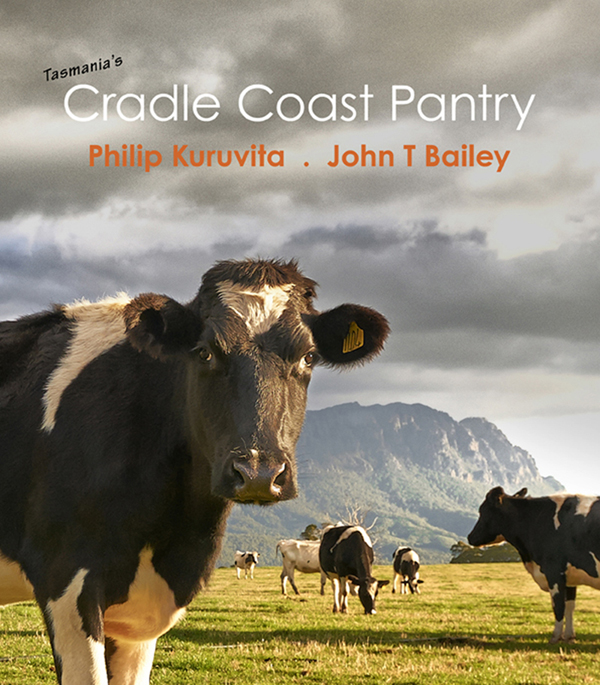 Enter here to win your very own copy!
Cradle Coast Pantry is the second in a series after Tamar Valley Pantry, that together, throw Tasmania's incredible produce into the spotlight and the devoted producers who nurture and aim to perfect their part of this wildly flourishing state.
Find yourself enchanted by beautiful dishes, awe-inspiring landscape photography and the passion that drives small businesses on the North West coast. As illuminated by this thoughtful book, Tasmania receives some of the purest wind and rain on the planet, having first passed uninterrupted across the ocean from South America. In acknowledging their good fortune to live in such a place, those who appear in the book share a little of what they do in their cultivations.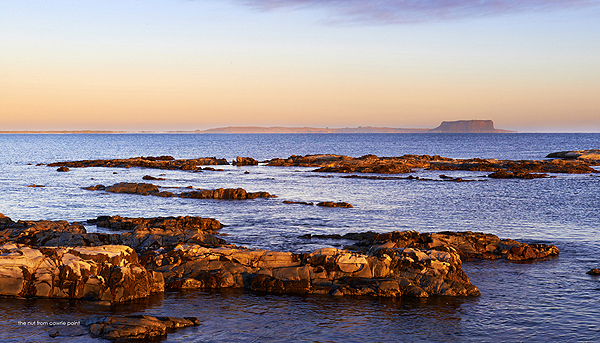 The nut from Cowrie Point.
Not only that, Cradle Coast Pantry also lends itself as a comfort to those who enjoy quality cuts of meat. It gives permission to rest assured knowing any animals sacrificed from Tasmanian farms surely lived in some of the best conditions in the world, grazing on fertile lands stress-free. For seafood fanatics, the creatures harvested off Tasmanian shores were given time to grow in full and thrive in some of the planet's most pristine waters.
A peek inside the cover reveals the history and stories of Tasmania's small production companies, the hard work and persistence of those who own much-loved names, from The Cherry Shed to Blue Hills Honey, Ashgrove Cheese and Ghost Rock Vineyard. Mouth-watering information, like that of Anvers Confectionery by Igor Van Gerwen will have you researching the price of a flight to Tasmania, if to only try some of the world's most decadent treats. The holistic farming methods and passion for environmental sustainability of Black Ridge Farm can be supported with an online order for tender meat.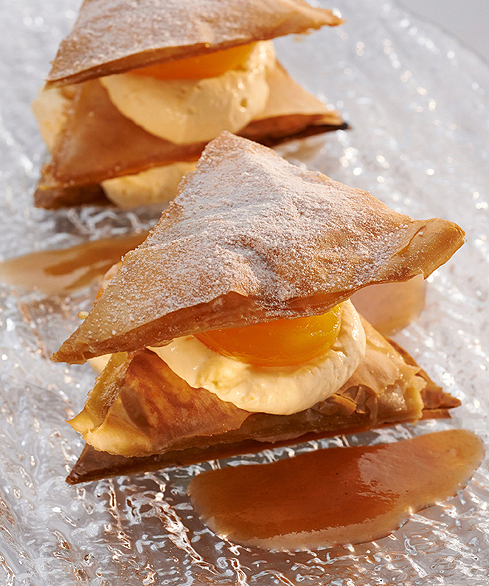 Honey Filo Parcels with Blue Hills Manuka Honey p. 58.
Incorporate this book into your kitchen routine and if you haven't already, join in the movement for buying and eating locally, supporting surrounding communities and giving back to the farmers around you. Perhaps dabble a little with John's inviting recipes, take a moment to marvel at Philip's photography and treat yourself to the exceptional quality of Cradle Coast's produce.
By Julie Johnson.
Recipes from the book Tasmania's Cradle Coast Pantry by Philip Kuruvita and John T. Bailey, published by Philip Kuruvita Photography. Get your own copy here.
More delicious recipes:
Char Grilled Octopus with John's Special Marinade.
Homemade Oatcakes and Grilled Figs with Blue Cheese and Honey.