The only equation you'll ever need: Food + Beer = Happiness.
"In recent times, some scientific anthropological-type folks have suggested that man/woman actually cultivated the first barley crops not to make bread, but to make beer," Ross Dobson, p.6.
Ross Dobson clearly sets the scene of his latest addition to his already impressive repertoire of cook books, that bread was simply an afterthought to beer. Let that sink in for just a moment, priorities of our ancestors are suddenly a lot clearer and Ross has now dedicated over 80 delicious recipes specifically to beer matching – we know beer is palatable with nearly everything, but what beer really makes a dish such as Black Pepper Crab sing? Well it'd be a lager, of course!
Split into six sections, with an introduction by Ross describing his love and knowledge on beer before moving to finger food, little critters (chicken and quail), bigger critters (cow and sheep), Lillian Gish (you have to read the book for this story, trust us) and finally 'a beer's best friend,' Food + Beer will certainly make an impression on anyone that loves to dabble in tasting a variety of beers as well as finger-licking good recipes.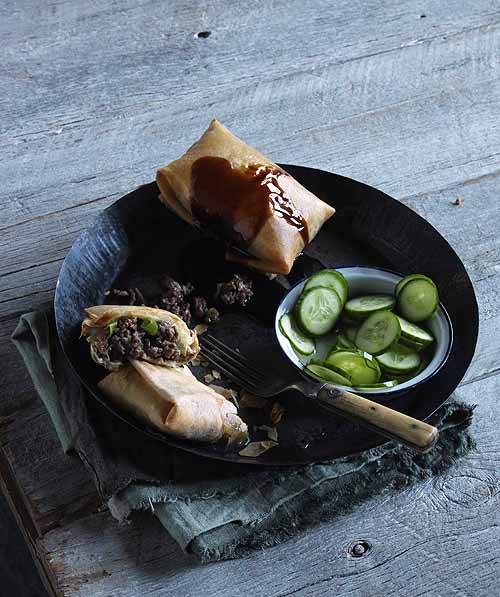 Martabak - an Indonesian dish with fragrant spices that come from the influence of Dutch colonisation, p.40.
Wholesome and authentic international dishes are what you will find along with classic wry commentary from Ross, so sit back and be entertained at every turn with teachings not only about beer and food but also on cooking styles and cultural intricacies from around the world. Think Bintang - did you know that Bintang isn't just a beer brand, it's also the name of the local supermarkets in Indonesia? Bintang is a crisp and refreshing beer (certainly perfect for places with humid heat) and is lightly carbonated for those that like to drink quickly and the supermarkets serve everything you could ever possibly want under one roof (market style). For those that have travelled and indulged in places like Bali, India, China, Mexico and Morocco, Ross' recipes will transport you from your kitchen straight back to your favourite holiday finds.
Kick off your next party with Ross' Martabak, an Indonesian inspired recipe that incorporates flavours that are rarely overdone – think spring rolls but in a crispy golden parcel with a side of Lebanese cucumbers and of course a pale lager. For a main dish, Ross shares some of his favourite flavours in his recipe for Stir-Fried Duck with pepper and Thai basil, enjoy the heat of peppercorns and red chilli while washing it down with a golden ale in hand.
Food + Beer is the perfect gift for anyone that wants wholesome, delicious food suitable for family dinners to adult luncheons on the weekend – oh and don't forget about Father's Day!
Purchase your copy of Ross's new book Food + Beer from here!
Recipes and Images from Food + Beer by Ross Dobson, published by Murdoch Books.