Food + Beer = Happiness
"In wine there is wisdom. In beer there is freedom. In water there is bacteria," – p.7 under 'proverb.'
It's been a long time coming; finally Ross Dobson releases a Food and Beer matching cookbook just in time for Father's Day. As an author of now 14 cookbooks (including Chinatown, Grill House and King of the Grill), Dobson has outdone himself with a book clearly written to make food and beer lovers the happiest of kitchen whizzes.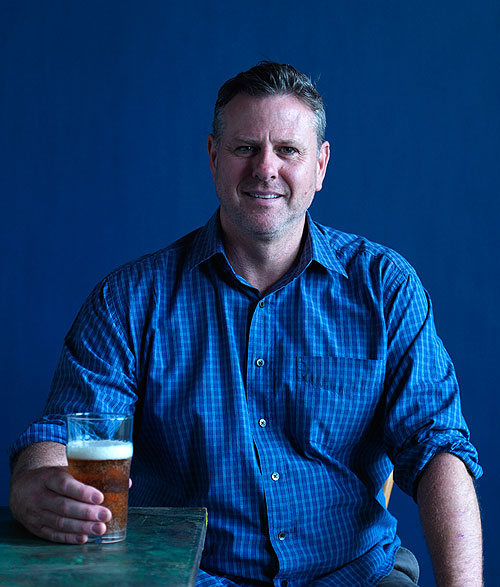 Ross Dobson. Food + Beer = Happiness.
AGFG was able to chat with Ross just in time for Father's Day and as his new book, Food + Beer hits shelves as the ultimate gift for Dad this Father's Day.
Most surprising to us, Ross said that he hadn't been planning this book - it just came out of a desire to work on a project a bit removed from the typical Aussie lifestyle. Well, we certainly think it diversifies the typical "Aussie BBQ" with dishes such as Stir Fried Duck and Martabak as just a couple of examples.
AGFG: There are a lot of books on the market this year that specifically centre on food and beer, how do you think Food + Beer stands out?
Dobson: Really? I am not aware of the other books. Is that cheeky? [AGFG: Yes that is cheeky Ross!] There are titles that incorporate beer in the recipes. I wanted to avoid that. I think I have only one, maybe two recipes, using beer as an ingredient. For me, the beer supplements the food and vice versa. What came first, the food or the beer? Well, recent discoveries will have us conclude that we wanted to make a good brew to drink before growing something to eat. This does amuse me.
AGFG: What's your favourite Food + Beer combination?
Dobson: Curry and beer, or anything with chilli in it and beer, as in the UK, having a curry with a few beers is the norm and when I am in Asia, there really are just too many good beers to choose from! The local flavour really leans towards needing a cold lager and the food is that delicious that you want a beverage that will enhance the next mouthful; this is where beer comes in. Beer with curry, beer with sambal and beer with a chilli spiked stir fry.
Mussels cooked with tomatoes, parsley, coriander, beer and fries. Pair it with a bottle-fermented Belgian blonde-style beer for a delicious meal. See p. 206 of Food + Beer.
AGFG: Father's day is just around the corner and we think Food + Beer is the perfect gift, what recipes would you suggest for this father's day?
Dobson: Make dad a Thai BBQ chicken salad. A good shop bought barbecued chicken is the core of this delicious recipe. While the other ingredients seem exotic, they can be easily picked up at a good supermarket. You also must make dad Chinese BBQ pork, or char sui, popular as a yum cha item. All the ingredients are so easily sources to create a truly authentic tasting delight. These will keep dad happy and make it easy on you too! (Check out page 74 and 160 of Food + Beer for these delicious recipes!)
AGFG: When you have time to yourself, what are your favourite things to do?
Dobson: I really love to find new food destinations. They don't have to be star studded or fancy as I look for the authentic and the far flung. In Sydney we have this really amazing Asian influence, so much so it is hard to go past. Middle Eastern eateries are next on my list though as it's fresh and tantalising. I like to explore the authentic flavours that Sydney's diverse community has to offer.
AGFG: What's your favourite "critter" to cook with?
Dobson: This is tricky to answer. It shouldn't be! I cook large critters on special occasions, like Easter and Christmas, but on a regular basis I am more of a small critter guy. I cook chicken at home several times a week. Duck is delicious, but I also see this as a special thing to cook. I love chicken. Although I don't have any recipes for canned fish in the book, I have to confess I am a fan of canned tuna.
Purchase your copy of Ross's new book Food + Beer from here!
Recipes and Images from Food + Beer by Ross Dobson, published by Murdoch Books.