Take time to explore the streets of Melbourne, Australia's melting pot of culture, cuisine and undeniable style for all things on-trend. Jazz bands and cocktails, late night rendezvous and tasty food from any nation are what can be expected from this vibrant city. Peruse all this and more in Flavours of Urban Melbourne, Edition 2, a gloriously thorough collection of 120 Melbourne restaurants, bars and cafes, including the recipes for some of their mouth-watering signature dishes.
Back for a second round after the first edition was released four years ago, this statement coffee table book is designed to impress, and meant for you to keep for a lifetime. While we don't suggest you lick the pages to find out what Melbourne tastes like, we do encourage you to flip through and give yourself a heads up of what you can experience as this book delves deeper into the foodie scene of the city's bustling suburbs. Find what you want inside the cover and across the region based on location; North, South, East, West and Bayside.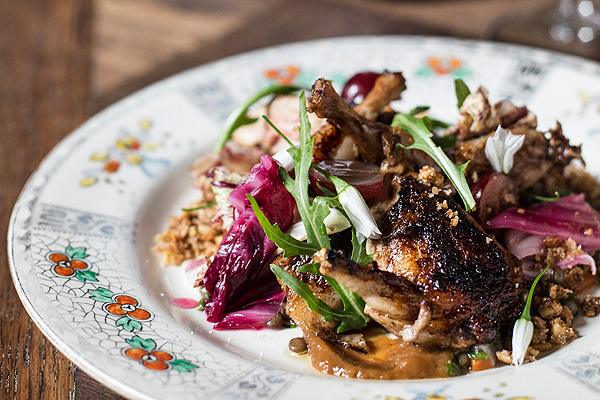 Quail with radicchio, golden raisin and grape.
Enjoy detailed insights into the ever-changing nature of hospitality, covering aspects of interior design, food imagery and artful plating and of course, the recipes that make up the crux of any respectable establishment.
Peruse patisseries, browse over breweries and learn what you can from the diverse characteristics that make up Melbourne's captivating dining landscape. While of course not every venue can be included, the ones that have been are a varied cross-section of what is on offer, a collection of restaurants who do what they do with confidence, and own their area of expertise with pride.
Savour the familiarity of tandoori spices from Babu Ji's Tandoori Basil Prawns while getting to know the back story behind how Babu Ji came to be. It's Indian, but not as you know it! The team behind Babu Ji in the Bayside are passionate about not only their food, but changing public perceptions of what Indian food can truly mean.
Next, sink your teeth into the world of Epocha on the North side, and with a name that translates to mean 'a new or distinctive era,' you know you're in for a good time. Here, it is said that dishes transcend the trend of the day to deliver a wholesome but refined eating experience. Perhaps it will be this that teases your tastebuds into trying Epocha's Quail with radicchio, golden raisin and grape dish.
Beef short ribs served with cabbage pickle.
Step into the empire slowly taking over our cities, that is, The Meat & Wine Co, a steakhouse a cut above average. While ripping tender meat apart from Beef Short Ribs, carve a path through their philosophies, synonymous with high quality ingredients and maintaining strong relationships with suppliers in the local industry.
If something starts to seem a little fishy, it's probably the BBQ'd Calamari cooking over at Ocha Japanese Restaurant on the East side. This funky addition is a sophisticated establishment included for it's beautiful local ingredients with traditional Japanese techniques - a cleverly adjusted menu to suit the Australian way of eating.
While Flavours of Urban Melbourne includes many more establishments of note, there are also a handful that feature across our website. We have included a list below for your perusal, and to buy a copy of Flavours of Urban Melbourne for your own coffee table or as a gift for someone else's, please follow the link through to Smudge Publishing.
Restaurants included in Flavours of Urban Melbourne that we recommend:
By Annabel Rainsford.