Blissed Out on Steven Snow's Cookbook
What makes one cookbook better than another? We are generally drawn to the books with the most beautiful pictures, since a photo can be a guide to what the dish will look like after we make it. Presentation is an art of its own; but a photo alone is not all when it comes to cookbooks. So imagine author Steven Snow's surprise when he was approached by a photographer who inquired as to whether or not he had a cookbook? From there the idea was born and to Steven's good fortune, the photographer turned out to be none other than Brett Boardman, who at the time of meeting was toting the title "Australian Photographer of the Year."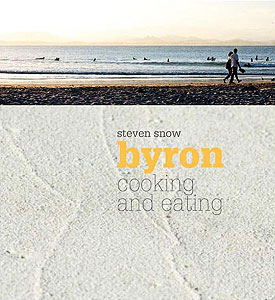 What We Want, Byron Cooking and Eating's Got
We need to have good writing, enthusiasm and most importantly, clarity in our favourite cookbooks. We want to learn the tricks of the trade when it comes to say, how to properly shuck oysters, or how to make the perfect soup stock. Really, we want it all, and you know you're in for a treat when you happen upon Byron Cooking and Eating; opening to the first page, the book commences with a two page panoramic of the iconic lighthouse at Byron Bay. A picture is worth a thousand words and this picture is the perfect introduction to a fantastic book; fresh, energetic and most of all, healthy.
The book itself if split up into several sections including food which Steven cooks at home, at the restaurant, and outdoors. A whole section is devoted to vegetarian food which will change your childhood memories of overcooked vegetable mush. Gone is the traditional peas and carrots, here comes the pumpkin soufflé with spinach harrisa, the vegetable tagine and avocado custard. All of his recipes are easy to make and ever so tasty (granted, some are easier than others).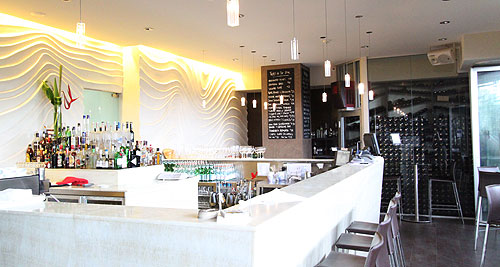 Recipes in this book straddle the great divide between fine dining and decent, down to earth meals. As well as being delicious, their considerate collection ensures you don't need to be a head chef to pull off Steven Snow's select dishes. Having friends over or entertaining the in-laws? Nothing is more impressive (or simple) than baking a snapper with garlic and smoked paprika crust or whipping up a Portuguese Seafood Cataplana.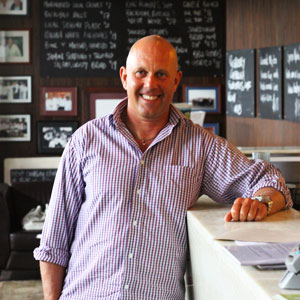 The book is a culinary tour of Portugal, Indonesia, Sri Lanka and Vanuati as well as Fiji with many recipes concocted by Steven while working or visiting these countries. The recipes come with beautifully presented large pictures, the original work of Brett Boardman, which entice you to either make the dish yourself or promptly reserve a table at Fins for dinner. Steven's versions of classical recipes from the regions and countries he's visited include a vast variety of savoury possibilities, with an emphasis on seafood, as well as unique desserts for the sweet lover; keep your eyes open for the croissant banana pudding derived from the traditional bread and butter pudding and Thai sticky rice with mango dessert.
Byron Cooking and Eating is full of Steven's personal stories from his travels, of course including the everyday quirks of running a busy restaurant. From dealing with naked customers to a resident python, this book will take you on a journey with some of the best recipes from around the world and amusing anecdotes to boot. The author's acknowledgment of grandpas and grandmas of the world is duly noted here as being his greatest role models and culinary influence; many secrets that have been passed down are tucked away in the back of his book under the "basics" section. This section is packed with amazing stocks, marinades, a delicious shrimp paste, Asian marinade, and an incredible Lisbon paste which will deliver real authentic Portuguese flavour to any dish.
We eat with our eyes first and the images in the book will entice you to try these recipes in your everyday cooking, or at least when you're experimenting. The award winning photography of Brett Boardman genius is inspirational in itself, though with the artistic pairing on side of Snowy's recipes, Byron Cooking and Eating is a splendid match. Not "just" a cookbook, it is a read affording you amazing images of Byron Bay and surrounds, including not only food, also nature and of course, the man himself Steven Snow. Brilliant photography combined with an eclectic array of amazing food makes this cookbook stand out from the rest.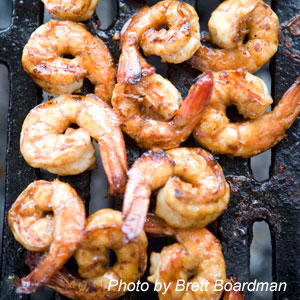 A Beach Lover's Book with a Penchant for the Sea
This book focuses on healthy eating with some great recipes you can mix and match, and further suggestions on how to do so with conscious food combining. It's apparent from the beginning Steven's loyalties lie with the sea; for lovers of seafood, this is for you. The Byron region is an area renowned for its fresh seafood and local produce. At Steven's restaurant, Fins, they serve "line-caught local fish, prawns without chemicals and swimmingly fresh squid, bugs, crabs, scallops and octopus." The seafood influence can easily be seen in this book with its wonderfully imaginative recipes including char grilled king prawns, seafood Pescador and barbeque chilli fish amongst others.
Steven stresses the use of local as well as seasonal produce as keys to an authentic and healthy dish. Keeping a balanced lifestyle himself (Steven insists on standing on his head every morning as part of his yoga practice), this is the sort of cookbook which will inspire you to follow his footsteps and make you feel good about cooking. It's one stunning compilation of recipes and culinary/cultural montage which you'll happily refer to ever after.
By Sarah Hu